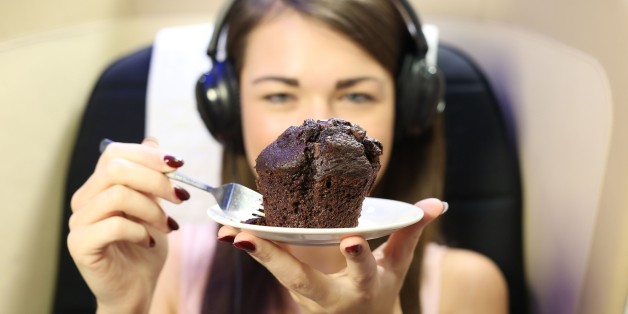 We always knew airplane food was kinda funky, but this takes things to a whole new level.
British Airways -- already making strange waves with its dog-and-cat TV channel and mood-measuring blankets -- announced the debut of a new inflight menu that pairs airplane food with... music.
So basically, Coldplay may never sound the same again, after you listen to them with lukewarm meat swirling in your mouth.
The menu is a riff on studies lead by Oxford University researchers -- one found that when listening to sweet-sounding music, people thought treats tasted sweeter than when they snacked to more "bitter" songs.
The airline's "Sound Bite" menu matches tracks to 13 of its food and drink offerings: access the airplane's "Rock and Pop" music channel to hear The Pretenders while you start with red wine.
Lily Allen is meant to be "enhance the sensation" of your British entree, and James Blunt's "You're Beautiful" will boost the sweet flavors in your dessert.
According to British Airways chef Mark Tazzioli, the music could elevate food flavors, making meals yummier to combat the fact that our taste buds don't work properly at cruising altitude.
The menu will be available on long-haul flights starting in November, with the possible exception of a few planes that have older entertainment systems, an airline spokesperson told The Huffington Post in an email. After November, the menu "will stay on the inflight entertainment indefinitely."
We've got our headphones (and forks!) ready.

BEFORE YOU GO
PHOTO GALLERY
Airplane Foods