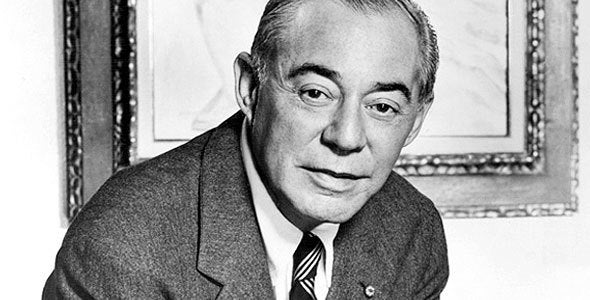 101 years ago, a 15 year old UWS neighborhood kid graduated from PS 166, the public school on West 89th street in New York City.  With an uncanny ability to immediately play most any song he heard, there was little doubt he would become a composer.   In fact he was called upon to perform piano at many school functions, including his own graduation in 1916, (which he played a medley of operas)
Richard Rodgers ultimately wrote more than 900 songs and 43 musicals, becoming the first person to ever be awarded an Emmy, Grammy, Oscar and Tony, (noted as the EGOT), plus the Pulitzer Prize.  It is generally believed a Richard Rodgers musical is always being produced somewhere in the world, and one of his songs being sung or hummed at any given moment.
In 2003, PS 166 was renamed in his honor, now The Richard Rodgers School of Arts & Technology.  Every year since, Broadway stars have come together to perform on the very same stage Richard Rodgers honed his skills as a pianist and composer.  The night has become known as Broadway Sings and often referred as 'one of the best kept secrets of the Upper West Side', attracting actors and musicians who's credits span beyond Broadway, to include London's West End, feature film and television.
The 2017 ensemble of artists is a testament to the evenings goal, to celebrate Rodgers, American musical theater, and insure children experience art, theater, music and dance as part of their public school primary education, featuring Broadway actors representing over 50 Broadway shows.
Hosted by comedian, actress and TV star Caroline Rhea, special guests include Broadway's Annie, Lille Crawford, who also stared as Red Riding Hood in Disney 2014 film, Into the Woods, and comedic actor Richard Kind, highly recognized for TV sitcoms and Broadway, is also the voice of Bing Bong from the Oscar winning Disney movie InsideOut.
"I'd like to think the neighborhood hasn't changed that much since Richard Rodgers went to school here", shared Marc Lovci, who is now produces Broadway Sings in support of the school his children attend.  "Many of our guest artists live in the neighborhood or have kids who now attend the school. Some are drawn to the idea of being on the same little stage Richard Rodgers himself performed. And we always have those like Doreen, Eddie and Amaris, who are rushing in directly from the stage door of their Sunday Broadway matinee."
Lovci refers to Doreen Montalvo, Amaris Sanchez, Eddie Hernandez - all currently on Broadway in On your Feet!.  He adds, "Broadway actors, arguably the pinnacle of a stage performers career, are not given enough credit for their immediate grassroots support when the arts are questioned as a fundamental part of public education.  They embrace with the same passion performing in front of families of all income levels, aspiring young performers, and kids who may have yet to step foot in their first Broadway theater".
Guest performers (in alphabetical order) include: Joyce Chittick, Lilla Crawford, Rick Faungo, Christopher Hanke, Eddie Hernandez, Richard Kind, Marc Kurdisch, Erin Leigh Peck, Doreen Montalvo, Amaris Sanchez, Rachel York.
2017 Broadway Sings at The Richard Rodgers School, April 23rd - 6:00pm performance.  General Admission and Reserved Seating tickets on sale now at: http://www.166BroadwaySings.com
This post was published on the now-closed HuffPost Contributor platform. Contributors control their own work and posted freely to our site. If you need to flag this entry as abusive,
send us an email
.