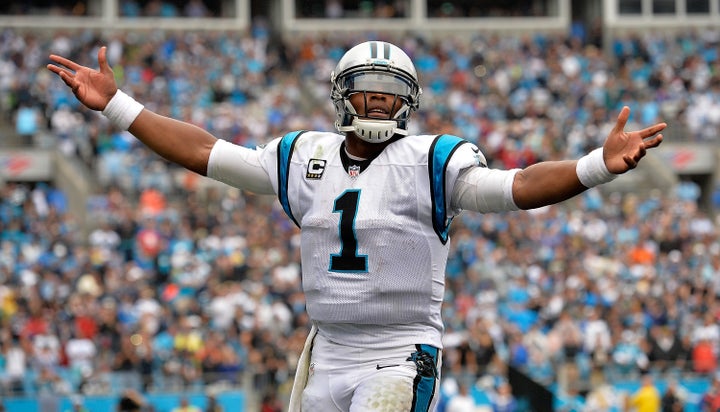 The league's vice president of officiating, Dean Blandino, told the NFL Network on Monday morning that he's spoken with Hochuli, who's "adamant" that he didn't express any feelings of ageism towards the 26-year-old Carolina Panthers quarterback during Sunday's Panthers-Saints game at Bank of America Stadium in Charlotte, North Carolina.
"Saying something to that effect is certainly something that is not appropriate. Again, Ed is adamant that he didn't say it and that's where we are," Blandino said. 
Cameras caught Newton engaged in a frustrated exchange with Hochuli during the fourth quarter of Sunday's game. On the prior play, Saints defensive tackle Tyeler Davison hit Newton as he was releasing a pass, knocking him to the ground in front of Hochuli. Newton was displeased when Hochuli didn't penalize Davison for unnecessary roughness.
"He told me that he said that 'the difference is you were running.' I think when you look at the tape it does look like Ed did say that, I think at one point," Blandino said of Hochuli's explanation for the non-call. 
Speaking to reporters after the game, Newton described his interaction with Hochuli very differently. 
"The response that I got was, 'Cam, you're not old enough to get that call,'" Newton said. "I'm looking at him like, 'What?' I didn't think you had to have seniority to get a personal foul or anything like that."
During his Monday NFL Network appearance, Blandino directly addressed Newton's insinuation that some NFL players receive preferential treatment from referees because of their status -- an "unwritten rule" of officiating.
"We do not teach that the number of years a player is in the league is going to determine whether a foul is called," Blandino said.
In recent years, the league also has gone to great lengths to change rules in order to protect quarterbacks. Newton feels like those same protections weren't afforded to him yesterday, but were to 34-year-old Saints quarterback and Luke McCown. 
PHOTO GALLERY
2015 NFL Breakout Stars