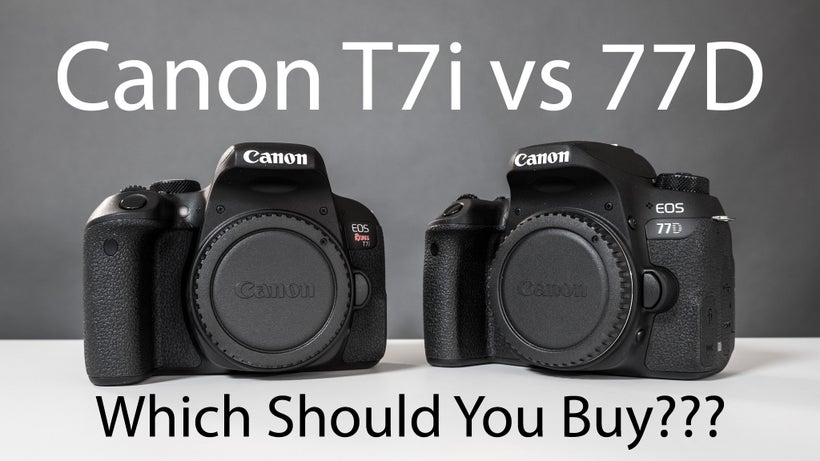 The Canon EOS Rebel T7i and Canon EOS Rebel 77D are Canon's newest DSLRs in the Rebel lineup and both have the new 24MP sensor with massive quality improvements and a 45 point cross type dual pixel AF system. However, many hardware differences set these two cameras apart so let's go in-depth in this hands on review to see which one might be the best fit for you. If you are considering purchasing this camera or have picked one already, check out our Facebook Group on the T7i and 77D where you can post images, ask questions, and find the latest information on these new cameras.
Both the Canon T7i and 77D have some brand new features from the previous models including new button layouts, bluetooth for quick pairing, new interface for beginners, and digital image stabilization. Additionally, Canon's newest Digic 7 Processor allows for faster shooting, 1080p video at 60fps and even more battery life! But that is where the similarities end. The Canon 77D takes a massive shift in controls, closer to the layout of the Canon EOS 80D with the mode dial being moved to make room for a small screen on the top of the camera to help view your camera settings.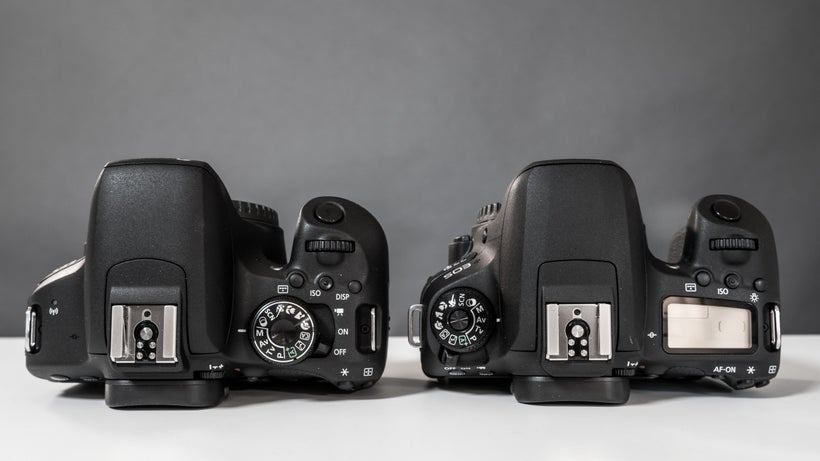 In addition, a 2nd scroll wheel takes the place of the AV button to facilitate faster adjustment of aperture and shutter speeds. For those of you who enjoy using back button focus, the 77D is the camera to buy. With a dedicated button that can be programmed for this task, the 77D has a more professional feel. In case that additional scroll wheel gets in the way, a lock dial has also been inherited from Canon's professional DSLRs to keep the dial from moving by accident. Most of the changes are hardware related but we do have a new interval and bulb timer in the 77D for certain shooting situations. These can help for things such as Light Painting and other more obscure needs that require custom modes.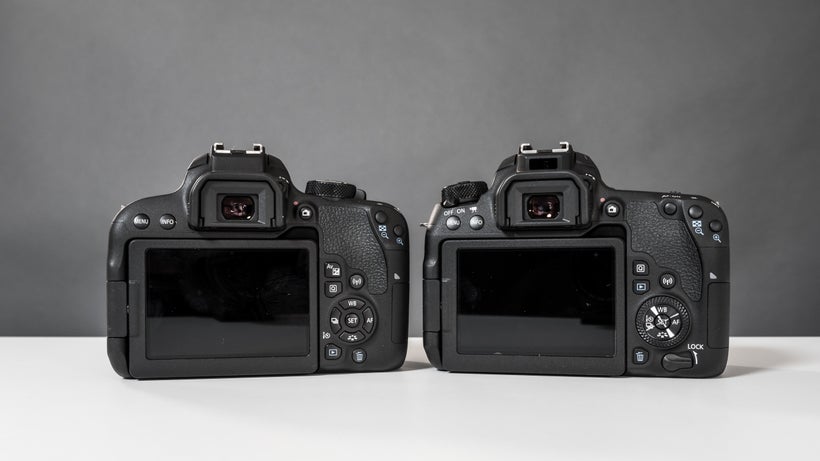 Overall, while the Canon 77D provides a layout more familiar with Canon's higher end 80D, most of you should instead save your money and go with the more compact Canon T7i. With the exact same quality and almost the same feature set, the additional buttons hardly justify the large difference in price. Canon's 50mm F1.8 STM is one of my favorite lenses to go with the Canon Rebel cameras and at $125, it seems like a better use of your money than the upgrade cost to the 77D. Unless you have an affection towards back button focus, the Canon T7i offers plenty of camera at a reduced cost, and I would highly consider checking out the Canon 50mm F1.8 STM along with your purchase. Also, if you are considering the Canon 77D, take a look at our latest review on the Canon 80D. The 80D adds many new features, professional build, weather sealing, and tons more making it a great purchase.
This post was published on the now-closed HuffPost Contributor platform. Contributors control their own work and posted freely to our site. If you need to flag this entry as abusive,
send us an email
.