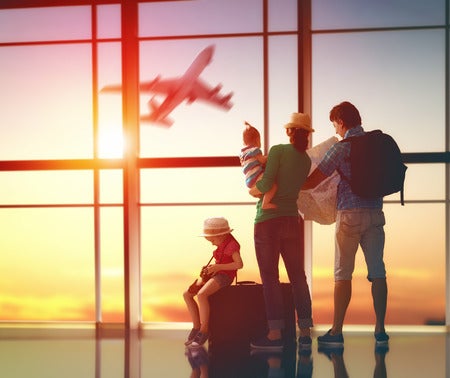 The holiday season is upon us, and with it, a tsunami of travel. Planes, trains, and automobiles brimming with people will flow all over the globe. With this swell of travel comes both the promise of seeing our loved ones and the potential for danger, injury, and loss.
There are the big catastrophes we all worry about, like terrorism and crashes. Many of those event are out of our hands. We can't control the crazies or the mechanical failures. We can, however, take extra care regarding our person and our belongings.
A few months ago, I made it through security and was buying a cup of coffee when I realized my wallet was gone. TSA takes a lot of flak, but they couldn't have been kinder, especially since I was flustered to near panic. They went through the tapes of my passage through the security line and saw nothing regarding my wallet.
Luckily I had arrived early, as is my wont—two hours before departure—so I had the time to leave the airport, hop the shuttle bus back to the rental car lot, and search my rental car.
Fortune smiled upon me. I found my wallet tucked into space between the passenger seat and the door. I offered up a million prayers of gratitude. Then I hopped back on the shuttle bus, went back to the airport, wended my way back through security, and arrived at the gate as my flight was boarding.
That taught me to always double-check my purse before turning in a rental car.
Other mishaps can't be attributed to our own doings but we can try to be aware of the possibilities. I'm thinking of a recent case at LAX, where a woman was seriously injured by non-slip tiles in a bathroom. The case came to my attention by way of an attractive young attorney in my Los Angeles circle of friends.
Daniel Kramer of Kramer Holcomb Sheik LLP represented Lori Triplett in the suit. Ms. Triplett, a 56-year old widow from Waverly, Missouri, accompanied her elderly mother to Los Angeles. She landed in Terminal 1, walked to the women's restroom, and slipped on spilled coffee that was hidden by the stall door. Ms. Triplett suffered through two surgeries; she ended up with permanent disabilities in the back and hip that prevented her from working.
Three years earlier, LAX had refurbished the restroom, installing tile that was not slip resistant as per airport and industry policy. Unfortunately, according to LAX, all bills, invoices, documents, and records from the installation were lost.
Worse, LAX claimed Ms. Triplett didn't even fall. Eyewitnesses in the restroom saw her fall, and paramedics and police found her at the scene with a large gash and blood dripping down her leg. I suppose LAX had to do everything in its power to minimize liability, but still, lying to avoid accepting responsibility? Please.
When I saw him at a party, Dan was talking about the case and the mishaps that can occur while traveling. I thought of posting about the issue, and asked him for a quote.
Dan said, "As we head into the busiest travel season of year, I encourage travelers to be mindful. While it is the responsibility of an airport, such as LAX, to create a safe space for passengers and staff - with approved and tested materials, Lori Triplett's case proves that is not always the case. Stay aware and report inconsistencies."
We can't predict all the issues that may arise as we travel for a turkey dinner or a holiday gathering. But we can check our purse, eyeball our luggage, and understand that airports are places where falls and other mishaps occur. So be safe as you voyage. May your journeys be happy and peaceful.
This post was published on the now-closed HuffPost Contributor platform. Contributors control their own work and posted freely to our site. If you need to flag this entry as abusive,
send us an email
.