Latinos are becoming the New American Majority, and that's a fact. So why isn't the same trend happening in the world of political consulting? Chuck Rocha and Felipe Benitez think the political world needs to catch up.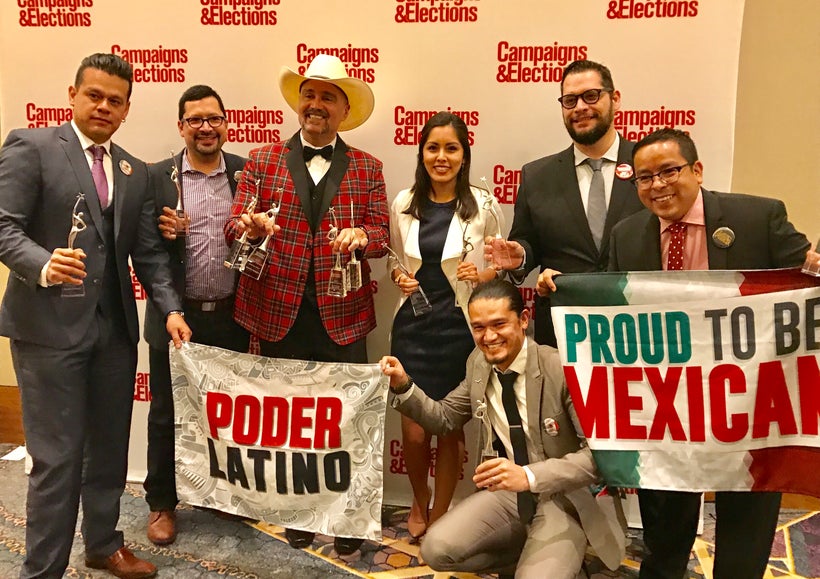 This week at the Campaigns and Elections Magazine's Reed Awards in Las Vegas, Solidarity Strategies and Benitez Strategies won a combined 11 awards for their national and international work. The Reed Awards is one of the major annual award conferences that recognize excellence in the field of political consulting.
The 2016 election cycle was record-breaking for Solidarity Strategies, one of the nation's only Latino-owned full service political consulting firms. The Bernie Sanders presidential campaign changed this small firm's future when they were hired to run general strategies, Latino outreach, labor strategies, mail, literature, phone production and hiring senior level staffers. Solidarity designed and printed literature and mail for 48 states, totaling 15 million pieces which were customized in over 250 different ways, in both English and Spanish. Additionally, Solidarity dialed over three million phone numbers for live calls, telephone town halls, and automated calls as part of the voter communications platform, which resulted in 22 state primaries/caucus wins.  
Benitez Strategies, in partnership with the Latin American firms Heurística Comunicación, NDMX and El Instituto, also earned high accolades. The campaign "Diles Que Voten/Tell Them To Vote" won five Reed Awards including Best Latin American TV Advertisement, Best Latin American and Spanish-language Website, Best Latin American, and Spanish-language Mail Piece. This international online campaign used "Civic Engagement" ambassadors to encourage Latino voter participation in the 2016 U.S. presidential election. The effort generated more than 10 million online engagements and the support of more than 300 Latino/Latin American thought leaders, celebrities, politicians, and business people. Benitez Strategies also conducted strategic communications and media relations work to continue to position Mi Familia Vota as a premiere national organization focused on building political power for the Latino community. Efforts in six key state helped elect the first Latina to the U.S Senate in Nevada and contributed to defeat former Sheriff Joe Arpaio in Arizona, among other achievements.
This past election cycle was the first time a Latino-owned firm was hired to do general consulting, mail, and phone strategies nationwide in presidential political history. Latino firms are typically only hired to produce Spanish-language ads under a subcontracting agreement with a major establishment firm - but those days are over!
Solidarity Strategies and Benitez Strategies recognize that our electorate is changing and that political consulting must change with it. Political consultants require cultural competency if they expect to win on a large scale in the future. In 2016, when most Democratic campaigns lost, the efforts of both firms contributed to the successful election of seven new Latino Members of Congress.
The ever-growing Latino population is influencing and will continue to change our government. This past election, Latino turnout increased in key battleground states compared with 2012. The future political clout of this key demographic (which averages the age of 27) will only compound over time. More than 60,000 Latinos turn 18 each month, and one in four school children is Latino. Now more than ever, consultants who intrinsically understand the Latino population must be a critical factor in all aspects of advocacy outreach and planning.
This op-ed was written by Chuck Rocha and Felipe Benitez. Chuck Rocha is the Founder and President of Solidarity Strategies. Felipe Benitez is the Principal at Benitez Strategies.
This post was published on the now-closed HuffPost Contributor platform. Contributors control their own work and posted freely to our site. If you need to flag this entry as abusive,
send us an email
.