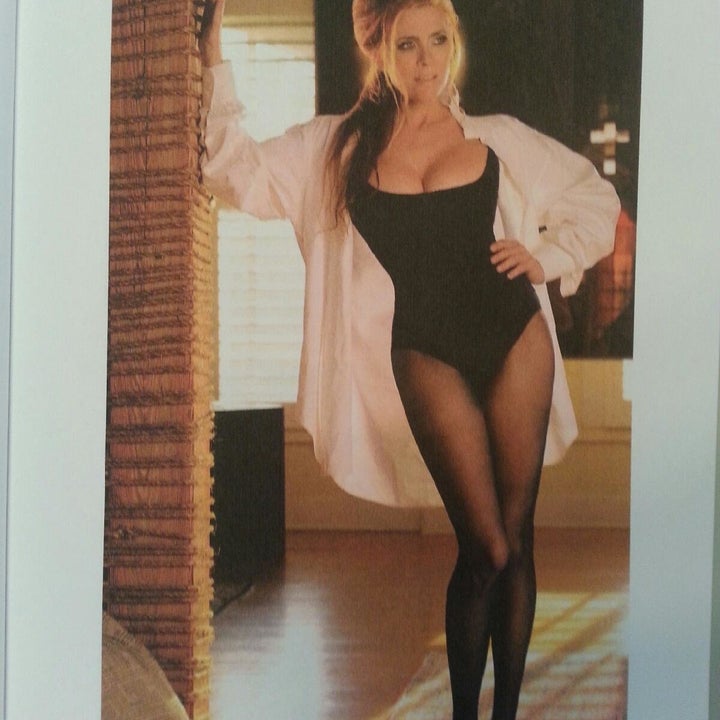 What happens after you become a Playboy centerfold?
Pictures of you might be taken to the moon (Dede Lind, Miss November 1969). You might have sex with Elvis Presley and enjoy a king-sized breakfast with him (Victoria Peters, Miss April 1972).
And you might dump Tom Cruise ("I didn't like the way he addressed the waitstaff"), indulge in "hairy" sex with Robin Williams, and snort coke and slamdance with John Belushi (Kim Malin, Miss May 1982).
Charlotte Kemp, otherwise known as "Miss December 1982," put together "Centerfolds"  -- a fantastic collection of stories from 20 playmates and five photographers -- that paints a picture of what it's like to step into the Playboy spotlight.
"Most of us were just out of high school and naive when swept into this world of the rich, powerful and famous," Kemp writes in the introduction. "Being shy wasn't an option."
 The beautiful Ms. Kemp joined us for the HuffPost Weird News Podcast, along with Cindy Guyer, a March 1999 celebrity pictorial. And we talked about everything from three-way sex with Hugh Hefner to what a miserable lowlife Bill Cosby was, even when he was best known as America's No. 1 TV dad. 
Kemp's wild ride began in 1981, when she moved from Omaha to Chicago, to begin her life as a model. At the time, she was dating Gary Fencik, who played for the Chicago Bears, and was living right near the Hef's Playboy Mansion. Shortly after appearing in "Risky Business" as a hooker she decided to take the plunge.
"I had a 34-DDD chest and was very, very self-conscious," she recalls in the book when she contemplated her first shoot. "My chest had only been bestowed upon me during the last two years. I was a late bloomer, literally. I came from a very conservative Midwestern family."
 Kemp poured some wine, then charged out to Hef's infamous grotto and did her best.
Over the next few years, she would become a top Playboy model, holding such titles as the first "Miss Budweiser," and "The Best Breasts in the USA."
 Together with other playmates, she raised money for charity with the Playboy Running Team and wrote about her experiences in "For My Eyes Only," which includes her poetry and short stories.
Kemp also stared in 25 horror movies, including "Frankenhooker," and appeared on "Inside Edition" and "The tonight Show."
The women and men who contribute to this book, on balance, look back fondly on their experiences, but they are often candid about the dangers of fame and celebrity, as well as the screwed up ways some of us deal with sex.
Cynthia Meyers (Miss December 1968), who died of lung cancer in 2011, recalls that Bill Cosby had a reputation of being one of the most vile visitors at the Playboy Mansion. 
"My stomach still turns when I see Bill Cosby in his ads sitting with a bunch of youngsters pitching Jell-O pudding," Meyers told Kemp, years before the recent spate of accusations against the disgraced entertainer.
"I always wondered if any of the Jell-O ad executives ever knew about his indescretions. I saw firsthand how he would use drugs to have sex with women. I never shed a tear when I heard his son was murdered on the 405 in Los Angeles. I do feel very sorry for his son, but he paid with his life for the sins of his father."
 Meyers, who parlayed her Playboy fame into a part in the Russ Meyer classic, "Beyond the Valley of the Dolls," is otherwise largely upbeat about her experiences.  She doesn't specifically say what Cosby did, but Kemp agrees that the attitude she takes speaks for itself.
"I decided to assemble this collection of stories because, at its essence, it is a slice of Americana. Being a centerfold is a membership in an exclusive sorority, partly because there are only 12 of us a year," she writes. "This book has been a labor of love and honesty from these iconic centerfolds, photographers and celebrity models."
PHOTO GALLERY
Centerfolds: Playboy Playmates
Thanks for listening to the HuffPost Weird News Podcast, a labor of love brought to you by producer, Katelyn Bogucki and sound engineer Brad Shannon. We can't continue to do it without your support, so please stay tuned and give us a review, people!