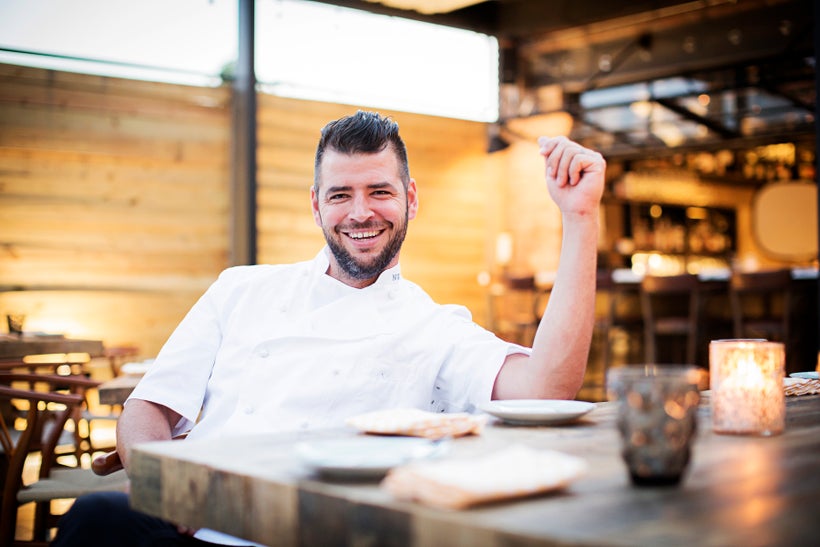 Nick Stefanelli is the chef/owner of one of Washington, D.C.'s hottest restaurants, Masseria. Located steps from Union Market, the restaurant is a hub of hipster activity, but it also happens to be a temple to those pilgrims in search of the city's best food.
Masseria recently earned a star in the prestigious Michelin dining guide, along with these accolades: "The chef's Puglian heritage comes through in the menu... The kitchen hits all the right notes balancing trendy and serious."
Small plates rule the table here with four, five and six course menus. And the menu changes regularly, sometimes as often as daily depending on what Stefanelli and his team have procured.
On a recent evening, my husband and I took a seat at the marble bar overlooking the vibrant open kitchen. Here, we had what I can safely conclude was the best foie gras of my life. Although dressed with dates and almonds, it was a restrained presentation, delivering melt-in-your-mouth smoothness and flavor. A duck ragout topped house-made taggliate and sea bass spiked with fennel and blood orang rounded out my meal. Dessert choices like the torta al cioccolato, a baked chocolate mousse paired with a cloud-like tiramisu gelato are worthy, but don't miss the roving cheese cart, which features serious cheese from Italy.
What drew you to become a chef?
I was traveling through Italy and studying fashion design when I saw just how immersed the country was in food, drink, and the enjoyment of life. When I returned home to DC, the city was experiencing a restaurant revolution and a culinary awakening that paralleled my own. Coming from a creative field, the transition from fashion to food felt perfectly natural.
Any early memories of cooking?
Growing up in suburban Maryland, my earliest memories of cooking were of our weekly Sunday dinners at my grandparent's house. They are Greek and Italian, so naturally there was an emphasis on celebrating the bounty of great food and conversation. As a child I helped with the massive spreads.
How has the restaurant landscape changed since you first started?
I stepped into the DC food scene in 2001, and it has been incredible to be a part of the explosion of the city's restaurant landscape. There's a wealth of true talent in this city, and each chef brings a unique approach that adds to the diversity for which DC is recognized. Recently, there's been a 'daring' development of restaurants venturing into neighborhoods we wouldn't ever have walked through a few years back – transforming formerly blighted urban areas into real culinary destinations.
What drove you to open your own place?
Since the day I started cooking, it has been a goal of mine to have my own restaurant, a place where I could share my own passion, and my family's heritage. Now the question is -- what next?
What is it about NE that deserves all the foodie attention is has been getting?
The whole North East quadrant of DC has been overlooked and underdeveloped for such a long time. It was a great landscape to start to work from, and a super exciting place to be right now. It's thrilling that this new culinary movement has ignited here, and I'm lucky to both be a part of, and have a front row seat to it.
When you're not working, what's your favorite go-to meal at home or out?
Italy and Maryland are two spots on the map that run through my blood, so when I'm not at the restaurant I'm usually cooking a simple pasta and home with a glass of great wine or Champagne. When not at home, I'm picking crabs and watching the sunset on the waterfront on Kent Island, or enjoying a late lunch at Le Diplomate on 14th Street.
Any food trends that you predict will (or should) wane soon?
We don't follow food trends at Masseria, and I spend all my time there, so I'm not the greatest person to ask!
Are there any ingredients that you haven't had a chance to work with yet but would love to incorporate?
Lampascioni, the bulb of a tassel hyacinth, grow wild in the Puglia region of Italy where my family is from. Because it is so prominent in the wild, it was originally regarded and consumed as peasant food, but it has become a regional seasonal delicacy. They are most similar to onions, and I can't wait to get them on the menu. I would also love to incorporate rose hips, the fruit produced by the rose plant, to add a unique floral and fruity flavor to a dish.
How do you distinguish your Italian menu from others in DC?
At Masseria, we have a lot of fun taking an innovative approach to Italian cuisine. We source incredible ingredients every day, and when we get them in, we think about the best way to showcase it on the plate, while keeping the dish rooted in Italian food history.
Flash forward ten years: What are you doing?
Having a big blow out party for Masseria's 10-year anniversary with great music, great friends, and the best Champagne you can find.
This post was published on the now-closed HuffPost Contributor platform. Contributors control their own work and posted freely to our site. If you need to flag this entry as abusive,
send us an email
.