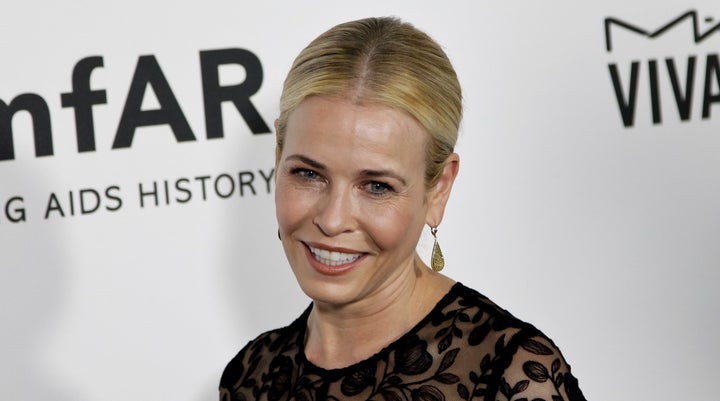 Chelsea Handler understands the importance of women supporting one another so she recently wrote an essay calling on women to do just that. 
On Sunday, the 41-year-old comedian and TV host published an essay on Thrive Global explaining why it's imperative that women lift each other up, especially post-election. Handler, who publicly supported Hillary Clinton throughout the presidential campaign, pointed out that 94 percent of black women voted for Clinton while a whopping 53 percent of white women voted for Donald Trump.  
"Unlike white women, black women don't take their rights, liberties, or justice for granted," Handler wrote. "... We don't just have a problem with men supporting women in this country; we have a problem with women supporting women." 
Handler wrote that American women had a "unique chance" to vote for Clinton:
America is a free country, and we are free to differ on public policy, but what kind of a woman votes for a white, entitled rich guy who has spent his entire life working the system for excess personal profit while insatiably groping strange women for personal pleasure while Hillary Clinton ―  arguably the most qualified presidential candidate in modern American history  ―  was standing right there in her pleated pantsuit waiting to lift America up out of its 240-year "winning streak" of male dominance and patriarchy?
We can do better, Handler wrote. "We can eliminate the competitiveness that has been imposed upon us because we are treated as a minority and have been taught to tackle, rather than climb."
"It's time to get focused on what really matters," she wrote. "Find women that are different than you and figure out the things you have in common. We have a whole generation of girls who are looking at us to see how we treat each other. Let's show them what the power of being a woman really looks like. Let's open our arms to each other, and to them." 
BEFORE YOU GO
PHOTO GALLERY
Gifts for the Feminist Book Nerd in Your Life