CHICAGO ― Spencer Leak, who's helped prepare Chicago's dead since he was a boy, is looking back at 2016 with a mix of shock and sadness. 
The city has seen more than 750 homicides this year and approximately five times as many shootings. 
"My dad founded the funeral home in 1933, and I've been at my father's business since I was 12," the 79-year-old president of Leak & Sons Funeral Home said Tuesday. "I've never seen violence like it is now. And I've seen a lot." 
"I looked at our city over the holiday, and how beautiful it was with people enjoying the season," Leak said. "And blocks away, people were destroying each other. This can't keep going on."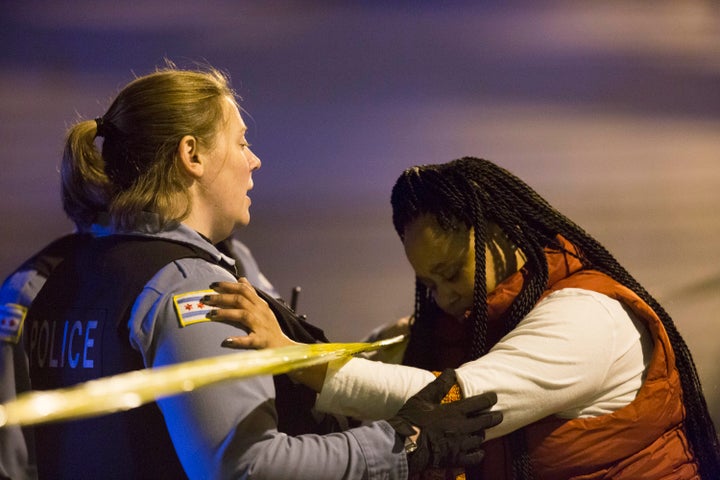 As crime dips to historic lows nationwide, Chicago has struggled with a homicide problem that now outpaces New York and Los Angeles combined. The year 2016 has been Chicago's deadliest since 1997.
And just as a few big cities like Chicago can skew the national average, only a handful of neighborhoods are responsible for Chicago's rising numbers overall.
Of Chicago's 77 neighborhoods, eight have more than 90 homicides per 100,000 people, while at least 11 have less than one, according to data compiled by the Chicago Tribune and The Trace, a news nonprofit. (The official homicide figures from the Chicago Police Department tend to be somewhat lower than the numbers compiled by media organizations and the medical examiner's office, because of the way the police department adjusts its crime stats as investigations progress.)
City officials have categorized most of the shootings as gang-related, with criminals and bystanders alike among the dead.
"What I'm seeing now is random violence as opposed to targeted violence," Leak said. "I'm seeing situations where people do mass shootings. That's something we did not see 20 to 30 years ago." 
There's little agreement as to what the biggest contributing factors are.
Chicago's homicide clearance rate ― the share of cases that get solved ― is about 30 percent. That's less than half the national average, according to the FBI's 2012 data.
The city last grabbed headlines for its homicide total in 2012, when it passed the grim milestone of 500 for the year. That high-water mark prompted outrage from the community and promises of action from City Hall ― largely in the form of more police.
In 2016, the outrage is familiar, as are the promises.
A new wrinkle, though, involves the idea that anti-police sentiment linked to viral videos of officers killing black people ― the so-called "viral video effect" or "Ferguson effect" ― is somehow contributing to rising murder rates in Chicago and elsewhere.
CPD Superintendent Eddie Johnson has repeated this claim throughout the year, despite nationwide polling that suggests the public largely respects police, and despite criminal justice experts debunking the theory. 
"The anti-police rhetoric has emboldened and empowered these gang members to do what they do," Johnson said at a press conference Monday. "You know when they feel [the] public will speak out for them, and not the police officers, that's giving them the power to go out and do what they do."
Johnson, a CPD veteran, assumed the role as Chicago's top cop earlier this year as the violence was surging.  
His predecessor, former Superintendent Garry McCarthy, was unceremoniously booted amid national outrage following the November 2015 release of a police dashcam video that showed a CPD officer fatally shooting Laquan McDonald 16 times as the teen walked away.
Johnson was tasked with repairing the broken trust between the police and the communities they patrol. 
As Chicago heads into a new year with more questions than answers over how to stem the tide of shootings, Leak and his South Side funeral home expect to remain busy. 
Leak said he and his team start each day with a prayer, knowing that the hours ahead will likely involve an onslaught of ringing phones and heart-wrenching conversations with families of slain Chicagoans. 
Leak said he is praying for everyone in Chicago and hopes for bold moves in the new year to counter the city's violence. 
"Let's do something extraordinary," he said. "We've got to match extraordinary for extraordinary." 
Moments later, he apologized for having to cut the conversation short.  
"I've got to go," Leak said, before hanging up the phone. "I have another family I need to attend to."
CORRECTION: An earlier version of this story misstated that Chicago surpassed 500 murders in 2012 for the first time in nearly a decade. The city had more than 500 murders four years earlier, in 2008.