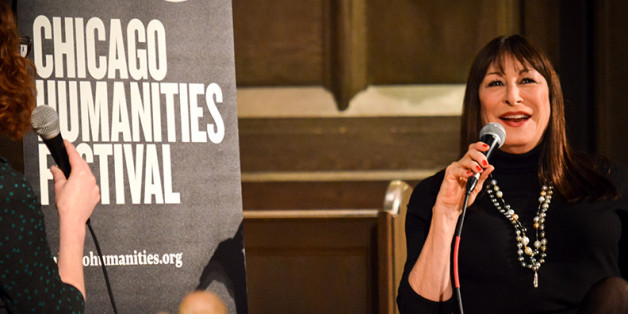 There's something important to be said about any event that manages to bring people together, put away their phones and pull our their notepads by the thousands these days.
And that's exactly what was achieved by the Chicago Humanities Festival, which wrapped its 25th-anniversary fall festival last week.
This year's CHF, Chicago's own take on the New Yorker Festival, boasted an incredible roster of events including interviews, concerts, readings and practically every conceivable combination of the three imaginable. Speakers included Lena Dunham, David Brooks, Anjelica Huston, Anne Rice, Darlene Love, Gary Shteyngart, Patti Smith, Marjane Satrapi, Wallace Shawn, Renee Fleming, Cheryl Strayed, Jamaica Kincaid, Marcus Samuelsson, Eric Schlosser and dozens upon dozens more.
The events are an incredible treat for lifelong learner types and it wasn't unusual to see folks taking notes during the talks, or striking up conversations with strangers before and after the events, or along the route to attend their next lecture at Chicago's own little university of life.
Luckily enough for me, I was able to take in three CHF events this fall -- Smith, Satrapi and Huston. Turns out there's a lot a guy like me can learn about life from three fabulous, fearless women who have been, collectively, killing it for decades. These were my takeaways.
It's OK to be choosy, and to listen to your instincts.
In explaining why she returned to working at the bookstore after her first public reading in 1971, rather than taking up one of the many lucrative deals being offered to her by record executives, Patti Smith told Tribune music journalist Greg Kot she had no other choice because the executives had a different idea of the sort of art Smith should produce. She said she is proud she stuck to her own path.
The same can be said for Anjelica Huston, who told CHF program director Alison Cuddy she learned during her modeling career the importance of working with the best people possible and not settling for a dull role or other opportunity.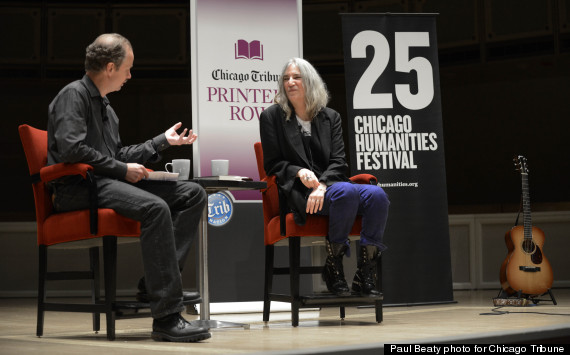 Patti Smith.
It is empowering to tell your own story, rather than let others tell it for you -- and get it wrong.
When asked why she had opted to write such a personal two-part memoir, Huston described the multi-year process of writing the books as similar to therapy -- except you don't have to pay anybody for it. Hinting at the influence of social media and how much information individuals readily make publicly available about themselves, Huston also referred to the current time as "the age of exposure," making the case that the time is ripe for a tell-all that sets the record straight.
Still, sometimes (often?) the best person to bring your idea to life is someone else.
When discussing her process of working with her fellow filmmakers of The Voices, the new film Marjane Satrapi directed starring Ryan Reynolds and Anna Kendrick, Satrapi told Chicago writer Rebecca Makkai that filmmaking is far more exciting to her than writing currently because watching other people work from her vision is "the gift of life." She described the process as thrilling and always full of surprises.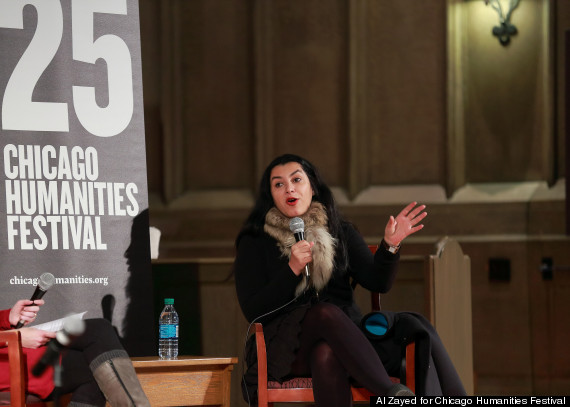 Marjane Satrapi.
Labels, who needs them?
Smith expressed frustration with her unofficial, oft-repeated title of "godmother of punk," joking that she has also been called the "princess of punk," the "queen of punk" and will one day become the "dinosaur of punk." Adding to the misnomer, Smith also pointed out that while part of her creative soul does relate to the punk movement, that facet is only one of many parts to her identity.
Meanwhile, when Satrapi was asked if she still refuses to identify as a feminist (as she had in a 2004 interview with Bookslut), she defiantly reiterated that she is always "on the side of the oppressed" but that she identifies more as a humanist" and dislikes being asked to partake in female-only events or initiatives, saying she hesitates to see women "ghettoized." Also, don't go calling Satrapi's comics "graphic novels" -- she says that makes them sound like porn.
Nobody goes it alone.
Both Huston and Smith spoke at length about how loved ones helped give them confidence in their craft. In Smith's case, she said the self-confidence embodied by her artistic soul mate Robert Mapplethorpe rubbed off on her, while her work ethic rubbed off on him. She got the better end of the deal, she claimed before a sold-out audience.
As for Huston, who worked as a model with some of the world's most acclaimed photographers for years, she spoke about how her mother helped her come to terms with her somewhat unusual beauty -- particularly her pronounced nose, which Huston suggested did not do her any favors in the U.S. at the start of her career.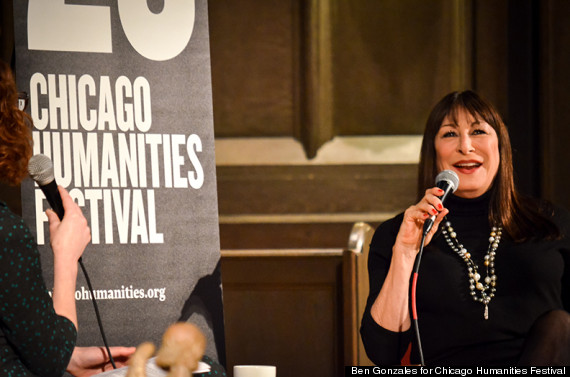 Anjelica Huston.
Until next time, CHF!