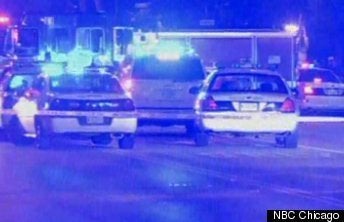 A motorist was shot and killed by police early Monday after allegedly using his vehicle "as a weapon" and injuring three Chicago Police officers on the South Side.
Just after midnight, police attempted to pull over a vehicle for a traffic violation in the 7900 block of South Stony Island Avenue, the Chicago Tribune reports.
The motorist refused to stop, and fled from police until striking a squad car assisting in the pursuit in the 700 block of West 91st Street. The suspect's car then burst into flames.
Despite the fire, police issued a statement saying the suspect continued to fight police:
The force of the impact caused the offender's vehicle to catch fire and two officers involved sustained non-life threatening injuries. The offender's vehicle was stopped and officers ordered the subject to exit at which time the offender began moving his vehicle in an attempt to flee
again.

The Offender put the vehicle in reverse and, using it as a weapon, rammed it into another
assisting squad car, pinning a third officer who was exiting his vehicle. As the offender continued to move the vehicle back and forth, refusing to comply with officer's request to stop, assisting officers in fear of the lives of officers on the scene discharged their weapons and fatally wounded the offender.
Garfield Romel-King, 32, was pronounced dead on the scene. King was on parole for a drunk driving conviction and also served time for drug possession, aggravated battery on a police officer and burglary, according to the Tribune.
King's passenger, a 19-year-old woman, was pulled from the burning vehicle by officers and taken to Advocate Christ Medical Center in Oak Lawn in critical condition. She also suffered a gunshot wound.
Three officers were also hospitalized. One officer who was pinned by King's vehicle and two others in the squad car that was initially struck. They were listed in good-to-fair condition, according to the Chicago Sun-Times.
Those on the scene shared a different story of what happened.
"They were going up and down chasing them and then next thing we know we heard a crash so we all started running that way," Margaret Robinson, the suspect's cousin, told NBC Chicago. "We noticed he was way away from his car so he must have jumped out and started running and it's like they shot him down."
Another reported relative on the scene told the Tribune that "there must have been about 50 shots fired" and also suspected that King fled from the vehicle when he was shot.
NBC Chicago shared some video from the scene: