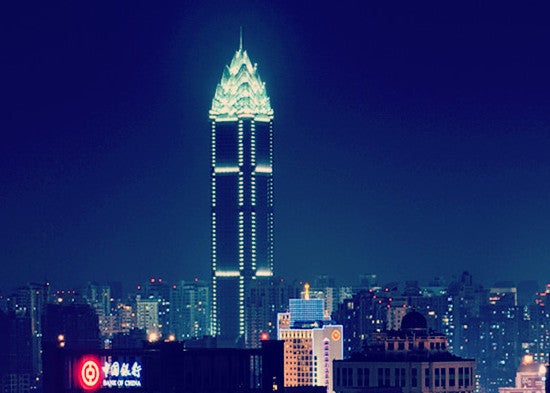 If you haven't been to China—or you haven't been there in the past decade—go now, before the big cities lose so much of their charm and become skyscraper-chocked, traffic-snarled monuments to an astounding economic super power. Unless you see it with your own eyes, you cannot imagine how fast China is changing, even as its economy has slowed recently.
I first visited 25 years ago, and recall how rush hour in the giant southern city of Guangzhou was virtually silent as waves of bicycles filled the streets each time the traffic lights changed. Most were steel-framed Flying Pigeons, government-issue bikes inspired by Britain's Raleighs. Groceries, cargo, even whole families moved on two wheels.
Over the years, I have returned to China several times, and each rush hour showed, to use Mao's expression, a Great Leap Forward. Bicycles gave way to motorbikes. Cars became common. And today, as the number of automobiles grows by 10 percent a year, the government estimates a nationwide shortage of 50 million parking spaces.
There's no better example of change in China than Wenzhou (pronounced "when jo"). This coastal city is a 70-minute flight south of Shanghai. Or zip there in 3½ hours on one of the bullet trains that crisscross the country, hitting speeds of up to 185 mph.
While most Americans haven't heard of it, Wenzhou is a sprawling city with nearly 9.5 million residents in the metropolitan area. That's almost half as many people as in all of Florida.
It is home to Wenzhou University, a conventional state-backed institution, as well as Wenzhou-Kean University, a 500-acre outpost of the New Jersey-based college that has been in full operation for two years.
Most of the world's eyeglass frames, shoes and cigarette lighters come from Wenzhou. So do high-precision industrial valves. But this activity takes place in non-descript industrial parks outside the city center.
What the traveler sees is a skyline bristling with high-rises and towering cranes that are building ever-larger, ever-more-elaborate structures. Today, mere size and functionality have given way to size and architectural statements. Wild geometric shapes in glass and stainless steel are often capped with gold crowns, and at night, light up like fanciful space ships. Condos, office buildings, shopping malls and hotels all get this treatment in Wenzhou.
I found various combinations and various degrees of East meets West around the city.
As throughout China, hotels fall into two general categories. Asian-style hotels glisten with marble, gold and crystal. It's as if Louis XIV were both Chinese and caffeinated. The Western-style hotels typically push the wood-paneled formality of a Ritz-Carlton to the extreme. In either case, when the hotel is ranked four or five stars, the top of the Chinese system, the rooms are luxurious, the service attentive and the restaurants top-notch, though typically Sino-centric.
I recently spent six nights at Wenzhou's Shangri-La hotel, part of a large chain of luxury properties throughout Asia. Leaning toward the Western style, this Shangri-La is a business hotel that's beyond comfortable. And it is just one of more than a dozen similarly fabulous hotels around the city.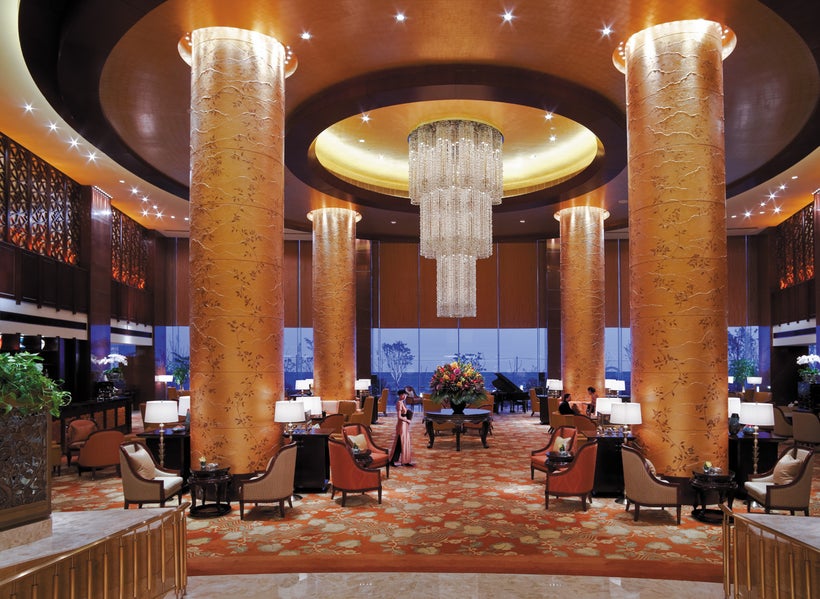 In this league of lodgings, breakfast buffets are astounding. Steamed dumplings packed with meat, shrimp or vegetables join fresh-made noodles, and every form of fish and fowl imaginable. Most stateside wedding banquets don't feed you as well.
Like any large city, Wenzhou prides itself on its global cuisine. Restaurants serving European fare—from tapas to wurst—as well as American, Indian and Japanese abound. But the most intriguing meals are of authentic local dishes.
Tian Yi Jiao Restaurant is a high-spirited temple to Wenzhou's traditional snacks and street food. Set up like a gymnasium-sized food court, it has tables in the center and more than 20 stalls ringing the walls.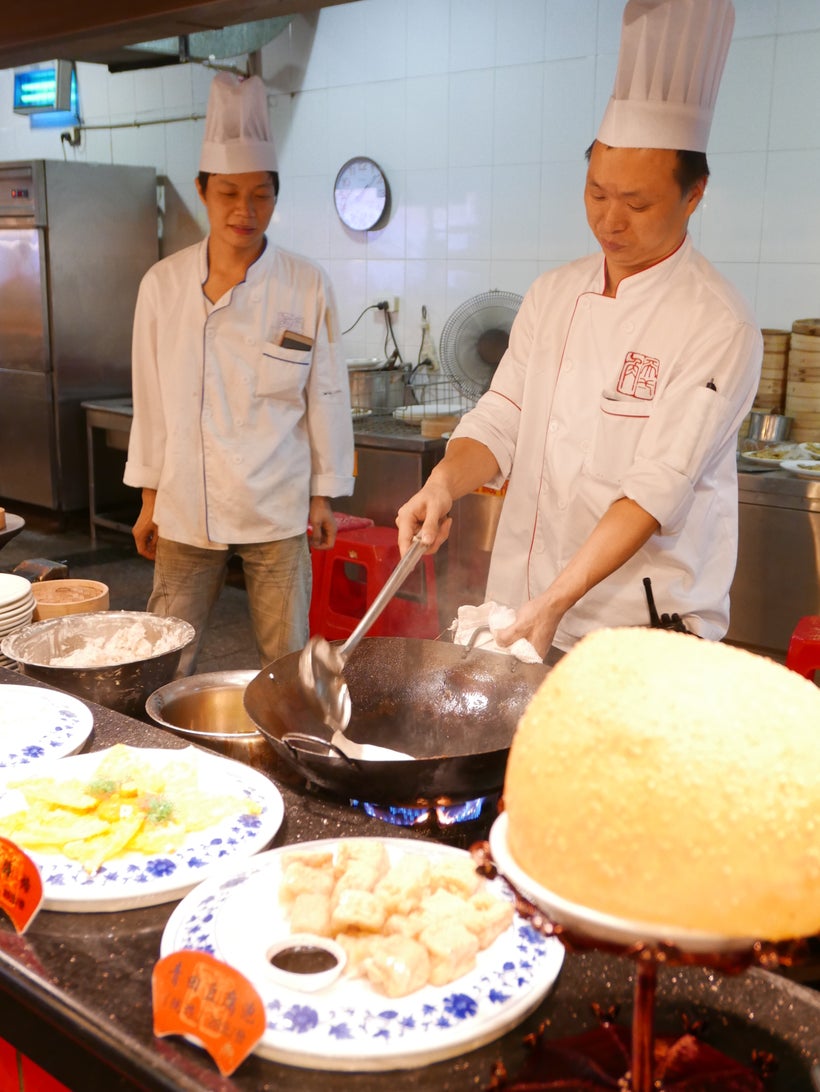 You'll find every form of fish. Some vendors make fish balls by pounding the meat flat and mixing it with a small bit of flour. Then, rolled into balls or inch-long cylinders, it is cooked in boiling water before being served in soup. The result is a flavorful, al dente fish noodle.
Fish is also served whole, with the meat decoratively clustered in small mounds around the body. Crab, shrimp and squid are prepared in dozens of combinations with rice, noodles, vegetables and each other. Blood clams, with their oozing red juice, are a stand-alone favorite.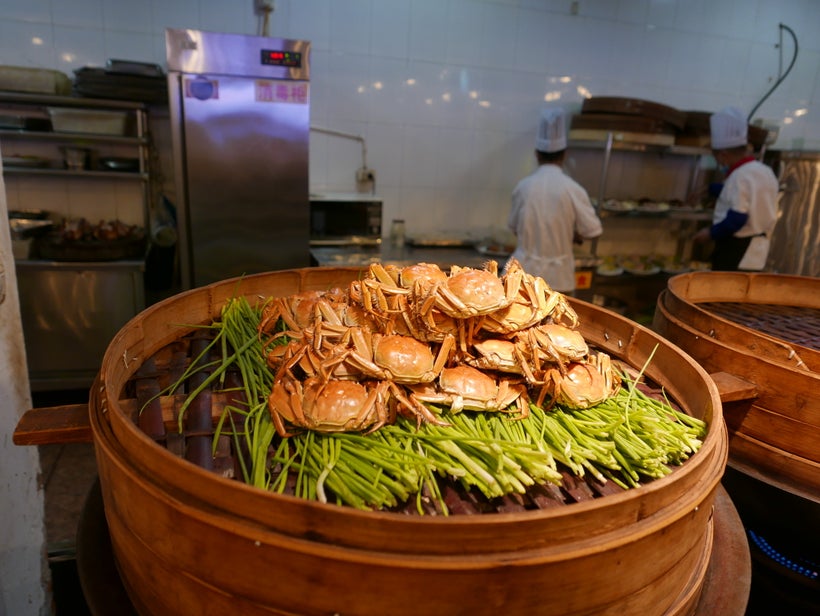 Another popular dish is duck tongue. The recipe is simple: after marinating a flock of tongues in soy sauce, rice wine and sugar, dry them, and then steam them just before serving. This delicacy will leave you, as well as the ducks, speechless.
Not far from the steaming, frying stalls dishing out Wenzhou's traditional fare, you can find Starbuck's, KFC and, of course, McDonald's. American-style pizza still hasn't made serious inroads here, which is good news for preserving such local fast food as dumplings and duck parts. But it's only a matter of time. Yet another reason to visit now.
This post was published on the now-closed HuffPost Contributor platform. Contributors control their own work and posted freely to our site. If you need to flag this entry as abusive,
send us an email
.