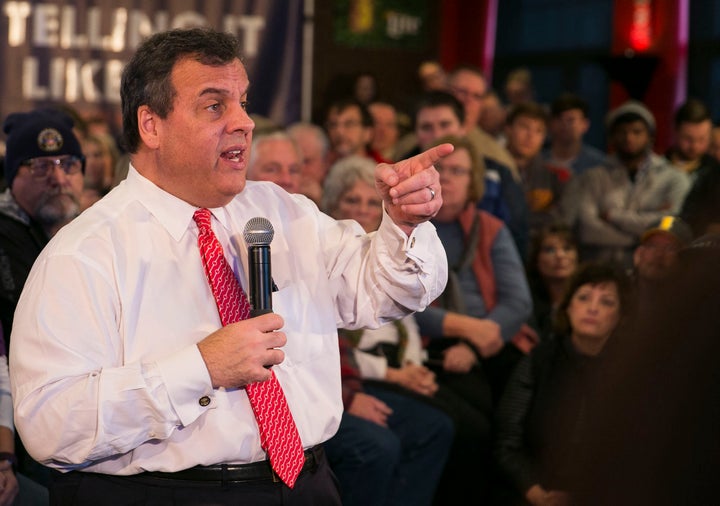 Republican presidential candidate Chris Christie supports making it so difficult for undocumented immigrants to live in the U.S. that they'll "leave on their own," he told the Washington Examiner in an interview published on Monday.
Interviewer Byron York asked Christie if he, like opponent and Texas Sen. Ted Cruz (R), supports "attrition through enforcement." Christie replied, "I think that would be the practical effect of it, yes."
The New Jersey governor's remarks weren't dissimilar from those of other Republican presidential candidates. But they were somewhat contradictory for a politician who had previously rejected the feasibility of "self-deportation" -- a term popularized by 2012 GOP presidential candidate Mitt Romney, who proposed instituting tough policies that would cause undocumented immigrants to leave the country.
"I'm not someone who believes that folks who have come here in that status are going to engage in self deportation," Christie said in April of last year.
Romney's support for self-deportation was widely thought to have harmed his chances at winning over Latino voters, who overwhelmingly voted against him. After his loss, the idea of self-deportation -- or at least the use of the term -- was widely condemned.
The Senate later passed comprehensive immigration reform that would have allowed undocumented immigrants to stay in the U.S., but the legislation failed in the House, falling victim to cries of "amnesty." The current race for the Republican nomination is dominated by businessman Donald Trump, who is calling for swift mass deportation.
Christie still rejects that idea. He told York that the country "can't do what Trump is talking about, which is a mass deportation of 11 million people in two years."
Yet the governor said the policies he supports would drive some undocumented immigrants out.
"If they can't get a job here, they can't get work here; a number of them will leave," Christie said. "And that's part of the whole enforce-the-law process that I was talking about before -- biometric system at the border on visas, E-Verify on employment inside the country, and secure our border at the southern border."
For the sake of comparison, here's how Romney described self-deportation during a 2012 presidential debate, according to CBS News:
"The answer is self-deportation, which is people decide they can do better by going home because they can't find work here because they don't have legal documentation to allow them to work here," he said. "And so we're not going to round people up."
A spokeswoman for Christie disputed the notion that the governor supports broad self-deportation, arguing instead that he believes enforcing strict employment laws would deter undocumented immigrants from crossing the border and cause some of those who are already in the country to leave.
UPDATE: Jan. 21 --Christie said Thursday on the Laura Ingraham radio show that he still stands by his comments in April.
However, he added that policies he supports, like using E-Verify to check work authorization, would cause some undocumented immigrants to leave.
 I also do think that that doesn't mean that we shouldn't use E-Verify and fine employers, in my view, double whatever they make off of someone if they hire illegally, in order to send a very clear message to the people who are already here and those who who plan on trying to come illegally that you're not going to be able to be employed here.

There's no question that that will decrease some of the people that are here just naturally if they can't find a job, and will slow down some of the flow of people coming because the word will get out very quickly that the law is being enforced in this country. And if it's being enforced, then there's no reason to come here because you're not going to be able to get a job.
This article was previously updated to include a comment from Christie's spokeswoman.
PHOTO GALLERY
GOP Candidates On Immigrants