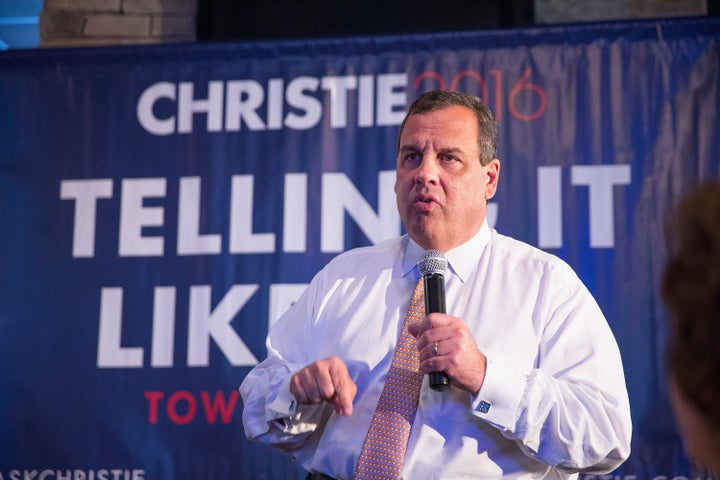 WASHINGTON -- A super PAC formed to support New Jersey Gov. Chris Christie's presidential campaign has raised $11 million with a big boost from hedge fund and private equity investors who cannot contribute directly to his campaign.
America Leads, the pro-Christie group, raised at least $3.45 million from the super wealthy operators of hedge funds and private equity companies, Federal Election Commission records show. Executives of these investment vehicles are banned by the Securities and Exchange Commission from donating directly to governors' campaigns, since the officials can control the private management of state pension accounts.
The top donor to Christie's super PAC is controversial hedge fund investor Steven A. Cohen and his wife, Alexandra Cohen. The couple donated $2 million to America Leads. Cohen's SAC Capital, now known as Point72 Asset Management, plead guilty in 2014 in a large insider trading investigation. Prosecutors said at the time that the hedge fund "riddled with criminal conduct."
The records show that other top investment donors to Christie's super PAC include Baupost Group's Seth Klarman ($100,000), Caxton Asset Management's Bruce Kovner ($100,000), Angelo Gordon Investment's John Angelo ($250,000), Buckley Muething Capital Management's Walter Buckley and wife Marjorie Buckley ($300,000), Bridger Management's Roberto Mignone ($500,000), Duquesne Capital billionaire Stanley Druckenmiller ($100,000) and LPL Investment Group's Lawrence DeGeorge ($100,000).
Standing out among these donations is the $250,000 from John Angelo. Up until 2011, the New Jersey pension system invested $150 million in Angelo's funds. But even when that investment ended, the Christie administration continued to approve payments to the firm. According to a report by International Business Times, Angelo Gordon hired Mary Pat Christie, the governor's wife, in 2012, and the state of New Jersey continued to pay the firm through 2014.
Investment fund managers were not the only big donors to Christie's super PAC. Winecup-Gamble, a Nevada ranch previously owned by actor Jimmy Stewart and currently owned by Reebok founder Paul Fireman, gave $1 million to America Leads. Quicken Loans CEO and Cleveland Cavaliers owner Dan Gilbert chipped in $750,000. Failed Senate candidate and World Wrestling Entertainment executive Linda McMahon gave $250,000. Ken Langone, who has been Christie's most prominent billionaire backer, gave $250,000.
The majority of the money coming into the Christie super PAC is from large donations of $100,000 or more. Overall, the group raised $9.25 million, or 84 percent of its total, from six-figure donors.