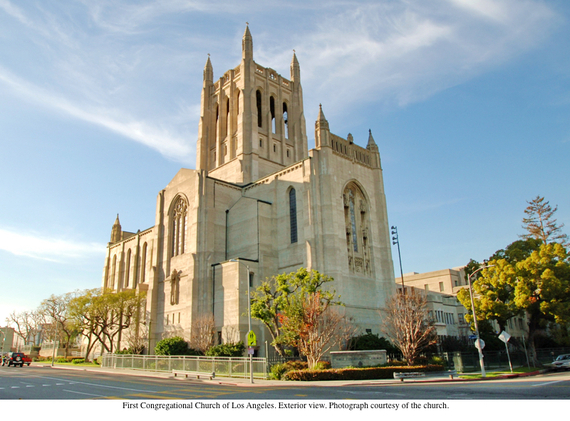 Driving through our City of Angels, I'm often tempted to stop and check out impressive-looking churches. Upon entrance, some of them turn out to be rather disappointing. Others surprise with their architecture and stained glass windows, and occasionally with their artwork. For years, I've been visiting First Congregational Church of Los Angeles near MacArthur Park. It's difficult not to be impressed with its Gothic Revival architecture, but what I particularly like is its 20,000 pipe organ, the largest organ of any church in the nation. There are regular concerts there that are attended by a number of people, including many non-believers like myself.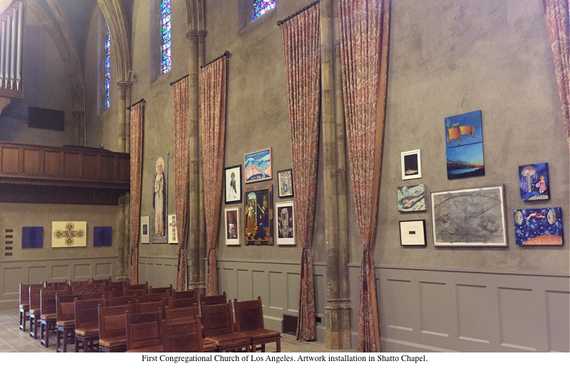 But today, I want to talk about an art exhibition, Art & Spirit, recently installed inside of the Church's Shatto Chapel. The exhibition includes a surprising range of artworks, from etchings by Rembrandt and Durer, to contemporary works by Ed Ruscha, Sister Corita Kent, and John Nava.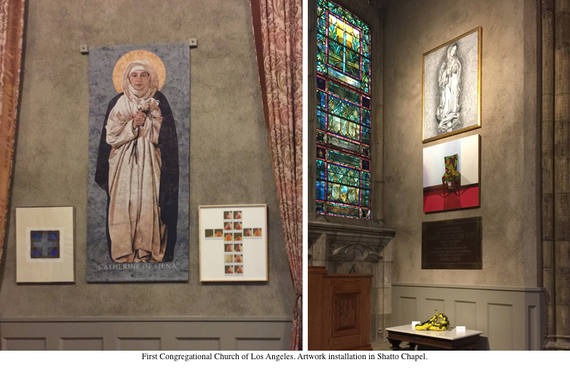 One moment you are looking at Gwynn Murrill's ceramic sculpture of a serpent with its reference to evil, and the next you are staring at Lin Evola's small metal sculpture of a winged Angel, a sculpture cast from melted down confiscated guns. If that doesn't stop you in your tracks, nothing will. And, side by side with works of these well-established artists are artworks by students of Art Division, an organization dedicated to training and supporting underserved youth who are committed to studying the visual arts.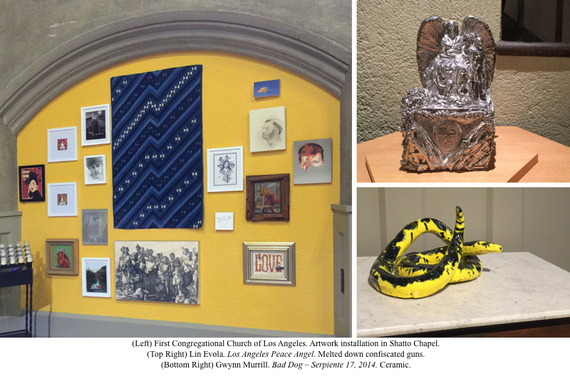 This unique exhibition is open through April 24. The only disappointment, if I may say so, is that one can see this exhibition only on Sundays between 9 and noon. But here's the payoff: at 10 a.m. every Sunday during the month of March, Senior Minister, Dr. R. Scott Colglazier, will lead visitors on an Art Walk through the exhibit and host an informal discussion. And here's an extra perk, at 10:30 a.m. you can head into the main sanctuary to enjoy the half hour organ concert before Sunday Worship starts.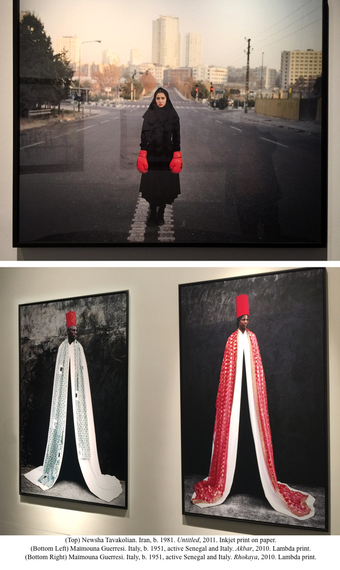 Los Angeles County Museum of Art is definitely a go-to spot for any art aficionado. But there are some interesting exhibitions there that are slightly off the beaten path, like the one right now at the top floor of the Ahmanson building, which is traditionally reserved for LACMA's collection of historical Islamic art. Several galleries there showcase contemporary works by artists with roots in the Middle East. This is a second installment of a two-part exhibition, Islamic Art Now, and consists of approximately 30 works by artists from Iran, the Arab world, Turkey, Azerbaijan, and North Africa, among others.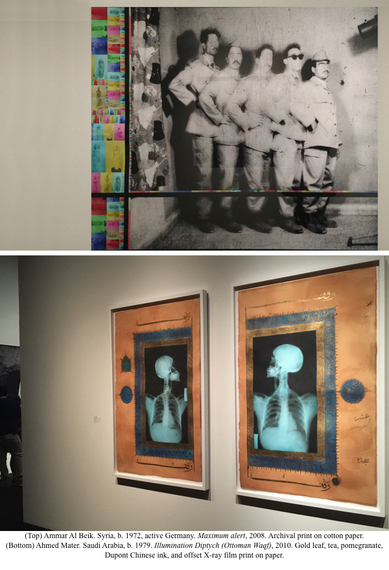 For the last ten years LACMA has been collecting works of contemporary Islamic artists --primarily photographers --and it's difficult not to be intrigued and impressed by the diversity and edginess of some of these images, many of them created by female artists. At a time when most of the news coming from the Middle East is rather negative, to put it mildly, seeing the artworks produced by contemporary artists there reminds us that we have much more in common with people in the Middle East than we might otherwise realize.
To learn about Edward's Fine Art of Art Collecting Classes, please visit his website. You can also read The New York Times article about his classes here, or an Artillery Magazine article about Edward and his classes here.
Edward Goldman is an art critic and the host of Art Talk, a program on art and culture for NPR affiliate KCRW 89.9 FM. To listen to the complete show and hear Edward's charming Russian accent, click here.