With no new horror, fantasy, and science fiction films opening nationwide this week, the Cinefantastique Podcast turns its eye on the 50th anniversary of a trio of terror from the year 1960: Alfred Hitchcock's Psycho, Michael Powell's Peeping Tom, and Roger Corman's House of Usher. Relax and sit back in your time machine as Dan Persons, Lawrence French, and Steve Biodrowski offer their retrospective analysis of these classic films. Also this week: an interview with Richard Clabaugh, director of Eyeborgs, due on home video on July 6. Plus the usual compilation of news, events, and upcoming releases.
IN THIS EPISODE:
1. News
2. Opening in Theaters
3. Interview: Richard Clabaugh on Eyeborgs
4. Discussion: The 50th Anniversaries of Psycho, House of Usher, and Peeping Tom
5. New on Home Video
6. New at cfqmag.com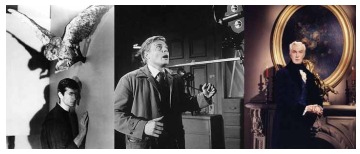 Check out previous episodes of the CFQ Podcast
v1n19 - Toy Story 3
v1n18 - Micmacs
v1n17 - Splice
For the latest news on horror, fantasy, and science fiction film and television, visit Cinefantastique online.