This has been a horrendous week in America for climate-driven disasters.
Louisiana suffered its second 1-in-500-year rainfall events since March. This time the state received 1.6 trillion gallons or the equivalent of 10.4 million Olympic swimming pools of water, killing 13 people, displacing 106,000 residents and damaging 60,000 homes.
The American Red Cross described the state's flooding as "the worst national disaster to strike the United States since Superstorm Sandy." The National Ocean & Atmospheric Administration (NOAA) reported that since May 2015, eight 1-in-500-year rainfall events have occurred from Oklahoma, Texas, South Carolina, West Virginia and Maryland.
A warmer atmosphere from burning heat-trapping fossil fuels holds more moisture and now when it rains, torrents of precipitation deluge communities. 
It's not just the atmosphere that is warmer according to 450 scientists from 62 countries who complied the latest State of the Climate report. The oceans are supercharged from absorbing 90 percent of the fossil fuel heat, 300 zeta joules of energy. Since 1997, 150 of those zeta joules have accumulated or the comparable energy of detonating one Hiroshima-style atomic bomb every second for 75 straight years. As a result, southeastern United States has experienced a spike in extreme rainfall by 27 percent.
NBC Nightly News aired five segments while ABC World News Tonight and CBS Evening News ran three stories each on Louisiana flooding yet there was no mention in 11 reports by these three networks of a connection between floods and the climate in crisis. The New York Times and the Washington Post, on the other hand, ran stories explaining the climate-driven connections. News with Ed Schultz on RT America was all over those heat-trapping fossil fuel connections because that is my beat!
The longer network nightly news withholds crucial information from audiences, the more likely they will loose viewership. People need to know what is going on so they can protect their families and homes.
On Tuesday, as the Louisiana rains began to ease, a brush fire ignited near Cajon Pass, 65 miles east of Los Angeles. Overnight it blew up into a firestorm, Blue Cut Fire.
It is the fifth consecutive drought year, California is parched. Over the previous 10 months, 26 million mature trees died from water starvation and bark beetle epidemics. Since 2010, California has lost 66 million mature trees, and as much as 20 percent of the remaining forests or 120 million trees are fighting to stay alive from a lack of precipitation.
As of Friday morning, 35,000 homes evacuated, 83,000 people in shelters and at least 105 single-family homes and 216 outbuildings were burned. On Thursday afternoon temperature topped 970F, humidity as low as 3 percent with winds gusting over 40 mph; the forests are tinderbox-dry.
Almost 2,600 firefighters supported by 178 engines, 17 water-tankers, 17 helicopters and 12 air-tankers battled a 36,000-acre blaze now 22 percent contained.
Battalion Chief Mike Brown of the Los Angeles Country Fire Department said, "I've been on the job 26 years. I've never seen a fire like this – anything that is smoking, once it gets hot throughout the day has the potential to carry embers onto unburned fuel."
Gov. Jerry Brown has declared a State of Emergency for the San Bernardino County.
Three weeks ago the Sand Fire incinerated 43,000 acres near Santa Clarita, 35 miles from Los Angeles, killing one person and destroying 18 homes.
Firestorms are increasing as temperature rises from burning fossil fuels causing more droughts to prevail across the West at a staggering rate. For instance, the area charred in the northern U.S. Rockies has skyrocketed by 3,000 percent, while area of burned forests in the Southwest shot-up over 1,200 percent. For the Pacific Northwest, the increase is nearly 5,000 percent. Last year American wildfires cost taxpayers a record $1.9 billion. 
The climate in crisis is costly, deadly and climate-driven catastrophes like heat waves, droughts, firestorms, flooding, tornadoes, hurricanes and crop failures will continue to escalate unless fossil fuels are phased out quickly. We need national leadership committed to future-proofing America. It will require the biggest mobilization of industry since WWII to reduce fossil fuel dependency 80 percent by 2030 and 100 percent by 2050. The time is now to end all fossil fuels subsidies of $5.6 trillion annually to the largest polluters in the world.
Hillary Clinton has agreed in her first 100 days to convene the top experts in America to tackle this crisis.
It can be done because the alternative is unthinkable. Ice sheets on the land are melting rapidly with a doubling time of 10 years. Left unchecked (business as usual burning fossil fuels) will cause seas globally to rise by as much as six feet soon after mid century. That is dystopia.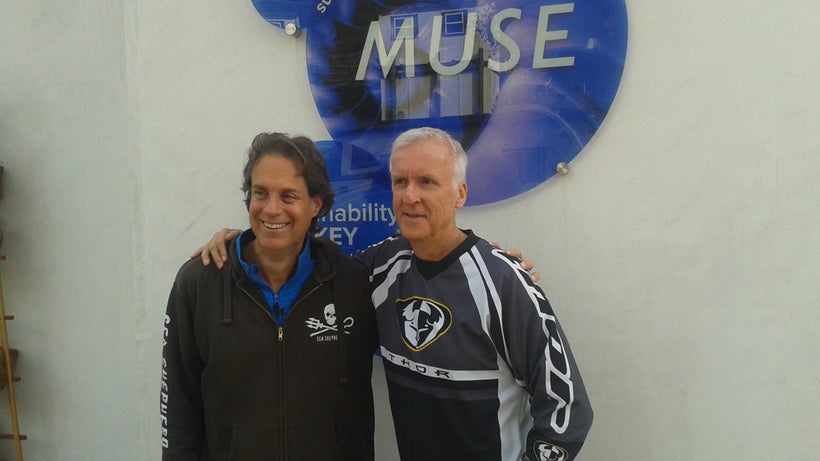 Earth Doctor Reese Halter is the author of "Shepherding the Seas: The Race to save our Oceans."
This post was published on the now-closed HuffPost Contributor platform. Contributors control their own work and posted freely to our site. If you need to flag this entry as abusive,
send us an email
.