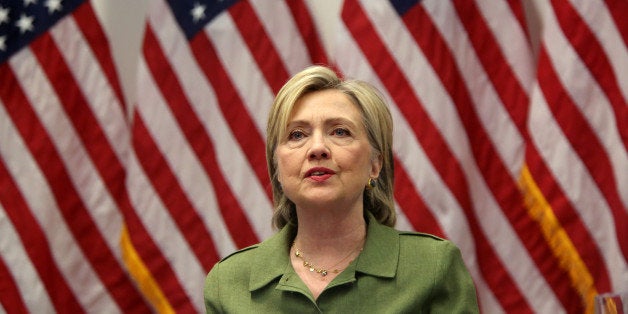 Democratic presidential nominee Hillary Clinton is a lifelong Chicago Cubs fan. In 1969, the Cubs had a 9.5 game lead over the New York Mets in the middle of August, but ended the season 8 games behind the Mets after losing 17 of 25 games to close the season.
The average of the latest national polls shows Clinton with about a 5 percent lead over her Republican opponent, Donald Trump. But Trump has had a rough two weeks, and has now shaken up his campaign staff. Gone is campaign chairman Paul Manafort, who was brought in to make the campaign more professional. On Tuesday, Trump brought on Breitbart News executive chairman Steve Bannon as campaign CEO, and Kellyanne Conway as campaign manager.
In an article last October, a Bloomberg Businessweek headline read, "This Man Is the Most Dangerous Political Operative In America." Bannon is a former Goldman Sachs banker and documentary maker who took over Breitbart, a conservative website created in 2007, when its founder, Andrew Breitbart, died suddenly in 2012. "The recruitment of Bannon will release Trump to be the outsider that won a primary in historic fashion," wrote reporter Joseph R. Murray in The Hill. "Bannon will encourage Trump to be the very person the (Republican National Committee) warned against and, for that reason, Trump stands to win because this election is not about Republicans versus Democrats; it is about outside change versus insider corruption." Murray's piece was entitled, "Trump's recruitment of Bannon means war and everyone knows it."
Conway is a long time Republican operative and Trump friend. Conway earlier ran a PAC for Texas Senator Ted Cruz. She is a lawyer, a mother, and founded The Polling Company in 1995, which advised many Republicans, especially on women's issues. Conway is an effective communicator who will work to focus Trump and his campaign on issues. She reportedly was influential in getting Trump to express regrets last week for derogatory comments he has made in the past, although he was not specific.
Bannon and Conway will work forcefully to turn voters against Clinton. But reining in Trump may be difficult. And already he has taken many controversial positions that may be hard to clean up. For instance, last October Trump said he would have a deportation force that would remove undocumented immigrants from the United States. On Sunday, Conway said the creation of a deportation force by a Trump administration was "to be determined." A softening of Trump's immigration position, which played a huge role in getting him the nomination, could alienate some of his most ardent supporters.
Nonetheless, Clinton has lots of perceived baggage. She has been dogged by scandals most of her public career. Most recently, the Clinton Foundation has come under intense scrutiny for possibly trading favors for donations during Clinton's term as secretary of state. Sunday's New York Times reported that, "The Clinton Foundation has accepted tens of millions of dollars from countries that the State Department -- before, during and after Mrs. Clinton's time as secretary -- criticized for their records on sex discrimination and other human-rights issues." Because of the controversy, former President Bill Clinton announced Thursday that the organization would not longer accept foreign or corporate donations should his wife be elected in November. But that will do little to quiet critics. Several leading Democrats have called for the foundation to immediately stop taking donations.
Of course, the controversy surrounding Clinton's use of a private email server while at the State Department continues to trouble her campaign. In July, FBI director David Comey recommended against prosecuting Clinton, but called her use of a private email server "extremely reckless." Last week the bureau turned the case documents over to Congress, and Republicans are pressing that she be charged with perjury.
Clinton has maintained a strong lead in recent polls, and has been pulling ahead in several key battleground states. She is also doing well with women and minorities. But likely voters view neither candidate favorably. Clinton is most vulnerable on the trust issue, although Trump is as well. And more that 60 percent of all Americans surveyed believe the country is on the wrong track.
For sure, the team of Bannon and Conway will attack Clinton mercilessly on trust in an effort to disqualify her from being president, while helping to improve Trump's position in the polls by keeping him "on message" as the candidate for "change." Expectations for Trump doing so are low, so any improvement can build momentum. Bannon and Conway know the media prefers a horserace.
This year the Cubs are dominating major league baseball, and they are currently the favorites to win the World Series. But long-suffering Cub fans remember 1969, including Hillary Clinton. She must do a better job of winning over uncommitted voters, and with addressing her weaknesses, in order to prevail in November.