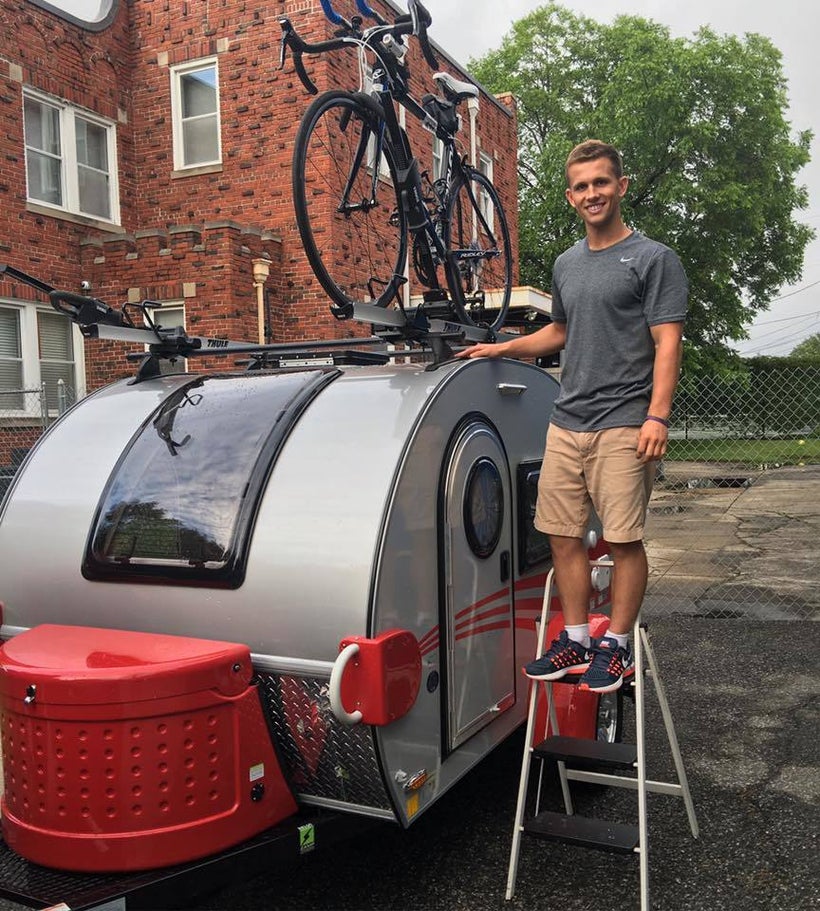 This recent college graduate needs fans to cheer him on as he attempts a grueling coast-to-coast Guinness World Record for longest triathlon and raises funds for pancreatic cancer research.
Sam Hitch, age 22, a recent graduate from the University of Virginia (UVA), embarked this week on a quest for a Guinness World Record for the longest triathlon. The goal is to cover 3,900 miles, while raising funds for pancreatic cancer. The previous world record of 3,093 miles was set in the summer of 2014.
His journey stretches from Virginia to California. It includes a total of 105-miles of swimming, 3,030-miles on a bike and a 766-miles of running.
Hitch plans to reach San Francisco, California in about 54 to 63 days, raising funds for the Lustgarten Foundation to support their Pancreatic Cancer research as he goes. So far he has raised about $5,600.
"I have several friends whos parents are fighting pancreatic cancer," Hitch told me in an interview last month. "I see their struggle and all I want to do in pour myself into this effort for their sake."
On his first day in Yorktown, Virginia (in the York River) Hitch swam 13.25 miles.
He has completed about 68 miles as of Thursday. He's hoping to finish the swim portion of the triathlon on Saturday for a total of 105 miles. 
Hitch will then get on the bike and start the 3,030 mile ride. The run will start in Utah. 
"He is feeling sore and tired," his mother, Virginia Hitch, told me tonight. "He keeps on going. Pretty inspiring, I have to say."
Last month Sam Hitch asked my husband, Robert Suhay, two time Guinness World Record Holder for the Longest Distance Sailed in a Dinghy, Unassisted, to meet with him in order to gain some insight into what to expect from this kind of grueling, endurance, attempt.
Those who attempt a Guinness World Record for a life-threatening, grueling, endurance effort are a whole different breed of human being.
We met for lunch at The Chrysler Museum of Art here in Norfolk. I sat and watched these two remarkable men talk about their passion for adventure and how it translates into physically and mentally torturing themselves.
They talked a great deal about how to exceed the body's natural limits for exhaustion and pain. My husband told him about all his little mental exercises and tricks that helped him to stay strong and not yield to the siren call of self-doubt.
Robert sailed a boat that is just slightly longer than our dining room table for four days and nights, in the ocean, from Beaufort, North Carolina, around Cape Lookout and the "Graveyard of the Atlantic," up to The Chesapeake Bay to finish in Annapolis, Maryland. He did this with no sleep and no chase boat. He was a self-contained unit.
Hitch departed from Yorktown, Virginia six days ago. He stops each night.
His family is traveling alongside him in an RV, documenting his journey and supplying moral support.
Being the support crew for a Guinness World Record attempt is not for the faint of heart.
It's like being Ginger Rodgers. You have to do everything Fred does, only backwards and in heels. While not as physically taxing, it is a relentless, 24-7, exercise in sleep-deprivation and worry.
This is a commitment to making sure that the person making the record attempt is properly documented, supplied with food, water, batteries, medical supplies, tactical information, weather updates and media attention.
The athlete is out there draining his or her body and soul of every last drop of endurance.
Meanwhile, the support crew is filling up with anxiety knowing that it's all for nothing if nobody knows this effort is going on.
Right now the lack of media attention is the hitch in Sam Hitch's attempt. His efforts are going unnoticed.
To an athlete under this kind of stress seeing just one fan along the road can make all the difference.
When Robert was deep into the exhaustion of his second day a friend from South Carolina, Gunnar Stumpe, paid for a charter boat to take friends and fans out to the Virginia Beach coast to cheer Robert on. Later my husband told me that one moment was the tipping point for him. Seeing us out there rebooted his mental state and got him over a psychological hump.
For the next 30 days, or more, Hitch will be passing from town to town in a hellish limbo of pain and exhaustion. He needs fans out there lining his route to cheer him on.
Imaging holding the Tour de France and having nobody show up except the athletes. No Phil Liggett and Paul Sherwen making the call. No guy in a devil costume shaking a pitchfork, running alongside the riders. No cowbells ringing.
He and his family hope fans will hit the road when he comes through their area to shout, ring a bell or blow a horn. He needs people to cheer him up and on, as well as donate online.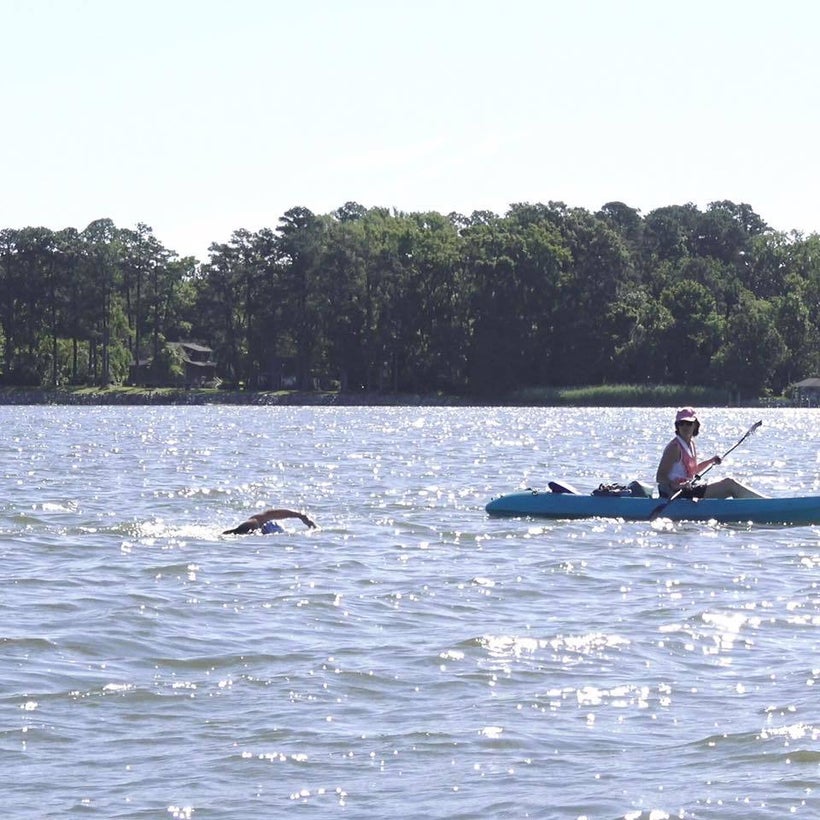 This post was published on the now-closed HuffPost Contributor platform. Contributors control their own work and posted freely to our site. If you need to flag this entry as abusive,
send us an email
.