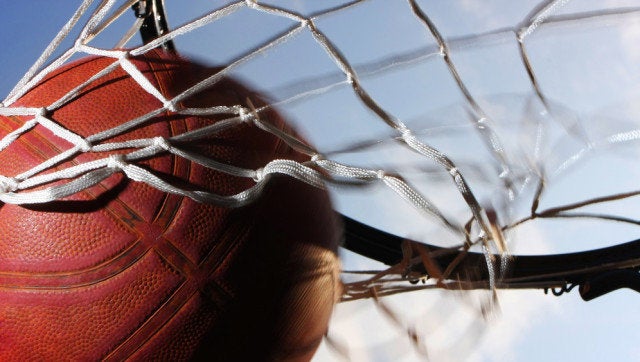 I'm not a particularly contemplative person. But one day, I looked at the world a little longer than I typically do. And I noticed there are a lot of lines that divide us as human beings. Political lines. Racial lines. Religious lines. Economic lines. And so, in this world full of lines that separate, I sought to create one that would bring us together.
Partly due to the fact that my oldest son had played basketball with some boys from Compton from a young age and partly because I saw Compton as this bizarre place that was internationally recognized -- exclusively for horrible things like gangs, drugs and violence -- I chose to create that line at Compton High School.
Because I'm an ad guy at heart, I started, with a name and a tagline: Free Throw: One line that brings us all together.
I had no real idea how I would make this event and the corresponding film happen. Just an unwavering conviction that it must. This pigheaded righteousness and clarity of purpose would prove to be the most valuable asset I had, whether it was coercing crew members to work for sandwiches or the Compton School Board to trust the intentions of a middle-aged white guy from Manhattan Beach with a camera.
Once I had the concept approved, I just needed, um, money.
So I started by pitching the concept friends who had some. (It helped that they also had big hearts, a love for basketball and the ability to forget if it all went bad.) I called my presentation the "Anti Independent Film Pitch," because instead of talking about the upside potential like most independent filmmakers do, I spoke only of the good I thought their money could do. I ended by saying, "If I completely screw up, you'll have helped send a kid to college. Can you live with that?" They all could.
After about a month, I had raised $47,000 for the scholarships and another $15,000 to make the film. (I was close to getting a couple well-known brands to commit to putting $100,000 into the scholarships in return for essentially owning the film. Unfortunately, the speed at which we were moving, the lack of proven results I could share and the time of year all worked against us.)
This is where our ad agency, WDCW, really stepped up. By dedicating funds, agency resources and personnel to the project, we were able to make an almost absurdly ambitious two-week filming schedule that involved minors, a contest with a cash prize and a load of other legal headaches, a reality.
So many things happened during those two weeks, it's hard to convey. Many heartwarming. A few heart-wrenching. All on film. In the end, due largely to the incredible generosity of one of our contestants, a line that started with one person touched an estimated 45 million people. Which led to this TED Talk I recently delivered and the feature film Free Throw, which was released today on Apple iTunes and through cable video on demand.
Most importantly though, the line connected me to some of the most inspiring people I've met in my life. People in a community so foreign two years ago, and now, so much a part of me.