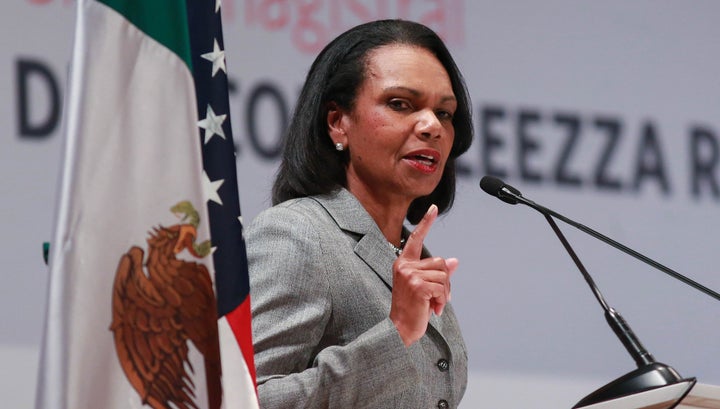 Condoleezza Rice, an Alabama native who was former President George W. Bush's secretary of state, is urging Alabamians to vote in Tuesday's special election for the U.S. Senate ― a race she called "one of the most significant in Alabama's history." 
Rice, now a political science professor at Stanford University, provided a statement to AL.com ahead of the election between Republican Roy Moore and Democrat Doug Jones. The candidates are vying for the Senate seat that Jeff Sessions left when he became attorney general last year.  
"I encourage you to take a stand for our core principles and for what is right," Rice wrote, without mentioning either candidate by name. "These critical times require us to come together to reject bigotry, sexism, and intolerance."  
Moore, 70, has been accused by multiple women of groping, harassing and pursuing them sexually when they were minors and he was an adult in the 1980s. He has denied the allegations, calling them "malicious" and "false," and claimed he has never met any of the six women who have accused him of sexual misconduct. President Donald Trump, who also has been accused of sexual misconduct, has endorsed Moore's candidacy multiple times. 
Rice wrote that it is "imperative" that voters "remain focused on our priorities and not give way to side shows and antics." She added: "I know that Alabamans need an independent voice in Washington. But we must also insist that our representatives are dignified, decent, and respectful of the values we hold dear."
She encouraged people to vote and to express themselves. "Sustain the central ideals and values that make our country a beacon for freedom and justice for the sake of Alabama and for the good of the United States of America."