Sometimes something is important enough to set aside differences and, in our case, our differences are more perception than reality. Some call us a political odd couple, the unexpected match of a Hollywood actor and the wife of a Republican U.S. Senator. The truth is that we found common ground amidst the volcanic soil of eastern Democratic Republic of Congo (DRC) -- a common passion for the people -- and a common purpose to encourage others to get to know an important part of the world too often forgotten by the international community.
What do you think of when you hear the word Congo? For some, images of child soldiers, rape survivors, conflict, and poverty come to mind. It's a fact that it is the deadliest conflict since WW II. War raged in eastern DRC from 1998 to 2003, eight African nations participated in the fighting on Congolese soil, many hoping to seize control of its vast mineral wealth. Some estimates suggest that over four million Congolese died during the conflict and another million have died in the lawless aftermath from starvation, conflict and preventable disease in the years since. Tens of thousands of children were forced to become soldiers, and in some parts of eastern Congo as many as two out of three women have been raped or subjected to other forms of sexual violence.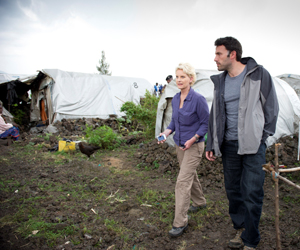 We have been traveling to eastern Congo for many years, and despite the extreme tragedy, we are inspired to hear story after story of hope, perseverance and, yes, success. That is why we are investing in Eastern Congo Initiative (ECI) -- an advocacy and grant-making organization that has a vision of eastern Congo vibrant with abundant opportunities for economic and social development. ECI invests in Congolese-led community-based organizations because we believe they have solutions to their own challenges, they simply require a little support.
For the second time this year, we are traveling to Congo. Today, November 28th, DRC is scheduled to hold presidential and parliamentary elections -- only the second elections in the country's history -- and on December 6, together with our Congolese friends and partners, we will be there to hear the results.
What do presidential and parliamentary elections in one of Africa's largest democracies have to do with you and with us? A lot. DRC is a vast resource rich nation at the geo-political heart of Africa. Peaceful, credible elections will support good governance and development in DRC but also the stability of its neighbouring nations spanning the Great Lakes, East and Central Africa regions. Sadly, in the recently-released 2011 UN Human Development Index, DRC was ranked last out of 187 countries. A peaceful and credible election provides a window of opportunity to address the fundamental causes of DRC's poverty -- lack of good governance, which directly contributes to widespread insecurity and stunted development indicators, including some of the world's worst maternal mortality rates and overwhelming unemployment. The U.S. government and the international community provide billions of dollars in development and military assistance to DRC. And beyond the tactical arguments, there are the moral ones. We cannot afford for fraudulent or poorly conducted elections to spark new violence, effectively setting back the limited -- but important -- progress that has been made in recent years. The results would be devastating, particularly for Congo's most vulnerable populations, women and girls.
There are significant challenges in the run up to this election, from violence to reports of fraud and intimidation, not to mention the sheer logistics of moving election supplies throughout the country. Congo is the size of Western Europe with less than 2,000 miles of paved roads, underdeveloped infrastructure, and fractured political leadership. Preparations for the election began in earnest just a few months ago. These challenges amplify the critical need for the international community to support the election, highlight problems and present solutions. It is incumbent upon the Congolese government to ensure a free and fair process specifically because of these challenges.
We know that there are reasons to be hopeful. In advance of the elections, ECI has partnered with community-based organizations and independent media to support groups that have traditionally been disenfranchised from the political process -- primarily women and youth -- as they work for structural and political change. Partners in eastern Congo, such as the city of Goma's newly established radio station, Mutaani FM, are rallying everyone from motorcycle taxi drivers to rural mothers advocating for a free and fair election. Mutaani has created an anonymous mobile text feedback system, giving everyone the opportunity to openly share their voice and experience during the election, effectively holding political parties and election officials accountable.
Whoever is elected to lead the DRC for the next five years, the question we must be asking is not what happens on Election Day, but what is the long term vision of Congolese leaders for their country? Whoever wins, the challenges of development and restoring state authority remain the same. It is after the election that international attention must focus on building good governance and rule of law through security sector reform and economic growth.
So this is why we are going back to Congo, to bear witness to this historic election, but also to highlight progress made and the opportunities to come. Along the way, we will be sharing our experiences and the voices of Congolese leaders -- from women farming cacao and now exporting their product to a U.S. chocolate company (and in doing so doubling their family incomes) to community leaders who are rebuilding from years of terror at the hands of the Lord's Resistance Army (LRA) -- all on HuffPost Impact.
Elections are, after all, a process -- not just an event. As the Congolese people prepare for these historic elections, lack of preparation, violence and accusations of fraud threaten to undermine the process. However, the future of the DRC will remain hopeful if this milestone passes with reasonable participation and minimal violence. One thing is for certain, this country is so tired of war. The Congolese people deserve credible, transparent and peaceful elections and a future full of opportunity.