Elyssa is born for the stage. Her presence, energy and love seeps out of every pore of her body and is truly contagious. It was an honor to watch her speak and to get to know her.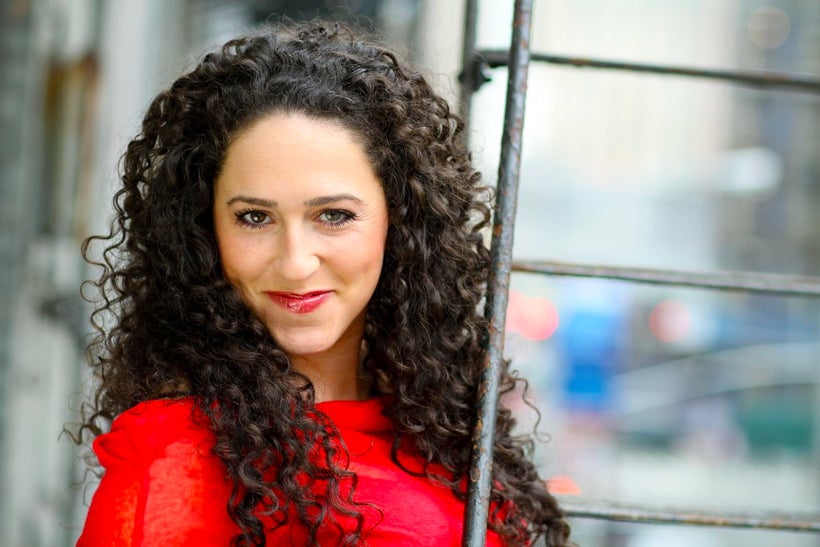 Elyssa Mactas is an entertainer and entrepreneur who was watching a little too much "Shark Tank" when she got the self-submit callback that hatched an idea finally bringing her odd combination of Musical Theatre Major and Computer Applications Minor to use. Elyssa founded Booktress LLC on this idea last fall, and was recently acquired to become Co-Founder / VP of Managed Services of Castmate, Inc. She now manages AUDITION HERO – an online on-demand booking platform for actors that makes scheduling a self-tape video session as easy and convenient as ordering in pizza.
In addition to "entrepreuing," Elyssa is an actress/singer who performs on both the stage and screen. Recent Developmental Credits: MEAN The Musical(Jinx), By Wheel and By Wing (Esther Parnes), The Happy Hooker (Flavia), CHIX 6 (Blaze). Selected NY Stage: In Trousers (Miss Goldberg), The Yellow Brick Road (La Bruja), columbinus (Perfect), Once On This Island (Asaka). Selected Film/TV: A.C.O.D., Free The Nipple, "The Haunting Of," "My Crazy Love." Elyssa also performs regularly as a vocalist at such venues as 54 Below, The Cutting Room, Don't Tell Mama, Joe's Pub, The Duplex, The Laurie Beechman, Stage 72, Tammany Hall, Town Hall, and Toshi's Livingroom. She holds a BFA in Drama from New York University's Tisch School of the Arts (CAP21, Playwrights Horizons, The Viewpoints, NYU in Athens), and is a proud member of Actors' Equity Association.
What does IMPACT mean to you?
The butterfly effect on steroids. Making a difference in someone's life with a strong enough influence that it sets off a new chain of events into motion that would not have occurred otherwise.
What gives you the drive/passion to do what you do? In other words, what is your WHY?
As a performer: The arts are powerful beyond measure. I've always said – if I can change one person's mind through a performance I give, if I can create one conversation that did not have the means to exist, if I can open someone's mind to a new possibility or a new way of thinking – I've done my job as an artist. That's my WHY as an entertainer.
On the entrepreneur front: I feel that as actors we have a responsibility to share our gifts with the world. Unfortunately, the odds are very much against us. As a company, Castmate is dedicated to finding entry points into what we call "the actor's funnel," where we insert technology, growth-hacking, and a start-up mentality to help make artists' lives just a little easier. When you support the actor, the actor does his or her best work. This kickstarts a cycle ultimately making each job easier and more enjoyable for every entertainment professional along the way, from agents and managers, to casting directors, to directors, producers, investors, you name it – resulting in empowered and exciting work. THAT is our WHY. AUDITION HERO is our first product, designed to support (you guessed it) the actor's audition preparation and execution of actual auditions themselves. We're starting at the beginning. (It's a very good place to start!)
HOW do you get your mission out into the world?
Being seen and heard! As an artist, I try to perform in as many concerts and readings as possible while auditioning. As an entrepreneur, constantly networking and building relationships with other people and businesses that share similar goals and values. We also LOVE connecting with our clients on a more personal level and starting ongoing conversations with them so we can best serve the NYC acting community as a whole. Before launching, we had "Coffee + Chats" at the office with a number of Early Access clients. I'm so thrilled to share that we've already heard from one female Early Access client who got called back from the HAMILTON Open-Call after working with one of our accompanists/transcribers, and a male Early Access client who got called into casting at 30 Rock after booking a self-tape videography + acting coaching appointment with us for the NBC Scene Showcase! AUDITION HERO Beta isn't even fully launched to the public yet – these wins are huge for both our clients and the team, and incredibly valuable in helping us continue to shape the way we further our mission for this product and the next.
If you could have lunch with one person (dead or alive) who would it be and why?
Who? My maternal grandfather, Ben Avick. He was certainly a jack-of-all-trades, with careers ranging from a traveling tap dancer in burlesque shows in his early teens to a hypnotist that worked with people suffering from disease and addiction later in life.
When was the last time you belly laughed until you cried?
Last Monday, I was in San Francisco after speaking at a women's empowerment summit that weekend, and two of the Castmate Co-Founders actually came with me! The CEO and I were at lunch with an old childhood friend of mine from elementary school who recently moved to the Bay Area, realizing how much "louder" we were than everyone around us, and how very "New York" this was of us. I encouraged her to share one of the most ridiculous NYC stories I had ever heard with him – the short version is this: She lived in a Chelsea studio apartment a few years back (with a roommate of course) and the guy from the bodega below them started playing "Billie Jean" on a boombox (!) one day, which she could hear and feel through the floor of the apartment. Enjoyable at first! Then he played it again. And again. On repeat. All day. Every day. For about TWO WEEKS STRAIGHT. It was such a disastrous situation that the entire building and block bonded over no longer being able to enjoy the Michael Jackson classic, and eventually the cops got involved. I can't even think about that story without bursting into laughter. Only in New York!
What did you want to be when you grew up?
An award-winning actress and singer, of course! You KNOW my Bat Mitzvah theme was BROADWAY.
What is your greatest accomplishment?
I could say bungee jumping Victoria Falls Bridge in tandem with my brother in 2007 in Zambia…that was pretty epic on the adventurous accomplishment front. But, honestly? Maintaining the amazing relationships I'm lucky enough to have with my family members and dear friends. My entire immediate family is in Georgia where I grew up, my best friends live in California, and here I am in New York City! It's work, no doubt, but worth every effort.
Andi Wickman is on a mission is to help elevate women. To lift them into the entrepreneur world. To hold their hand when they think they can't go bigger. To help them realize the fire within themselves. To help them share their mission with the world.
She is hosting a 5 Day Visibility Challenge to help online entrepreneurs become a person of authority and influence: 
This post was published on the now-closed HuffPost Contributor platform. Contributors control their own work and posted freely to our site. If you need to flag this entry as abusive,
send us an email
.