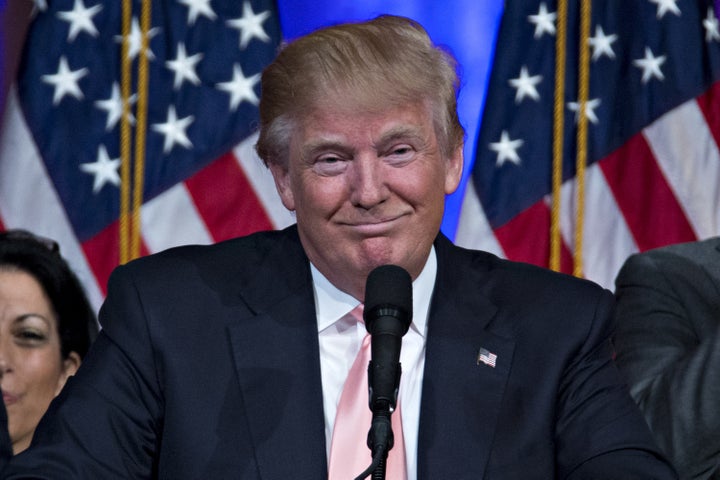 A coalition of conservatives opposing Donald Trump's presidential campaign called for a Republican unity ticket in a statement issued Thursday. The "Statement From Conservatives Against Trump," published by The Resurgent's Erick Erickson, marks a new phase in conservative efforts to deny the GOP frontrunner the party's nomination.
"We call for a unity ticket that unites the Republican Party," said the group, which met Thursday at the Army Navy Club in Washington. Attendees at the meeting included former George W. Bush adviser Bill Wichterman and Rep. Trent Franks (R-Ariz.), a vocal supporter of Sen. Ted Cruz (R-Texas). Erickson, who participated by phone, later issued a statement on behalf of the group. 
"We believe that the issue of Donald Trump is greater than an issue of party. It is an issue of morals and character that all Americans, not just those of us in the conservative movement, must confront," the letter said.
The self-described "grassroots conservative activists" said they plan to keep their options open, allowing the possibility of a contested convention and a third-party candidacy. 
Some of the nation's most prominent conservatives, Erickson included, have for months harbored doubts about Trump's campaign, citing his pledge not to reform Social Security or Medicare and his past support for Democrats as betrayals of core conservative values. Until recently, the GOP establishment said little, believing Trump would flame out on his own. But facing the dire prospect of Trump atop the GOP ticket in November, conservatives are finally beginning to organize their opposition in public.
"We encourage all former Republican candidates not currently supporting Trump to unite against him and encourage all candidates to hold their delegates on the first ballot," the statement read, referring to a tactic to deny Trump the nomination at the party convention.
The statement also alluded to the possibility of multiple rounds of ballots at the Republican National Convention in July. Trump recently warned of the possibility of riots at the convention if he were to be denied the nomination. 
"The process should be good enough for all the candidates without threats of riots," the letter said. It also left open the possibility of a third party candidate, a "real conservative," and referred to Trump as a "Hillary Clinton donor," 
The prospect of the remaining GOP candidates dropping their opposition and uniting against Trump is difficult to imagine, given the current state of the GOP. Besides Trump, the two candidates remaining in the presidential race, Cruz and Ohio Gov. John Kasich, have little in common and have attacked one another in recent debates.
Two other former Republican presidential contenders have endorsed Trump: New Jersey Gov. Chris Christie and retired neurosurgeon Ben Carson. As of Friday afternoon, Trump had a delegate lead of 262 over Cruz, with 673 delegates won to Cruz's 411. 
CORRECTION: An earlier version of this story mistakenly stated that Brian Darling attended the meeting at the Army Navy Club. In fact, he was not in attendance.