California's Thomas fire is the fifth-largest wildfire in the state's modern history. It's also the biggest of six wildfires now raging in the state that have forced the evacuation of 98,000 people.
Officials estimate the Thomas fire has blackened approximately 234,000 acres and destroyed nearly 700 homes. It took less than three hours Sunday for a towering wall of wind-whipped flames to cover a distance of five miles, consuming an area the size of Washington, D.C.
Some 7,000 firefighters from 10 states have been battling the blaze, an effort that has cost nearly $50 million.
In addition to strong winds and dry foliage, human error and ignorance are contributing to the fire's damage, experts say.
Roads become congested with people waiting to evacuate, causing fleeing residents to tangle with emergency responders trying to get in. Cars abandoned by frustrated drivers stuck in gridlock add to that problem.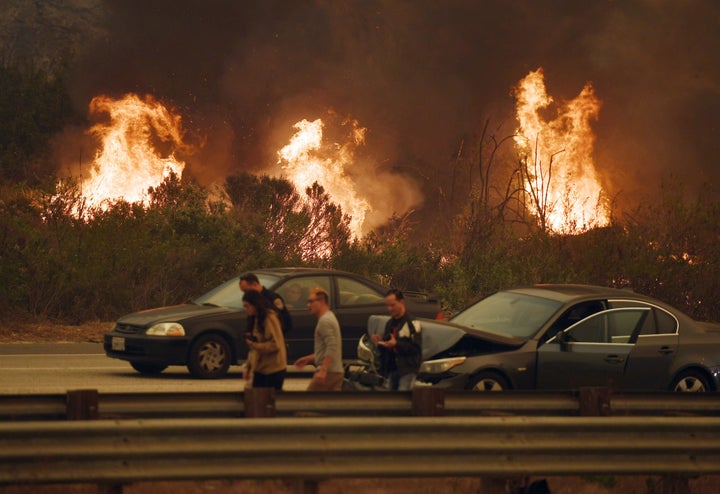 James McMullen, a retired California chief fire marshal, questioned the choice of people who make their homes in fire-prone pockets of wilderness.
"A frustration in the fire protection community is that a lot of people want to live in the country and enjoy the ambiance and foliage around them without understanding the risk," McMullen told HuffPost. 
"It's beautiful and we want everyone to enjoy life out there," he said. "But you must be respectful of what mother nature can do."
Strong winds can cause a fire to blow like a blast furnace, he said.
"They can burn so fast and furious that they will incinerate trees," McMullen said. "I've personally seen where these fires have incinerated pine trees up to 50 feet high ― nothing but blackened branches, and at the top a full-blown Christmas tree. It's a remarkable thing to see."
Following some guidelines can ensure not only residents' personal safety, but also that of firefighters.
"In California, you have to take precautionary measures to live safely in the country," McMullen said.
The "most important thing" a homeowner in a fire-prone area can do "is have a defensible, fire-safe landscape," said McMullen, now president of The McMullen Company, a fire-protection consulting firm. "Remove the natural vegetation and replace it with ornamental fire-resistant vegetation and keep it back 100 feet."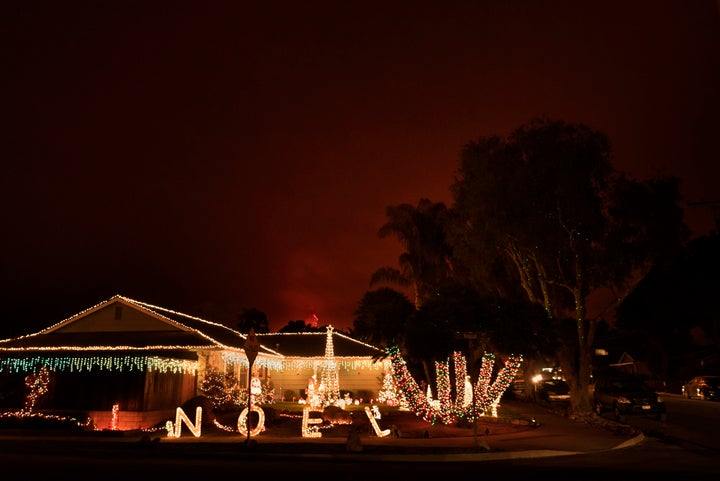 Construction materials should be fire-resistant.
"People love huge decks and tend to build them out of combustible materials, like pine," McMullen said. "Then they load them with other combustible materials, like chaise lounges and barbecue grills with propane tanks. All of that will burn.
"We recommend houses in communities that are subject to wildland fires have fire-retardant roofs and siding," he added. "Attic access vents should be no more than a quarter inch in diameter to prevent embers from floating in."
According to McMullen, firefighters may choose not defend houses that are completely surrounded by vegetation during a wildfire.
"It's too dangerous, so they'll look at the next house, and if it has 100 feet of defensible space, they'll defend that one," he said.
Experts say it's important to prepare for an evacuation, readying pets and gathering medications and important papers. Residents should stack lawn furniture away from the residence and turn on all the lights to illuminate the home. Fires can cause blackout conditions, even during daylight, and lights help firefighters identify the location of houses.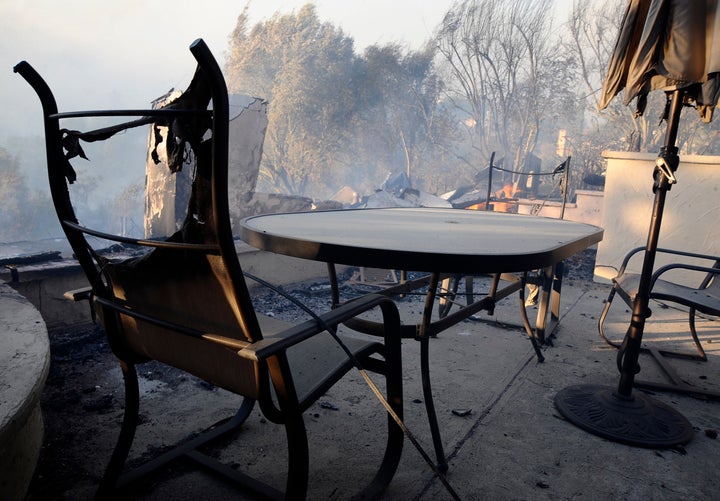 "It's very important for people to leave even before the evacuation order is given," Laing said. "Often, people will say, 'No, I'm not leaving.' Then they'll get scared and leave too late, and that's where they're in danger of getting burned over. Those people will literally attempt to drive through flames, or try to find shelter. We've even heard stories of people who got into swimming pools. But at that point, it's already too late."
Mike Driscoll, senior vice president of the fire and explosion division at the private firm Envista Forensics, advised people who encounter wildfire while driving to "remain inside their vehicle with the engine running, windows up and ventilation system closed to the interior of the vehicle, until the fire moves beyond the vehicle's location."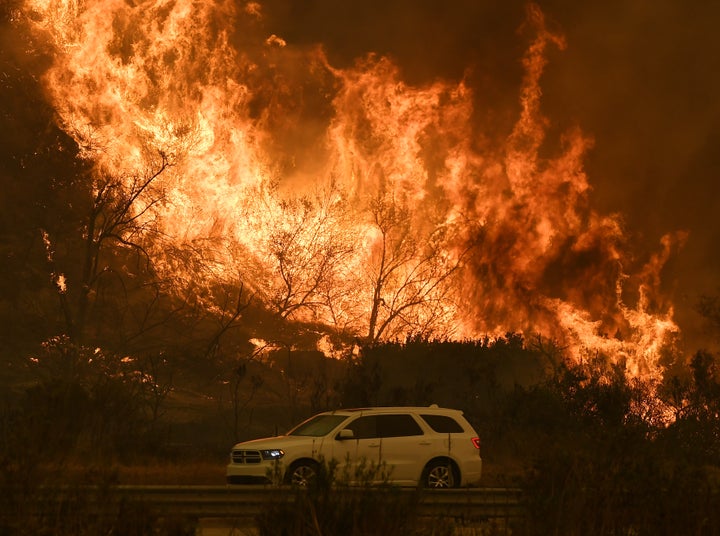 Laing, a former fire prevention technician and inspector, warned that radiant heat is a big danger for those who get too close to a fire.
"It is possible for vehicles to ignite if they get too close," Laing said. "Fire can be very intensely hot, and radiant heat can cause tires to burn and alloys to melt. If you are in those conditions, you are really in a bad spot, and if you pull off the road, that's it. You're done."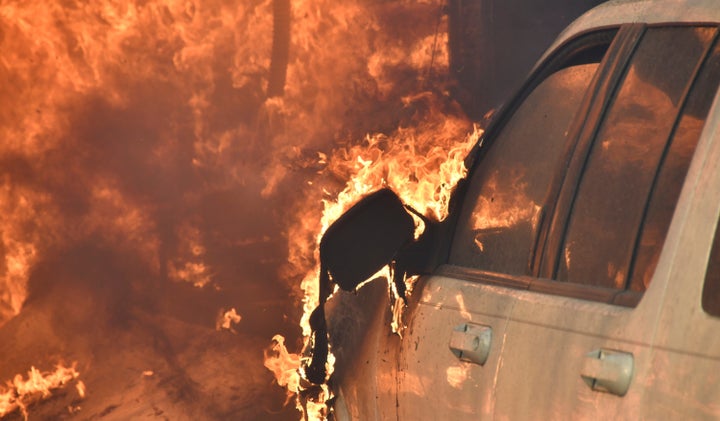 Firefighters estimate they'll be able to contain the Thomas fire by Dec. 24, Babete Anderson, national press officer for the U.S. Forest Service, told HuffPost. Investigators haven't determined whether the blaze was sparked by a natural cause, such as lightning, or resulted from carelessness or arson.
According to McMullen and Laing, massive wildfires like the Thomas fire have been increasing in frequency and duration in recent years because of global warming.
"We're seeing hotter times than we've seen in the past," McMullen said. "Temperatures have risen, and you can see where climates have changed. I've been around a long time, and I've fought fires for many years, and I can tell you that this type of fire in December is something I've never experienced before."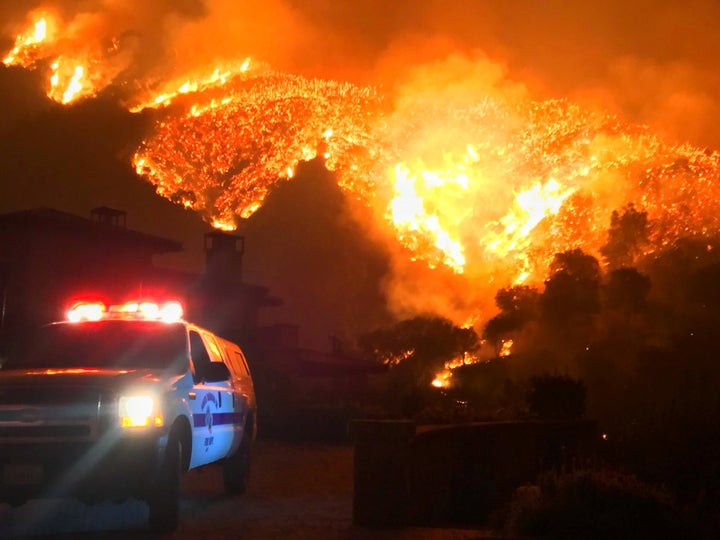 "These cycles of drought, combined with drought-stressed trees and bumper crops of fuel, create these kinds of intense fires," he said. "Fires in particular seem to indicate the trends are serious."
Fires also take an emotional toll on survivors.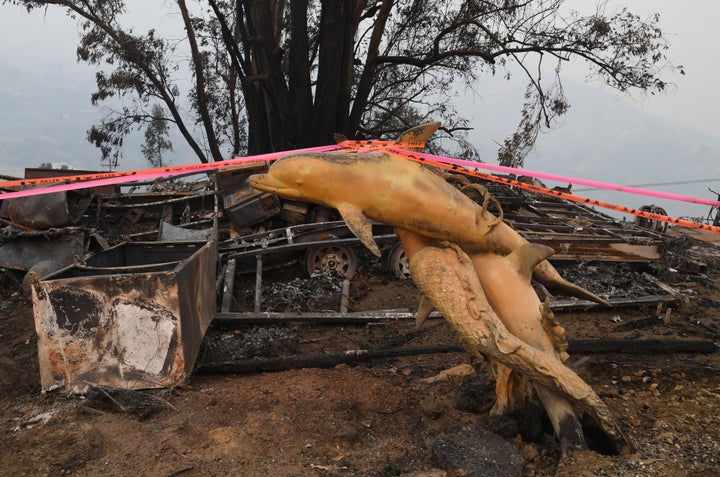 Romero-Sim said her husband, Hugo Romero-Rodriguez, was wracked with guilt that he was unable to save anything from their home — including their beloved dog, Coqueta.
"He just kept watching and he feels so guilty that he couldn't save it," she continued. "I told him he did everything he could, and he did what he had to save our lives."
For more information on fire preparation, visit the American Red Cross Prepare SoCal website, which provides valuable tips for responding to life-threatening wildfires. Experts agree: Being prepared is key to survival.
BEFORE YOU GO
PHOTO GALLERY
California Wildfires From Above