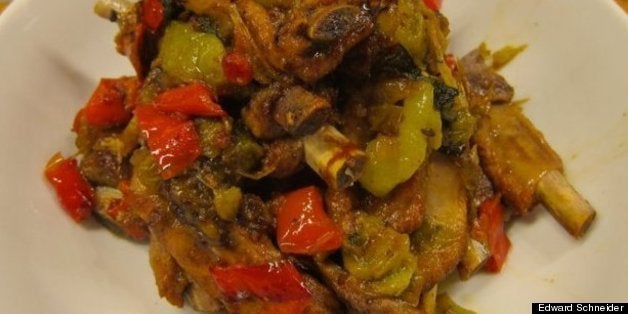 Cif & ciaf (pronounced cheef e chaff) sounds like a vaudeville team or those car repair guys on NPR. But it is among the many pork dishes with their origins in pig-killing day: a way of quickly cooking odd cuts that don't find themselves turned into hams, sausages or the more noble roasts.
More accurately, it isn't a single dish: it's a basic approach with variations, as you'll find if you look in Italian cookbooks for the Abruzzo region (or on line). The common thread is the use of small, often tough, pieces of meat -- sometimes trimmings from areas like the jowl, but almost always including costine: little ribs, or riblets, sometimes called St. Louis ribs here in the US - and the cooking technique, which is to cook them uncovered in a skillet, stirring them around from time to time, with olive oil and aromatic flavorings. That's unusual for cuts like this, which are more commonly braised, slow-roasted or, of course, barbecued.
That's why I thought of cif e ciaf when gazing at the Flying Pigs Farm display at our Manhattan farmers' market: The ribs were appealing, but it was too hot to turn on the oven (and outdoor cooking isn't available to this city boy).
Some recipes include onions, some include tomatoes, but my favorite is one of the simplest: oil, garlic, dried chilies, fresh peppers and a single herb (sage on that day).
The cooking is simple too, though it takes an investment in time and attention: I cut two racks of St. Louis ribs between the bones to form separate riblets (lamb riblets would be great cooked this way, so if you don't eat pork read on anyway -- though, come to think of it, if you don't eat pork I probably lost you in the first paragraph). In a wide heavy pan over medium heat (I used a braising pan, but a deep skillet would be okay) I warmed some olive oil and lightly browned three cloves of garlic, the largest of them cut in half, the rest whole, along with a pinch of hot chili flakes and half a dried chipotle chili. A chipotle? Sure: Its smokiness alludes to the outdoors, which is where a dish like this would have been cooked in the old country. (You are free to add more chilies if you like.)
When the garlic was just turning golden, I added all the pork, seasoned it with salt and pepper, and lightly browned it. I poured off some of the fat and deglazed with dry white wine, about 3/4 cup, stirring the ribs as it cooked down. When the wine had reduced to nearly nothing, I added a couple of so-called frying peppers -- the long pale green ones -- and a fairly large red pepper, all cut into biggish chunks, plus half a dozen fresh sage leaves. Now I started to move the pork and peppers around in the pan with a big wooden spoon: not constantly, just every few minutes to make sure everything cooked evenly, was coated with pan juices and didn't burn. (There are those who say that the name of the dish comes from the sound of the bones chif-chaffing around in the pan. Perhaps.)
From this point it took perhaps 40 minutes for the meat to become tender. Not falling-off-the-bone tender, because that's not the aim of this kind of open-pan pig-killing-day cooking. If you're using supermarket pork, it may not take that long, and some pork may take even longer: pull a rib out of the pan every now and again and nick a morsel off with a knife to taste it.
When it's done, you can just bring the pan to the table, or you can turn everything out onto a deep serving platter or wide bowl, to be eaten with fingers. There will be delicious pepper-and-pork infused juices (mostly fat, truth to tell), and these you can mop up with crusty bread, preferably grilled.
There were leftovers, surprisingly. These I reheated the next day with a cut-up onion and a handful of halved cherry tomatoes -- they were terrific that way, so I wouldn't discourage you from including those additional ingredients in the first place, when you add the peppers, if you wanted a slightly more elaborate set of flavors.
But truly, elaboration isn't the point. Unlike some other ways of cooking ribs, this is not about smoke and seasoning: it's about the meat, its fat and its juices. With good pork, like ours from Flying Pigs Farm, what more could anyone want? And now that pig-killing day is pretty much every day, we can enjoy its benefits -- such as cif e ciaf -- any time we like.
PHOTO GALLERY
Cif e Ciaf, An Abruzzo Way With Pork