These cops showed an inspiring side of law enforcement that the public doesn't always see. From taking the time to reach out to local youth to helping a homeless man, these police officers all went beyond the call of duty -- and showed their communities how much they truly value them.
1. A police officer gives a homeless man a pair of much-needed boots.
When Cpl. Jeremy Walsh of Odessa, Texas, noticed that a local homeless man named A.J. was wearing boots with worn-out soles, he gave A.J. a spare pair from his home. The selfless act went viral when a local bystander snapped a photo and posted it to Facebook.
2. An officer takes time out of his day to play catch with a young boy.
A dash cam mounted to a cop car captured a truly heartwarming moment when Officer Ariel Soltura spotted a boy tossing a football by himself and stopped for a game of catch. Soltura told KTRK that he decided to play with 10-year-old Jermaine Ford because there were no other kids around.
3. Four officers pool their money to pay for a man's taxi home after he walked 30 miles in subzero temperatures.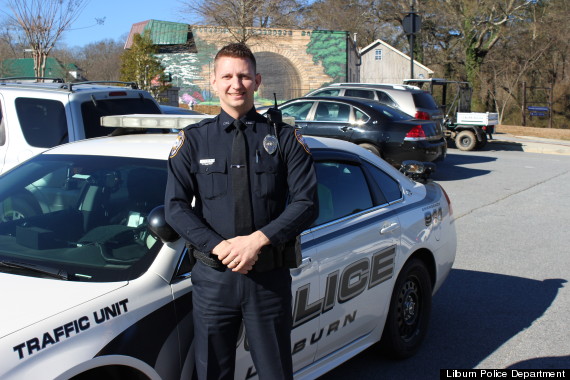 The wind chill in Lilburn, Ga., was 10 below zero when James walked 30 miles to traffic court. Unable to afford public transit and afraid of missing his court appearance, James walked for more than eight hours in the cold. Officer Andy Blimline told Gwinnett Daily Post that he insisted on calling a cab to take James home. Blimline and three other officers covered the $80 fare.
4. A police chief stages a fake arrest to help a guy propose to his girlfriend.
Last September, Samantha Labo was riding shotgun when her then-boyfriend Matt Van Vliet was pulled over by a cop. According to CNN, Labo began crying when Police Chief Edward G. Andersen declared there was a warrant out for Van Vliet's arrest. But her mood quickly changed when the officer pulled an item out of Van Vliet's pocket -- an engagement ring box. She said yes!
5. A dashboard cam records a state trooper saving a boy with special needs from choking.
When State Trooper James Hearne pulled over to help a 13-year-old boy, last October, his dashboard camera recorded a lifesaving act. Julian Estrada, who suffers from seizures, was saved from choking on a chicken nugget when Hearne performed the Heimlich maneuver on the side of the road.
6. Local policemen give a drunk man a ride home -- and leave a comical note.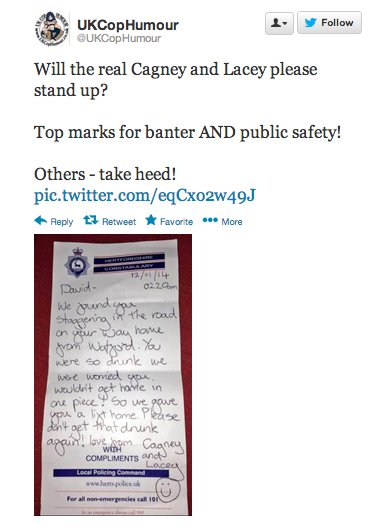 David could have easily woken up in a jail cell after a night of excessive drinking. Instead, he woke up in his bed -- with a note from two kind cops, Metro reported. It read, "You were so drunk we were worried you wouldn't get home in one piece! So we gave you a lift home. Please don't get that drunk again."
7. A boy with disabilities sees his biggest wish come true, thanks to these caring officers. Five-year-old Morgan Steward's genetic disorder hasn't stopped him from dreaming of becoming a police officer. In December, Steward's wish was granted when a cop asked him to lead the local Christmas parade as an honorary officer.
8. A meter maid responds with kindness when a driver writes a plea for mercy.
Traffic cops are often regarded with disdain. But one meter maid responded with compassion when a driver, fearing she was too drunk to drive, parked illegally. Instead of issuing a ticket, the cop left an understanding note.
9. An officer stops traffic for a very unexpected reason.
When Jason Cullum of the Evansville Police Department spotted a teddy bear lying on the interstate, he stopped traffic to pick it up. Cullum told Good Morning America that the bear's young owner, Nikki Mayo, was very grateful for his kind act.
10. Man's best friend gets a helpful lift from a patrolman.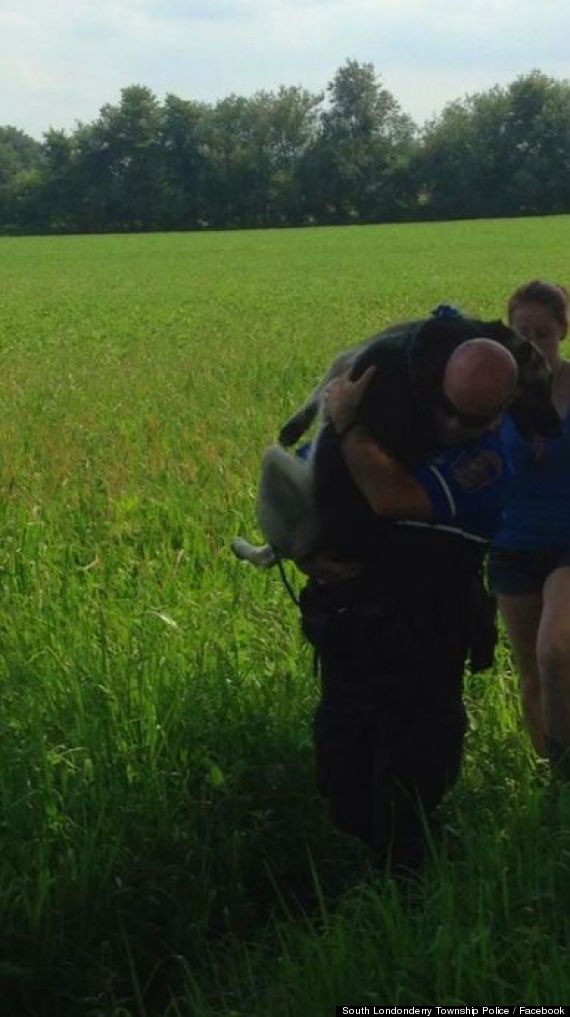 Penn. patrolman and dog lover Nick Ague acted without hesitation when he spotted an injured German Shepard. The animal had fled from her owner's car after an accident, so Ague carried her 100 yards to safety.
BEFORE YOU GO
PHOTO GALLERY
The Most Heartwarming Thank You Notes To The Police