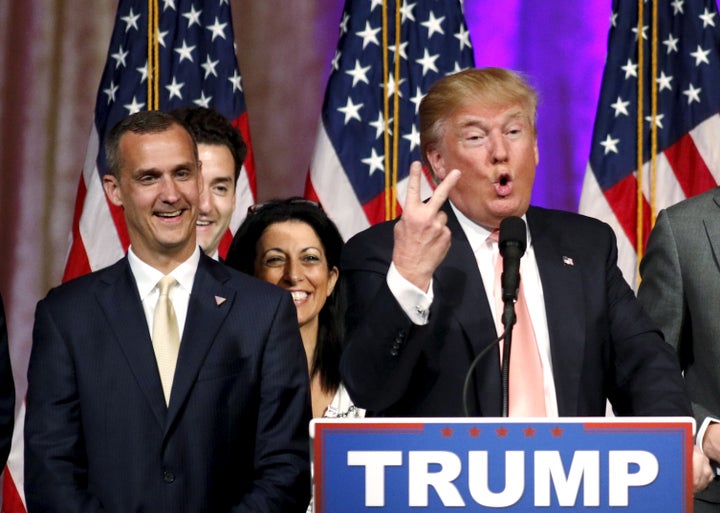 NEW YORK ― Donald Trump's presidential campaign pays former campaign manager Corey Lewandowski.
CNN pays political analyst Corey Lewandowski.
Despite this apparent conflict of interest, CNN is sticking by its most controversial hire of the 2016 election season even as new details about payments to Lewandowski emerge. 
The Washington Post reported Sunday that Lewandowski received his normal $20,000 monthly consulting fee on July 6, a couple of weeks after the Trump campaign fired him and CNN hired him. 
Lewandowski lost his job with the Trump campaign on June 20 and gave his first sit-down TV interview a few hours later to CNN. The network hired Lewandowski three days later, even though he'd signed a non-disclosure agreement that would presumably prevent him from speaking candidly about the campaign he'd just left. 
The controversy over hiring Lewandowski didn't stem simply from his being a top campaign official. CNN, and other cable networks, are filled with former political operatives turned pundits. 
But CNN's decision to quickly provide Lewandowski a platform was unique, given that he'd been accused of assaulting a journalist just months earlier, and that he'd overseen the most anti-press presidential campaign in recent memory.
Lewandowski threatened to blacklist CNN's Noah Gray for trying to cover a November protest at a Trump rally, and he reportedly pushed the network's correspondent at an event a few months later. Lewandowski also grabbed reporter Michelle Fields ― then at Breitbart News, now a contributing reporter with The Huffington Post ― at a March event in Florida. Lewandowski was charged with simple battery over the incident, but the state decided in April not to prosecute.
So the former campaign manager's hiring had already been hotly disputed when CNN began disclosing on July 11 that Lewandowski was still receiving severance payments from the Trump campaign. 
On July 13, The Associated Press described CNN as "making an effort to be transparent," but noted that the network "did not explain why the new step is being taken."
CNN did not respond to a question Monday about whether it was aware of the ongoing payments to Lewandowski when he was hired. The network hadn't disclosed Lewandowski's continued financial ties to the Trump campaign during his first couple weeks of appearances, which included him gushing about a Trump speech and acting more as a spokesman than an analyst. 
Lewandowski could not be reached for comment. 
CNN has built a stable of pro-Trump pundits this cycle, including Jeffrey Lord, Kayleigh McEnany and Scottie Nell Hughes, because most prominent conservative commentators have been critical of or outright opposed to Trump's candidacy. 
The Columbia Journalism Review's David Uberti recently questioned CNN's strategy of staffing up with pro-Trump pundits. "This would seem to be the textbook definition of false balance," he wrote. "Very few political experts speak favorably of Trump, and yet CNN is stacking the deck to give viewers a veneer of objectivity."
CNN chief Jeff Zucker defended Lewandowski's hiring in an interview published Aug. 2, saying the commentator has "done a really nice job."
That night, Lewandowski revived his former boss' toxic and long-debunked "birther" crusade on CNN. 
UPDATE: 4 p.m. ― Media Matters, the progressive watchdog organization founded by Clinton supporter David Brock, launched a petition Monday afternoon calling on CNN to cut ties with Lewandowski. 
BEFORE YOU GO