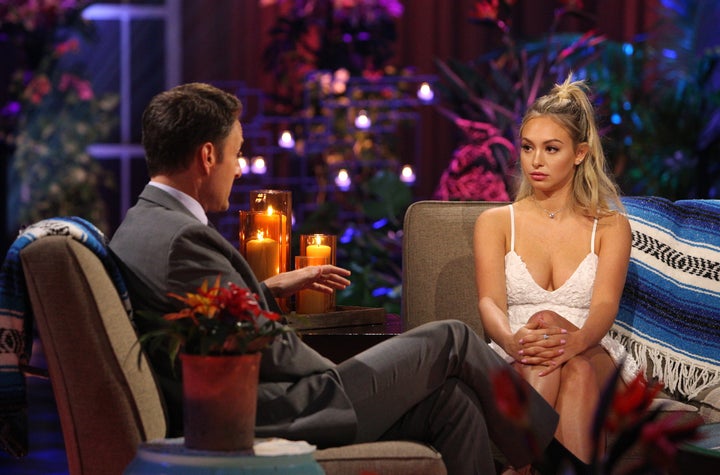 A combination of alcohol and medication caused Corinne Olympios to black out during the first day of taping "Bachelor in Paradise," the reality star said during a taped segment on Tuesday's episode of the summer dating show.
Host Chris Harrison talked with Olympios about her part in a scandal that temporarily shut down the reality show's production in June and made national headlines, and she opened up about how difficult the media firestorm was for her ― and her own role in the incident.
"The first day, unfortunately, I don't remember much of," Olympios said. "I definitely over-drank. I did. I was also on some medication that you're not supposed to drink on, which I didn't know." The combination, she said, impaired her judgment. She told Harrison that she's now in the process of tapering off the medication, which she began taking after her Champagne-filled stint on Nick Viall's season of "The Bachelor." She said she'd learned through the incident to be more cognizant of what she puts into her body.
 Production of "Paradise" was halted after production staff filed complaints of misconduct over an incident involving Olympios and DeMario Jackson on the first day of filming. After an independent investigation found no wrongdoing by the cast, taping resumed ― though both Olympios and Jackson declined to return.
Since the controversy erupted, Olympios has commented on the incident primarily through statements from her legal team, while Jackson spoke more frequently to the press. He also sat down with Harrison for a taped interview that aired during "Bachelor in Paradise" on Aug. 22, sharing his and his family's hurt and confusion at the dramatic media reports of the situation. He stated, not for the first time, that he had nothing but warm feelings for Olympios. "I'm here for her," he told Harrison. "She's experiencing the same thing that I am." Still, she told Harrison that she was thrown by Jackson's openness with the press, a move which, she said, left her on the defensive. 
If her close-lipped reaction to the controversy left any confusion about her feelings toward Jackson, Olympios wanted to clear that up during the Tuesday night interview. "I really just want people to know that I don't blame DeMario," she told Harrison. "I never pointed fingers at DeMario." If she could speak to him, she added, she'd tell him, "I respect you as a human. I have nothing against you.... I wish you all the best, and I'm just, I'm sorry." 
Do people love "The Bachelor," "The Bachelorette" and "Bachelor in Paradise," or do they love to hate these shows? It's unclear. But here at "Here to Make Friends," we both love and love to hate them — and we love to snarkily dissect each episode in vivid detail. Podcast edited by Nick Offenberg.
Want more "Bachelor" stories in your life? Sign up for HuffPost's Entertainment email for extra hot goss about The Bachelor, his 30 bachelorettes, and the most dramatic rose ceremonies ever. The newsletter will also serve you up some juicy celeb news, hilarious late-night bits, awards coverage and more. Sign up for the newsletter here.
BEFORE YOU GO
PHOTO GALLERY
Tweets About "Bachelor In Paradise" Season 4, Episodes 5 & 6