After Kevin Diepenbrock crashed his motorcycle in the Tennessee woods earlier this month, he used his phone to record what he thought would be his last goodbyes to his family.
But his story didn't end the way he feared.
"I just want to say I love you, guys," the 41-year-old natural gas plant worker is heard saying in a video obtained by the Knoxville News Sentinel. "Sorry, I was being stupid, but you know that's what I do."
On Oct. 15, Diebenbrock was riding along a section of U.S. Highway 129 just west of the Great Smoky Mountains National Park in East Tennessee ― a stretch of road known as "the Dragon." His friend and co-worker Phil Polito, 29, was riding in front of him.
Diepenbrock says Polito unexpectedly braked, causing the two men to collide and go flying off the highway embankment, falling about 100 feet to the ground below.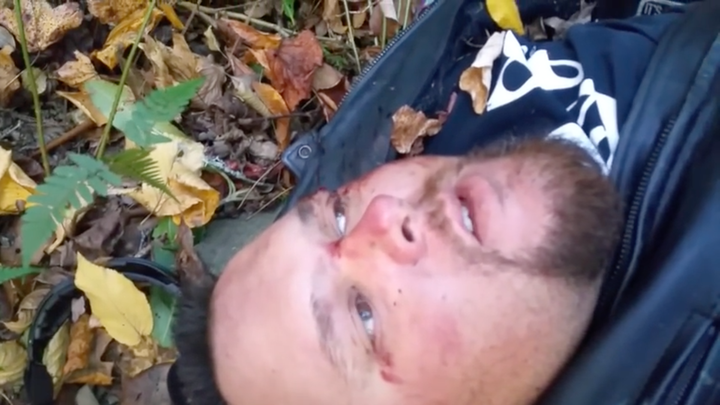 Polito died in the crash, while Diepenbrock sustained two punctured lungs, 17 breaks in 12 ribs and multiple spinal fractures.
Unable to move and without a cell phone signal, Diepenbrock said he resorted to screaming and using his phone to record farewell messages to his wife and parents.
"Hey, I'm at 10 percent battery. It's 11 o'clock," he says in a video where it's too dark to see his face. "Man, I wish you would call Tennessee, and tell them you got a [expletive] husband out there that hasn't checked in since 10:30 in the morning. I love you. I don't know what to say."
Diepenbrock ultimately spent nearly 30 hours waiting to live or die before two people on a motorcycle happened to stop directly above him so one of them could take a drink. They heard Diepenbrock's cries for help and flagged another motorcyclist, Joshua Johnson, leading to his rescue.
Blount County Firefighter David Richards expressed amazement that anyone heard Diepenbrock's cries at all.
"I honestly think God has a plan for me, and he has a plan for other people. It's unclear what the purpose is, but it worked out."

Kevin Diepenbrock
"We were not able to contact each other, rescuers, from a 50-foot distance with the first patient," Richards told WATE, describing the difficulty of communicating during the rescue.
As for Diepenbrock, he sees the whole thing as evidence of divine intervention. 
"It's not a very scenic area. There's no reason why a person would stop there just to get a drink," he told the Knoxville News Sentinel from his hospital room. "I honestly think God has a plan for me, and he has a plan for other people. It's unclear what the purpose is, but it worked out."
BEFORE YOU GO