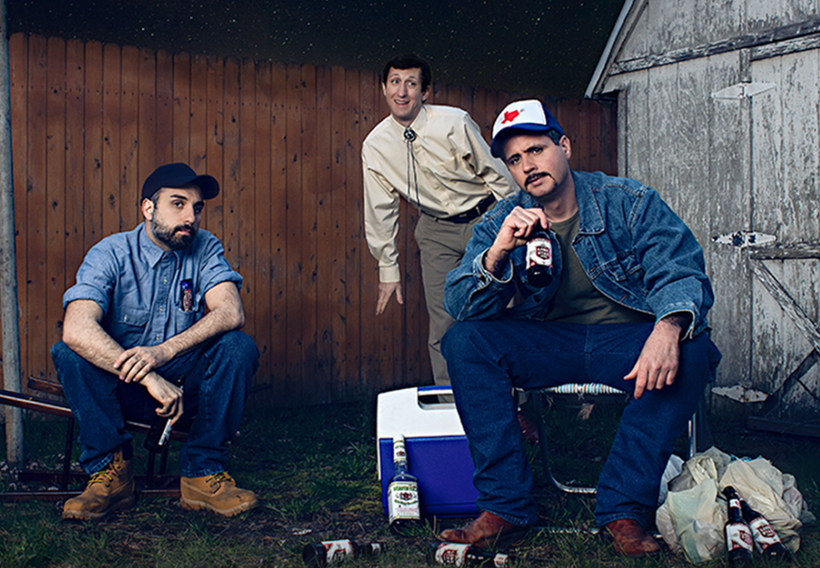 Matt de Rogatis plays Roy in this recent incarnation of James McLure's remarkable one-act, Lone Star, which debuted Off-Broadway in 1979 and really hasn't been produced too often since in New York. He has also proven to be quite the driving force behind its recent success, taking the show from a limited festival run to an extended engagement at the Triad Theatre on 72nd Street. Along with cast members Chris Loupos (Ray), and Greg Pragel (Cletis), they have wowed critics and audiences enough to once again return to the Triad beginning August 15th - 29th, and hopefully longer. The play, which usually runs with another McLure classic, "Laundry and Bourbon," is instead lined up with musical guests that will capture the spirit of the music playing inside the bar (Lone Star is set outside the bar). In this production, Jack O'Hara and Joe Battista have been added to the line-up in a pre-show set that promises to offer an exceptional evening of theatre, and a whole new way to experience the play. Here is Matt de Rogatis talking about Lone Star...
Q~ After enjoying such great critical acclaim for this production of James McLure's Lone Star, what can audiences expect from your upcoming run at The Triad?
Matt de Rogatis: know that audiences can expect a very polished show. Alot of time and effort went into this production and, as you mentioned, it paid off with lots of great feedback. We were thrilled to have our run extended at such a great venue like The Triad. It's been a few months since we last were up on stage and I think some time away has done us good. I expect all of us to be discovering new things during this next run. When something is live, like theatre is, every show tends to be different. But if you take a considerable break, I think you really return to it discovering many new things and I expect that to be the big takeaway from this run. For those that have seen the show before, I encourage them to see it again to see the new things happening on the stage. And for those who haven't seen it, I encourage them to come see the show as it's a rarely done work and quite frankly, a wonderful piece of theatre written by James McLure.
Q~ Why did you choose Lone Star as a solo show as opposed to longer version that was originally produced in 1980 ("Lone Star" and "Laundry and Bourbon" were shown together as "1959 Pink Thunderbird")
Matt de Rogatis: I have been asked that question a few times. I think Laundry and Bourbon is a fun show, I do. But I don't think it has the grits and guts that Lone Star has. Aside from all it's humor there is great depth to this piece and it completely is able to stand alone. In fact, both plays can be produced independently and, as you said, when performed together it is called 1959 Pink Thunderbird. I think what we wanted to do with Lone Star, rather than adding Laundry and Bourbon to our production, is we wanted to take it in a completely different direction and have live music sort of be the first act. To my knowledge, that has never been done before with this piece. It is usually paired with Laundry and Bourbon. But we decided to go with the live music element.
Q~ Tell us about the pre-show musical act you will be offering. How does it fit into the production?
Matt de Rogatis: It fits great. Really great. The play takes place in Maynard, Texas in 1972 behind the back of a honky tonk bar called Angel's. The idea of the music at The Triad is to create an immersive experience. The audience will come in, sit down, have a few drinks and be treated to live blues and rock music of that time period. The idea is to make them feel like they are actually INSIDE Angel's Bar on the night this show takes place. So there's about a 45 minute musical set, then an intermission - and then we go out back behind Angel's Bar to see the events of the play, Lone Star. It worked so well in May and we had huge audiences who really ate it up. Joe Battista and Jack O'Hara will be our musical guests and as they have been singing professionally for many years, I fully expect this incarnation of Lone Star to top the last one. Audiences are in for a treat. Something like this is rarely done. It's a truly unique theatre event.
Q~ where do you see this production headed? Will it continue to evolve, and if so, how?
Matt de Rogatis: I do believe it will continue to evolve, yes. I will know, I think, when it is time to let this thing wind down. We are currently working on scheduling more shows at The Triad later in the Fall. I am certain that if and when that comes to pass it will be different then the shows people are about to see in August. After that, who knows? I know that there are some investors looking at taking this even further for a bigger Off Broadway run and possibly pairing it with Laundry and Bourbon. It's all fun to talk about but I am really just focused on making our August shows very successful because, as the saying goes, you are only as good as your last performance. I don't want to get caught looking ahead. I have something great right in front of me and I want to be true to that.
Q~ you've mention that you are very connected with this particular play. What is it that draws you to it?
Matt de Rogatis: I'm drawn to the play and particularly the character of Roy. I always put so much effort into the roles that I take on that they actually do become a part of me and I ultimately end up caring for them as I would if they were real people. I don't think there's any role I've ever played whom I've cared for more than Roy. While he is a beer drinker, a womanizer and at times, a mean guy, underneath it all is a man in great emotional distress. Roy is too proud to show his vulnerable, sensitive side. That is what draws me to him. There are layers and great depths to this character and I need to find them because they do come out. Certain events happen throughout the show that really leave Roy no choice but to confront his feelings. It's not really a great night for him but sometimes we need something bad to happen to us before we can let go and move forward. I can relate to that for sure in my own life. This is what the night of the play Lone Star represents for Roy. It's a chance to move forward. I like to think that he does. I care about him and I want him to be OK. I hope that when people see it, they do too.
Showtimes are every Tuesday in August (August 15, 22, 29) at 9:00PM at The Triad Theater, 158, W 72nd St, New York.
This post was published on the now-closed HuffPost Contributor platform. Contributors control their own work and posted freely to our site. If you need to flag this entry as abusive,
send us an email
.