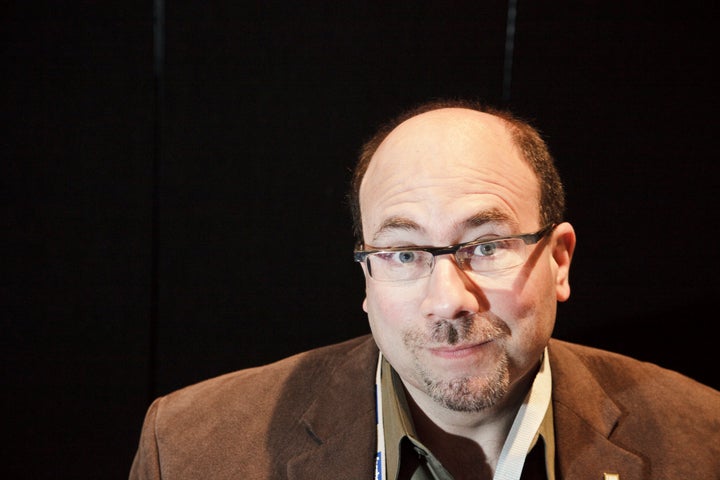 The news that the City University of New York's Graduate School of Journalism will be renamed after Craig Newmark, the founder of Craigslist, has angered enough of its alumni that the school's dean felt compelled to respond to the criticism on Monday afternoon. 
"Thank you for expressing your concerns over the endowment for and name change of the CUNY Graduate School of Journalism," Dean Sarah Bartlett wrote in an email sent to the school's alumni. "We realize this is a surprise."
She continued, "Please know that the school administration, the school's Foundation board and the CUNY Board of Trustees reviewed this opportunity thoroughly. We certainly would not want to do anything that would devalue your degree or negatively affect the school's reputation and quality."
Inspired by his budding friendship with CUNY professor Jeff Jarvis, Newmark said he has become a vigorous advocate for journalism in recent years and has made donations to news organizations to prove he's serious about it, including handing $1 million to ProPublica, $1 million to the Poynter Institute, $500,000 to the Columbia Journalism Review and $560,000 to the International Center for Journalists. 
Newmark has previous associations with the CUNY Graduate School of Journalism. Last year he agreed to donate $1.5 million for a research grant. One month later, he joined the board of the school's foundation.
In her email, Bartlett took on that criticism and others. She said that there are "no strings attached to the gift" and that Newmark will have "no role in deciding how the additional resources are deployed." She added that the "school's budget has declined in each of the last four years" and that an "endowment of this size for a school our size provides an important cushion for the future."
Dear alumni,

Thank you for expressing your concerns over the endowment for and name change of the CUNY Graduate School of Journalism. We realize this is a surprise. Please know that the school administration, the school's Foundation board and the CUNY Board of Trustees reviewed this opportunity thoroughly. We certainly would not want to do anything that would devalue your degree or negatively affect the school's reputation and quality. I want to answer a few of the concerns raised by alumni. 

1. What strings are attached to this decision? What influence will Newmark wield over the school?

There are no strings attached to the gift. Craig Newmark will have no role in deciding how the additional resources are deployed. Curriculum decisions will continue to be made through the regular faculty governance process. 

2. Didn't Newmark enable sex trafficking and child exploitation through craigslist? Why has the school made a "tone deaf" decision by naming ourselves after this man given the #MeToo climate?

Craig Newmark has not had a management role in craigslist for 18 years. The portion of the site that was exploited by sex traffickers was removed ten years ago, in 2008. The company worked closely with law enforcement during those years to identify bad actors, and he has been personally singled out by the FBI for his help.

3. Did Newmark ask for the name change?

The size of this gift - $20 million - is 33% higher than the current threshold that CUNY has established for naming rights to our school. I know of no donor who would consider making a $20 million gift to a school this small and new without naming rights attached. We offered it to him in recognition of the transformative effect it will have on our school. 

Other schools at CUNY that have had name changes based on endowments: Grove School of Engineering at CCNY, Lois V. and Samuel J. Silberman School of Social Work at Hunter College, The Barry R. Feirstein Graduate School of Cinema at Brooklyn College, Marxe School of Public and International Affairs and the Zicklin School of Business, both at Baruch College, and the Macaulay Honors College.

Other public journalism/communication school's recently renamed: Temple University's Klein College of Media and Communication, and Penn State's Donald P. Bellisario College of Communications. 

4. Why does the school need the money? Does the school need the money? Where is the money going to? 

The school's budget has declined in each of the last four years. Although the budget for senior colleges at CUNY was increased for the next fiscal year, we have been told that our budget will grow this year by .1%. Given the need to hire high-quality faculty, continue to develop the curriculum, purchase the latest equipment for our students and increase our scholarships to students, the need for additional resources is great. An endowment of this size for a school our size provides an important cushion for the future. This does not mean additional fundraising won't occur. New York is an expensive place to attend college, even at a public university. The more we can do to support future journalists the better. 

5. Why were the alums not consulted before this decision was made?

All gifts of this nature occur through a process of cultivation, which must occur privately and confidentially. While we certainly recognize your stake in the school, it is not possible to survey alumni in such matters. This gift was made to the school's foundation, which does have an alumni member and it was approved by its directors as well as CUNY's board of trustees. 

Sarah Bartlett

Dean 
Asked about the email by phone on Monday, Bartlett said she expected some people to be upset about the renaming of the school because of their attachment to the CUNY name. But, she added, "I don't know of any donor who would expect to write a check of this size and have no recognition."
She also said she believed critics of the gift "hadn't necessarily interpreted all the subtleties" of it and that many of the concerns revolve around issues that are "not primary" or are "very old." 
"I think there are some people, frankly, who don't have a very clear sense of Craig Newmark's reputation," she said. "People in the media industry who have worked with him for many years know what an outstanding person he is."
"I don't consider this at all unusual," she said. "If anything, what's unusual is the size of the gift in relation to the size of the school."