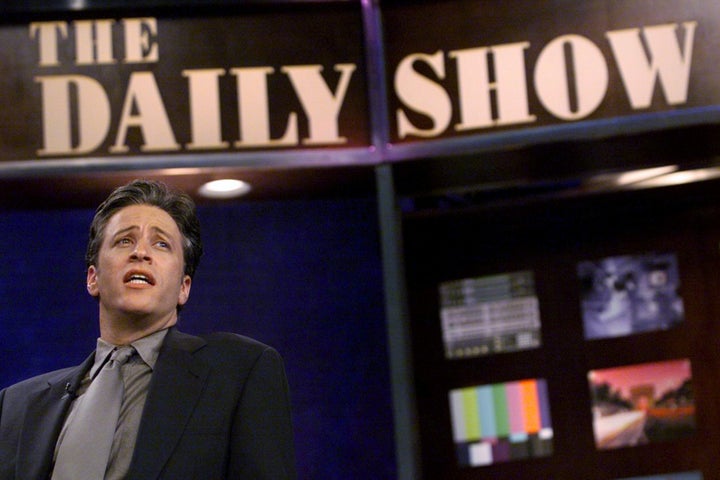 Hit Backspace for a regular dose of pop culture nostalgia.
On July 21, 1996, "The Daily Show" premiered on Comedy Central with a theme song that still survives in Trevor Noah's iteration of the show 20 years later. The opening melody is arguably the most beloved theme song in news, becoming particularly iconic during Jon Stewart's turn as host of the program from 1999 to 2015.
Now, you can hear those "deh-neh-neh-neh-nahs" and be assured you're about to get some smidgen of joy amid bleak times from watching comedians rage about the dire politics and media of the day.
But even growing up with "The Daily Show," living in a William & Mary dorm room right above Stewart's old one, and hearing that distinct song over and over and over again, I'd never thought about the theme's title. So I looked it up and well, the name is pretty strange.
"The Daily Show" theme song is called "Dog on Fire."
Listen to the various versions of "Dog on Fire" through the years:
Musician Bob Mould composed the track with the original intention it would be on his self-titled album which fans have deemed "Hubcap." As Mould writes in his 2011 memoir, See a Little Light: The Trail of Rage and Melody, he submitted the song to the original "Daily Show" creators after almost scrapping it altogether.
"I met up with my longtime Minneapolis friend Lizz Winstead," wrote Mould. "She and her creative partner, Madeleine Smithberg, were starting up a satire of TV news for Comedy Central, to be called 'The Daily Show,' and they needed some theme music. I had two songs I'd decided not to put on the 'Hubcap' album, so I submitted those. The one they picked was a song Jim Wilson called 'Dog on Fire.'" 
The Huffington Post reached out to Mould and didn't get a response, but Jim Wilson -- a professional audio engineer who owns Yes Mastering -- was happy to explain the story in length.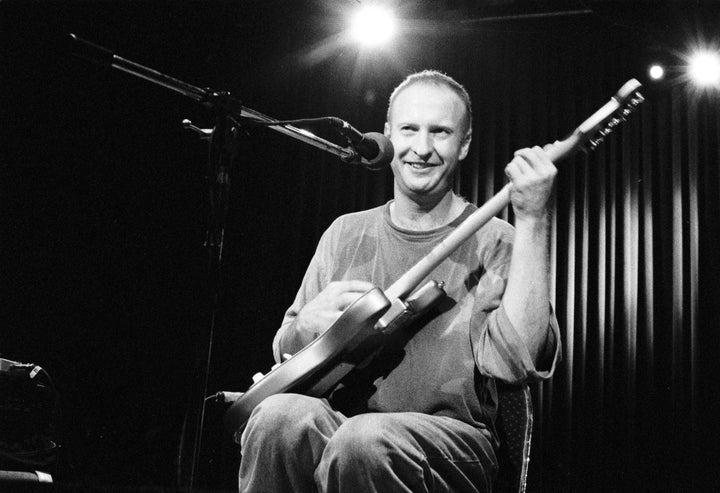 "It's a funny thing how this song got its name," Wilson told HuffPost over an email. "Bob had mentioned in a music-press interview, which I read shortly before we put the song together, something about how he liked to create his own album art. I'm paraphrasing, but he told the interviewer something like, 'I want the album art to really be more of a mood and less of some sort of attention-grabbing image, like a dog on fire, or something of that ilk ... '"
Wilson thought this quote was funny and so it remained stuck in his head while they were recording the now-famous track.
"When we were putting the mix for this track together, I asked Bob about what the name of the track was, and he said, 'Oh, I don't know, call it anything,'" recalled Wilson. "I quickly replied, 'How about "Dog on Fire"?' and it stuck. It has always made me chuckle seeing that name scrolling past during the closing credits of the show. Pretty ridiculous, really!"
Wilson further explained that Mould decided to leave "Dog on Fire" off the album because "it was too similar to another tune that he had already written, and didn't feel like it represented what he wanted this record to be." He didn't recall Mould ever writing lyrics for the song.
"The Daily Show" choosing the song ended up making Wilson very happy. "When I saw the first episode, I was grinning from ear-to-ear when I heard it," he said. "It seemed like the perfect little soundtrack for this hip new comedy show targeted at an audience that has many of the same records I have in my collection. I think it's just great that the show has had such an amazing run." 
Here's an archived commercial for Stewart's premiere as the host: 
BEFORE YOU GO
PHOTO GALLERY
Daily Show Correspondents & Contributors