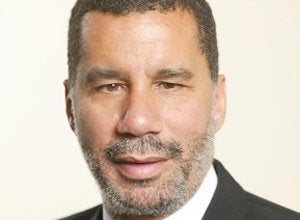 David Paterson was born legally blind in Brooklyn in 1954 (Wikipedia)
BA from Columbia University, JD from Hofstra Law School (Wikipedia)
Former State Senator from New York's 30th District
First elected to represent Harlem in the New York State Senate in 1985 (Paterson for New York)
Elected Minority Leader of the New York State Senate in 2002, the first non-white legislative leader in New York's history (Paterson for New York)
Ran New York City Marathon in 1999 (NNDB)
Defended himself against bias claims last month after replacing white photographer with black photographer (New York Post)
Previously tussled with Spitzer over turf wars (New York Magazine)
Asked by the League of Women voters, "If elected, what are your qualifications to serve as Governor should you be called upon to do so during your term as Lt. Governor?" Paterson responded:
Eliot Spitzer and I want to restore hope to New York. I'm running because the lessons I learned from my family, my hometown in Harlem and from working in Albany compelled me to try to address New York's critical problems. Together, we want to bring promise back to the state.
(
)