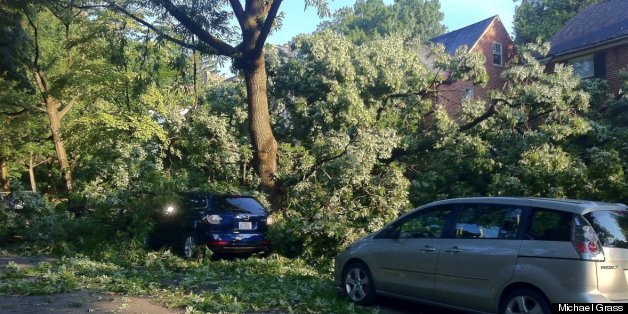 WASHINGTON -- D.C. residents may want to stock up on water and batteries. The area is expected to be hit by the tail end of a series of storms that may reach derecho level strength.
Ahh, the memories. Story continues below...
PHOTO GALLERY
D.C. Derecho Storm
An unusually massive line of storms packing hail, lightning and tree-toppling winds Wednesday could affect more than one in five Americans as it rolls from Iowa to Maryland.

Meteorologists were even warning about the possibility of a weather event called a derecho (duh-RAY'-choh), which is a storm of strong straight-line winds spanning at least 240 miles. The storms are also likely to generate tornadoes and cause power outages that will be followed by oppressive heat, said Russell Schneider, director of the National Weather Service's Storm Prediction Center in Norman, Okla.
The Washington Post is predicting that the storms will be weaker than the storms in the Midwest:
Note: we think the odds of a derecho in the D.C. area overnight are low, but a cluster of storms with heavy rains, dangerous lightning and strong winds are possible.
WJLA is being conservative with their prediction:
While the formation of a derecho remains possible at some point overnight through Thursday morning, Jeras and the ABC7 weather team say that the likelihood of one impacting the greater D.C. area is still low.
Last year's June 29 derecho level storm knocked out power to more than 1 million D.C. area residents. At least five D.C.-area fatalities resulted from the storm.
Pepco, D.C.'s largest power provider -- at one point deemed the most hated company in America -- came under fire for its performance during the 2012 storm.
More than 400,000 Pepco customers were without power for days -- some longer -- after the 2012 derecho. WJLA recently reported that with a $182 million upgrade, Pepco officials promise they've been working hard to improve service.
But they aren't making any promises.
"Our Region is experiencing more weather events of different types and severity," WJLA reports that Thomas H. Graham, president of the Pepco Region, said in a statement." "We will make every effort to improve our emergency restoration process to better meet our customers' expectations. Regardless of predictions, we also strongly encourage customers to take steps and be ready for any emergency."
So stock up on storm supplies -- and hope we aren't in for this, either:
Update, 9:17 a.m.: The Office of Personnel Management has given federal workers the option of unscheduled leave or unscheduled telework on Thursday, due to the storms.
And here's how ominous the D.C. sky is looking on Thursday morning, from the rooftop of the Huffington Post offices: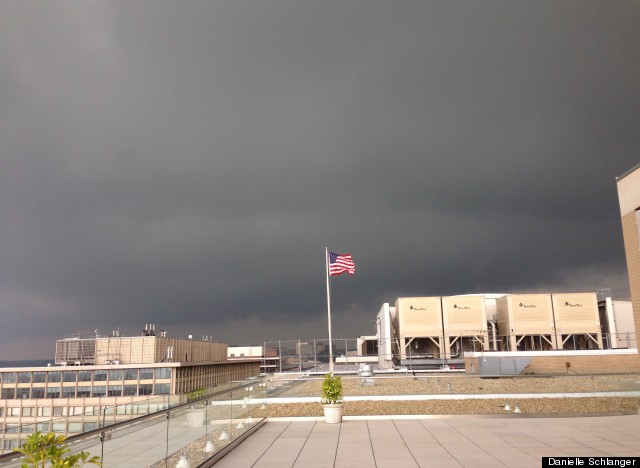 PHOTO GALLERY
Storm Clouds
Update, 10 a.m.: Anti-stormatic news from the Capital Weather Gang:
9:45 a.m. update: Storms from the District and points west are falling apart and/or exiting. There's still a tail of some stronger storms dragging through southern Maryland (southern Anne Arundel, southeast Prince George's, northeast Charles, and northern Calvert counties) that will rapidly shift towards the Bay in the next 30 minutes.
Update, 12:39 a.m.: Here are the latest storm predictions, from the Capital Weather Gang:
This morning's storms looked scarier than they actually were in most areas, but a second round this afternoon is likely to pack a meaner punch, especially along and east of I-95.

The most likely end point for the storm threat is around 3-5 p.m. in D.C.'s far western suburbs (Loudoun and Frederick counties) and around 8 to 9 p.m. closer to the Bay. We expect the prime time storm potential around 3 to 8 p.m. in the region from west to east. Scattered showers and thunderstorms are possible before that.

The area remains under an unusual moderate risk of severe weather, with flooding rain, damaging winds, hail, and isolated tornadoes possible.
On Twitter, the gang is more explicit about how strong (or not) they are expecting this second round of storms to be:
Not even close MT @mellijellybean: So to clarify, this storm is not a derecho, correct?

— Capital Weather Gang (@capitalweather) June 13, 2013