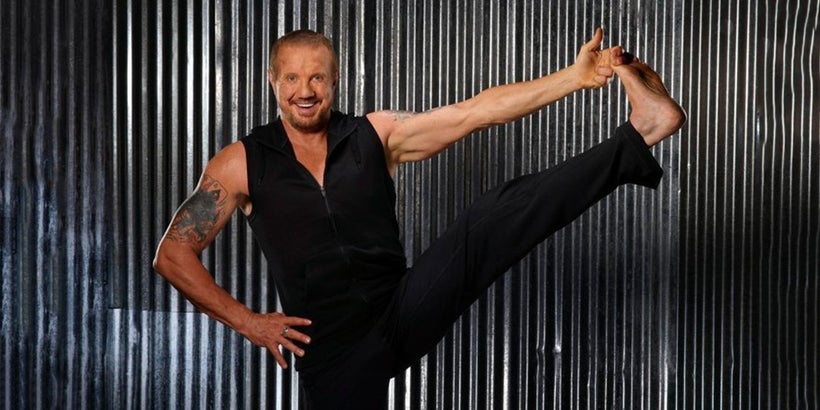 Get ready to feel the bang!
Diamond Dallas Page was known for hitting his devastating signature move, the Diamond Cutter, on famous rivals such as Hollywood Hulk Hogan and Goldberg inside the squared circle. His intensity in the ring made him a three-time WCW World Heavyweight Champion. Now, he is known as a miracle worker. He is currently whipping people into amazing shape with his DDP YOGA program. Who would have ever thought that a badass trash-talker from New Jersey would go on to become one of the most famous yoga instructors in the game today?
"You can sit in the chair and do the workout. There's no other program in the world that is like DDP YOGA," Dallas Page exclaimed in a recent interview. DDP's journey to become a zen leader started years back when he decided to write a book that would take on a life of its own. He told me, "I wrote a book called Yoga for Regular Guys. We made the title of the book funny but it was actually super serious. We were trying to get regular guys to do yoga. It just kept developing from there and the concept eventually turned into DDP YOGA. I am so passionate about it."
DDP's passion for DDP YOGA is shown proudly on his chest every single time he leaves his house. He said, "You rarely see me without a DDP YOGA shirt on. There are times where I wear a regular shirt when I do an interview and in the middle of it, I go, 'Wait a second. Let me change my shirt.' You'll never see me in an airport without a DDP YOGA shirt. It says, 'It Ain't Your Mama's Yoga' on the back and 'DDP YOGA' in the front. Every time I walk around, people see the shirt and it makes them smile. It makes them laugh. They see it on a guy that's 6'4 and 228 pounds." People can't help but take notice of Dallas Page and his positive personality. He also has a dedicated team that believes in his mission. "I'm around this 24/7 and to have the crew that I have—it helps. I couldn't do it all by myself. I live it." When asked how he inspires so many people around the world, Dallas smiled, "Never underestimate the power you can give someone by believing in them."
In addition to working out, DDP highly recommended that people really look at what they are consuming and putting into their bodies. "I try to smarten people up just so they know what they are really eating. It's working. It's finally working. If you don't eat a lot of good food—a lot of protein and workout really hard, it ain't gonna do anything. You'll never see this stuff discussed on television, but you'll see it on Netflix. Netflix is the new television. It comes from learning. If you still eat shit and you don't work out, you're going to stay fat. That's just the way it is. You gotta work," he nodded.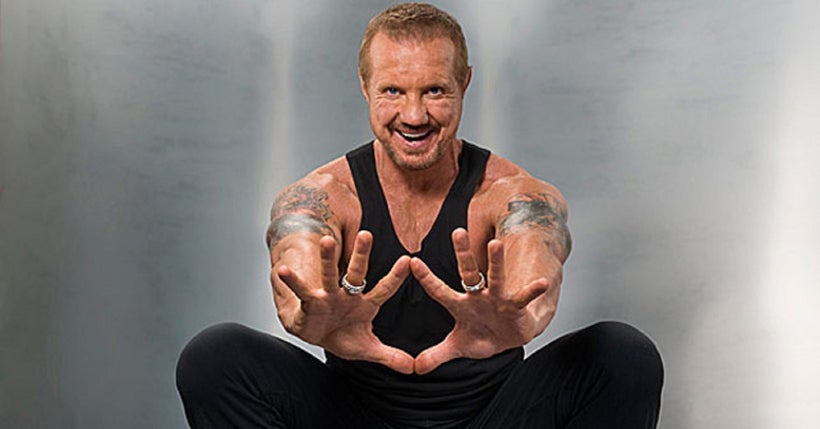 Dallas Page explained that his new DDP YOGA NOW app will keep people pushing forward to get the results that they desire. "It's about staying accountable. I have a thing called 'Motivational Mondays.' Every Monday, I have a new story with quotes that I use, talking about something that happened with my life or something that I saw. Positivity breeds positivity. People who surround themselves around negative people—it really doesn't work. There are people that will inspire you and there will be people that will drain you. You have to choose your friends wisely. They have to change the story that they tell themselves," he said. Dallas Page elaborated, "It's about the inner voice. That inner banter." DDP then said that the live workouts give users of the DDP YOGA NOW a feel of what it would be like to actually step inside his yoga studio. "We take the workouts that we normally would do and just put them live on air. I want the raw energy of the people," he said.
When asked why he urges people to give DDP YOGA a shot, he told me, "For me, I saw this amazing change in my body as far as pain goes. With DDP YOGA, we are not just stretching muscles—we are strengthening muscles, ligaments and tendons. We get your core strength to a whole different level. I knew that guys like me didn't do this back in the day. I was a guy for the first 42 years of my life where I wouldn't want to be caught dead doing yoga. From my generation, I knew the stigma of doing yoga. Once I got out of wrestling, I felt like this was something that would be a part of who I was." He wasn't the only one who felt this way.
"You know Hootie & the Blowfish? Darius Rucker does my workout. He wrote me saying he is addicted to it," DDP grinned. Dallas Page concluded, "If I can do this being 60 years young—what can you do?"
This post was published on the now-closed HuffPost Contributor platform. Contributors control their own work and posted freely to our site. If you need to flag this entry as abusive,
send us an email
.