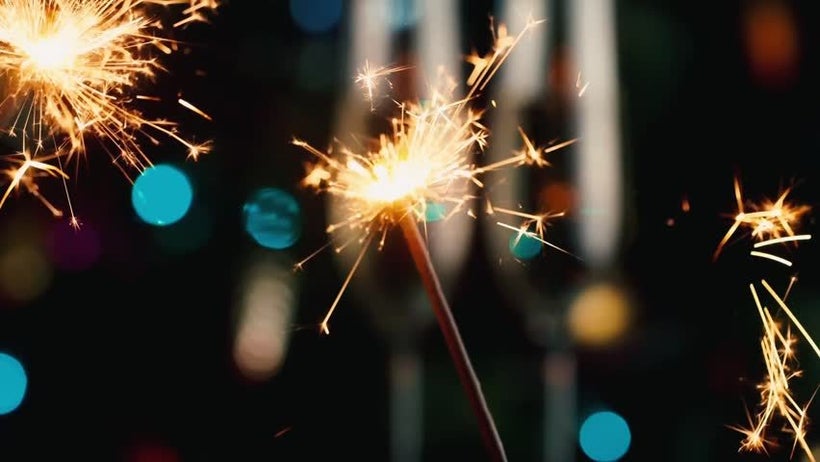 At this point we can all pretty much agree on one thing: you've sucked. The reasons are many, the anger runs deep. Every day, another tragedy. Every hour, another head falls to its hands. That is not to say everyone had a bad year and I do feel it's my duty to thank you first for the few positive cultural developments you've provided before I bring us all back down to the irrefutable truth that you were, in fact, one of the worst years in recent history.
Let me begin with Beyonce. Lemonade, the secret album that she dropped on us in April, gave us life. She continues to out-Queen everyone and for that, we bow down. Bernie Sanders. A socialist, progressive, Jewish politician became a viable candidate for President of the United States and created a movement unlike any we've seen in this generation. Despite widespread concern that the Rio Olympics would be a disaster, they went off without a hitch and the country fell madly in love with Simone Biles and rekindled our old flame for Michael Phelps. Hillary Clinton became the first woman in the history of the United States to lead the presidential ticket of a major political party. We finally opened the nations first African American Museum, to great acclaim. The Chicago Cubs won their first World Series since 1908. Ellen Degeneres was awarded the Presidential Medal of Freedom and we all cried right along with her. The months long protest at Standing Rock actually worked — construction on the Dakota Access Pipeline has been halted in a major win for Native Americans who rarely win a damn thing in the land that was taken from them.
You were also full of beautiful moments in our personal lives. I, for instance, ran a marathon this year — something I never thought I'd be able to do. My sister married her longtime girlfriend and it was a day so full of love that it was easy to forget the world outside for at least a little while. I'm certain this year had its share of perfection for many, many people. Babies were born, graduations celebrated, personal goals achieved, etc, etc.
Now, I've heard a few people say that every year we lose a lot of giants — that we're overreacting to it in 2016. This is simply untrue. Yes, last year we lost heroes including B.B. King, Allen Toussaint, and Natalie Cole. We all mourned the loss of their lives and the substantial contributions they left. But without diminishing that loss, let us just compare 2015 with the slightly larger roster of musicians we lost this year: David Bowie, Prince, George Michael, Sharon Jones, Leonard Cohen, Leon Russell, Toots Theilemans, Merle Haggard, George Martin, and Glenn Frey. These are titans, icons in the world of music. We also lost giants in the world of entertainment: Muhammed Ali, Carrie Fisher and her mother Debbie Reynolds (inexplicably and heart-wrenchingly a day apart), Gene Wilder, Garry Shandling, and Alan Rickman to name a few.
I've thought a lot about why the loss of people we don't know often has such an effect on our lives. Why do we feel pain when we lose an actor we admired, a musician we loved, an athlete we idolized? We didn't know these people. Their personal lives, however public, were still a mystery to us. We didn't share a history with them, one in which we dined and chatted and called on the phone and celebrated with at weddings, parties, anniversaries. The only thing I can conclude is that we don't often internalize what their art means in our lives until, sadly, they aren't with us anymore to continue making that art. We realize in a wave of emotion that we'll never hear a new album from David Bowie. Never again will we watch Sharon Jones jump across that stage with the energy of a bullet train. Carrie Fisher's ineffable humor will never grace the silver screen again and we won't have that witty intellect in perfect rhyme from Leonard Cohen when we need it most. And damn, will we ever know another genius like Prince in our lifetime? These people weren't just celebrities; they weren't just a part of some cultural zeitgeist. They were ingrained in our lives whether we knew it or not and their loss is personal. And it's devastating.
So from there we move on to Aleppo. On to more black lives lost from police brutality. On to our system so broken that gun-toting nationalists can occupy public land for weeks and walk away free men. On to more mass shootings. On to the Bathroom Bill. On to those damn emails that simply wouldn't go away.
And then we move on to the heart of why you, 2016, can go to hell. It isn't what you'd necessarily think; it isn't simply Donald Trump. It isn't the string of misogynistic, bigoted, downright idiotic things he said all year. It isn't his increasingly ludicrous cabinet picks. It's not the wall he wants to build or the Muslim registry he wants to institute. It isn't his complete lack of intelligence, skill, and experience. It isn't his orange hue. It's not even the fact that the most powerful nation in the world voted a reality star and bad businessman to the highest office in the country. The reason this year has been so mind-numbingly awful is what all of these things represent, a truth we've been denying and shying away from for decades: We are, in fact, the Divided States of America and no one has the faintest idea how to unite us again.
Here we stand looking toward the future of this nation with unprecedented uncertainty. 65 million people in this country voted for a qualified, dignified, experienced woman who once said "Human rights are women's rights and women's rights are human rights, once and for all." 62 million people voted for a man who once said, "I moved on her like a bitch, but I couldn't get there. And she was married." And because our country still utilizes the obscenely antiquated Electoral College, the candidate with the most votes did not, in fact, win. Our leader is Donald J. Trump for the next four years. 62 million people, I presume, are happy about that. 65 million, and counting, are not. This division is frightening. It begs the question: How can we ever reconcile our differences when the differences are so stark?
I'd like to believe that this is the jumping off point for reconciliation. I'd like to believe that this is the time we all realize, as a nation, that we must move toward a better understanding of our fellow Americans if we are to have any hope of unification in the future. If we want Congress to actually get things done, if we want the Office of the Presidency to listen to the real concerns of its citizens, if we want poverty eradicated and mass incarceration a thing of the past, if we want more guns or if we want less guns, if we want college to be affordable and healthcare a given, we must listen to each other and begin to move toward unity. I want to believe that there has to be some middle ground. I want to believe. But if you've shown me anything, 2016, it's that the world will move along with the tide of its people and when its people are severely divided, there is only high and only low. And right now, I am low.
I am low because you've broken me down, 2016. I don't actually have much hope at the moment. I wish I could end this letter to you with a rallying cry. Trust me, I do have every intention of fighting against the incoming administration. I have every intention of making sure the very values that I and so many millions of Americans cling to are upheld. I have every intention of speaking out each time the bigots come knocking, every time another black life is lost to police brutality or a lunatic proves the absolute necessity of an assault weapons ban by shooting down a slew of innocent people in an unthinkable rampage. I will fight alongside every other decent American citizen because that is what we do when we are low. But for the time being, as this hellish year comes to a close, the only thing I plan on doing is this: I will raise a glass (or twenty) in the air, stand up tall, count down from ten, and instead of the traditional "Happy New Year!" followed by Auld Lang Syne, I will simply scream at the top of my lungs, "2016: FUCK OFF!"
This post was published on the now-closed HuffPost Contributor platform. Contributors control their own work and posted freely to our site. If you need to flag this entry as abusive,
send us an email
.