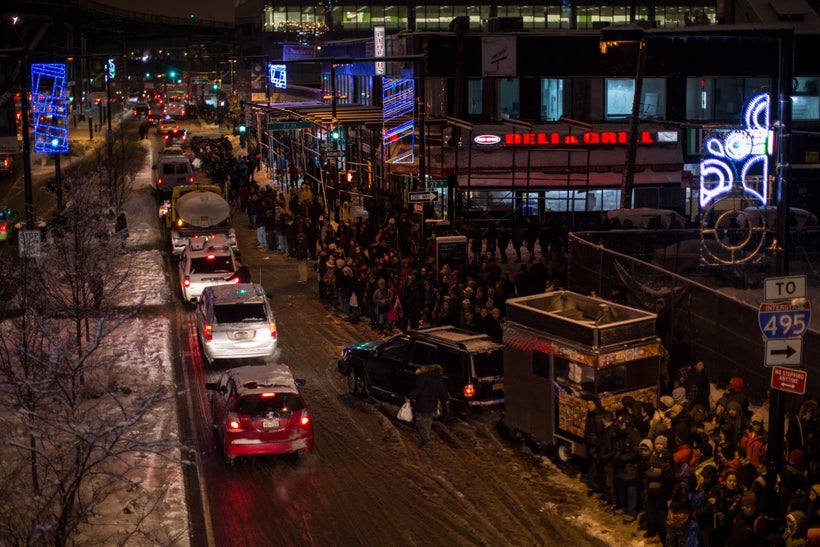 In Seattle, It's been big news that New York City-based Shake Shack is opening its first location here, ironically kicking out a coffee shop in the process.
But Seattle is giving New York City something much more important in return: economic justice.
New York Mayor Bill de Blasio has proposed a half of a percent increase in the income tax rate for individuals with incomes above $500,000, or $1 million for couples. A half of percent might not seem like much, but New York has the largest number of high-income households in the nation (and nearly the highest inequalities in income), which means the tax is projected to raise over $700 million per year.
That money will go to revamping the subway system, which is increasingly becoming a broken-down artifact of a time when most people rode horse-drawn buggies to work. It needs capital investment and infrastructure to bring it up to the standards that Europe and China have already met. The constant delays and shutdowns have been especially economically devastating for low-income riders who rely on the system most. Upgrading the system and funding discounted subway cards for low-income riders would be a lifeline to people barely making ends meet.
Sounds like a grand idea, redistributing a relatively insignificant amount of money from the privileged, rich, and sometimes famous in black taxis to the working people who ride the most environmentally friendly form of transportation.
Thanks for taking our ideas. You're welcome New York.
And just last month, an income tax on Seattle's wealthiest citizens became law. Like New York, we also have a huge problem with extreme income inequality, exorbitant housing costs, and a swelling homeless population. So the Seattle City Council unanimously passed the city's first income tax, one of 2.25% on income in excess of $250,000 for individuals and $500,000 for joint filers.
We called the movement for the tax "Trump-Proof Seattle," because it flies in the face of everything Trump stands for. The money from the tax will fund affordable housing, homeless programs, climate change preparedness, and healthcare access. And it's exceedingly popular. Polls have shown that two out of three Seattle residents support the progressive tax.
There's a lot to gain from working in parallel. In this time of outrage and Trumpian nonsense, we can learn from each other, defending our citizens at the state and local level. We can craft policies that protect our citizens from the demagoguery of the administration, as both New York and Seattle have done in vowing to uphold the Paris climate agreement without the help of the federal government. We can create alternative health-care policies for the remote possibility that Trump succeeds in passing a single campaign promise.
We can also act progressively, putting forth plans for our vision of the future, one without walls and spray tan. For instance, Washington State just passed paid family and medical leave, following the leads of California, New York, New Jersey, and Rhode Island. That means that when a worker has to take time off to care for themselves or a loved one, a medical emergency doesn't have to become a financial one. Why not copy that, too?
Without a federal government that cares about creating a prosperous future, working locally might be the only thing that saves us. We're on our own. At least if we work with each other, we can be on our own together.
In Seattle, we're generally a bit too laid back for New York's fast-walking, fast-talking, jay-walking ways, but maybe there's something we can learn from you. (We do need a larger rail system in our city, but now's probably not the time to copy New York's subway system.)
Maybe I'll try one of your Shake Shack burgers. But maybe you should just eat a bag of Dick's. (That's not an insult in Seattle.)
This post was published on the now-closed HuffPost Contributor platform. Contributors control their own work and posted freely to our site. If you need to flag this entry as abusive,
send us an email
.