Death has a strange way of resolving certain tensions. It can bring an end to an abusive relationship or relieve a person with a terminal illness of his suffering. It can quell any arguments and make long-held grudges seem ridiculously futile.
For those who are religious, a person's death might mean that they will be reunited with a beloved partner in some kind of afterlife. In a bizarre way, it can also eliminate an obstacle that had prevented some people from achieving the happiness they had sought for so long.
San Francisco audiences were recently witness to two dramas in which a person's death became a most peculiar catalyst for change. Perhaps it's a sign of the times that one story took on a much deeper meaning than it did at its premiere almost 90 years ago. By contrast, the other story (which would have seemed to be in tune with a more contemporary type of spirituality) seemed a bit stale.
* * * * * * * * * *
As he introduced 1927's Flesh and the Devil to the audience in the Castro Theatre attending the 2015 San Francisco Silent Film Festival, film historian Kevin Brownlow dropped a tantalizing hint about the film's significance. In no uncertain terms, he stated that he regards Flesh and the Devil as a story about the love shared between two men.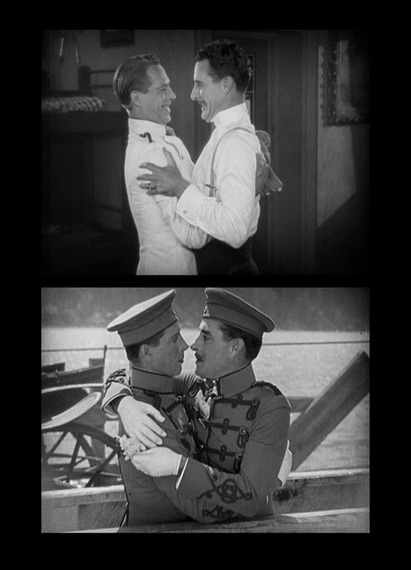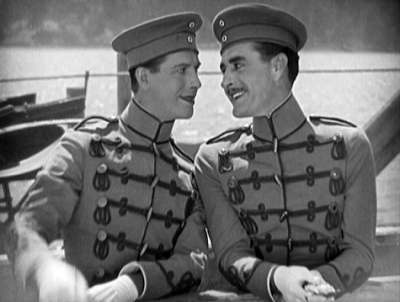 Lars Hanson and John Gilbert in Flesh and the Devil
When they were young boys, Leo von Harden and Ulrich von Eltz swore to each other as "blood brothers" that they would always be friends through thick and thin, in sickness as in health, for as long as they lived. By the time they reached adulthood, their easy camaraderie had turned into a fairly intimate and intense platonic love affair. Until, of course, a woman came between them.
While most people think of Flesh and the Devil as the romantic potboiler in which Greta Garbo and John Gilbert became offscreen lovers while working on the movie, the script was based on Hermann Sudermann's 1906 play, The Undying Past. In the film, the adult Leo (Gilbert) becomes infatuated with the beautiful Felicitas von Rhaden (Garbo) after he sees her disembarking from the same train on which he and Ulrich have returned home while on leave from the German military.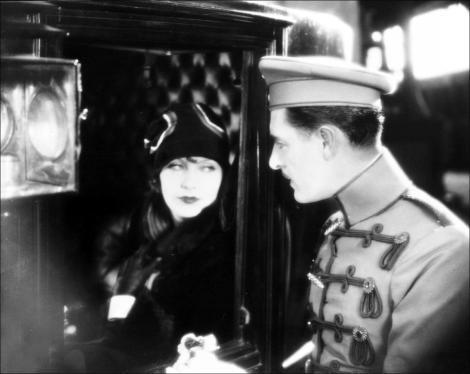 Greta Garbo (Felicitas) and John Gilbert (Leo) meet
at a railway station in 1927's Flesh and the Devil
After Felicitas tells Leo that she will be attending a ball in town that night, he can't wait to meet her again. Although his younger sister is eager to share the first dance with him, that's the last thing on Leo's mind.
After being challenged to a duel by his newfound love's husband, Count von Rhaden (Marc McDermott), Leo kills the older man and gets assigned to five years of military service in Africa. Prior to leaving town, he asks his best friend, Ulrich (Lars Hanson), to look after Felicitas while he is away and see to her needs.
It doesn't take long for the lonely (and slightly predatory) Felicitas to have the wealthy Ulrich wrapped around her little finger. Although Ulrich manages to get Leo's term in Africa reduced to three years, by the time Leo arrives home (expecting to pick up where he had left off with Felicitas), she has married his best friend.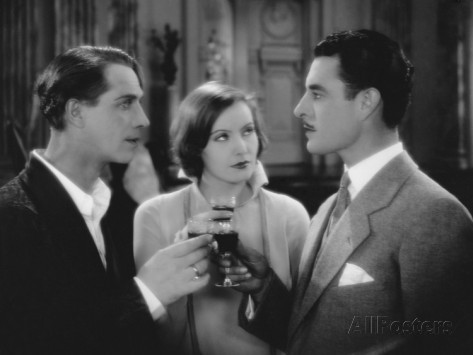 Lars Hanson, Greta Garbo, and John Gilbert
in a scene from 1927's Flesh and the Devil
While Leo feels deeply betrayed by Ulrich, Felicitas sees no reason why all three shouldn't continue as friends. Leo balks at the idea and sullenly keeps his distance from Ulrich (which only serves to confuse and depress his best friend),
Meanwhile, Felicitas wastes no time reigniting Leo's passion for her. While Ulrich is away on a business trip, the two lovers make plans to run away together. Just as they are about to leave, Ulrich returns home and walks in on an incredibly tense situation. When he realizes what has happened, he challenges his blood brother to a duel. The two men agree to meet on their favorite island (where they originally took their oath to become blood brothers).
Just as the duel is about to begin, the men realize that their friendship means more to them than any woman. Ironically, at that moment, the selfish, manipulative Felicitas meets an untimely end as she drowns in the lake's frigid waters.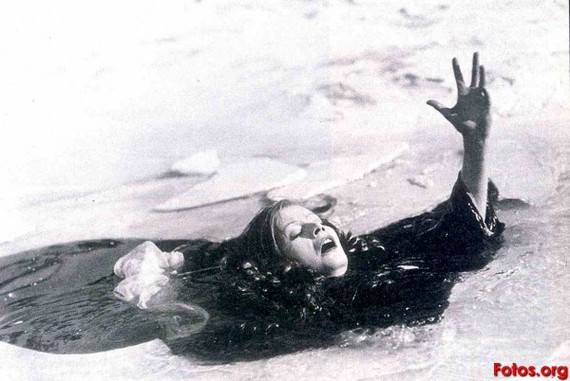 Felicitas (Greta Garbo) meets an icy death in Flesh and the Devil
In her program note, Jeanine Basinger wrote that the film's director, Clarence Brown:
"...felt atmosphere. His forté was the ability to create an atmosphere that supported and extended actors' performances. He allowed William Daniels (who became Garbo's 'go-to' cinematographer) to shoot his two stars in slow and languorous close-ups, beautifully lit and erotically expressive. Garbo and Gilbert were like two teenagers in love, except, of course, they were very beautiful, very sophisticated, and very experienced teenagers with really ritzy wardrobes. Brown delivered love and sex on a silver nitrate platter."
With live accompaniment by the Matti Bye Ensemble, the screening of Flesh and the Devil was a huge hit with the audience. Even after one has seen Garbo in several movies, Felicitas is a role which captures her beauty and internal acting with a rare acuity. Here's the trailer.
* * * * * * * * * *
As part of its effort to craft an entire season around works by female playwrights, Shotgun Players recently presented the world premiere of Heart Shaped Nebula. Written by Marisela Treviño Orta and directed by Desdemona Chiang, this 80-minute melodrama alternates between moments of cloying sentimentality, awkward attempts at magical realism, and a strange mix of science fiction and spirituality.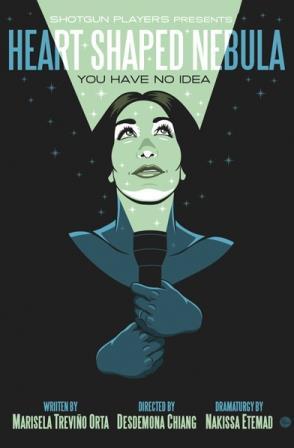 Poster art for Heart-Shaped Nebula
As the play begins, 13-year-old Amara (Gisela Feied) has entered a cheap motel room in the desert north of Las Vegas. Armed with an LED flashlight, she starts rifling through the contents of a backpack that was left on the bed. She quickly hides behind a piece of furniture when the room's occupant, Miqueo (Hugo E. Carbajal), returns.
For the better part of the play Amara comes across as an obnoxious runaway teenager who taunts Miqueo about his life, his loves, and the possessions she found in his backpack. She also does a pretty good job of refusing to return his cigarette lighter and a ring which has strong emotional significance for him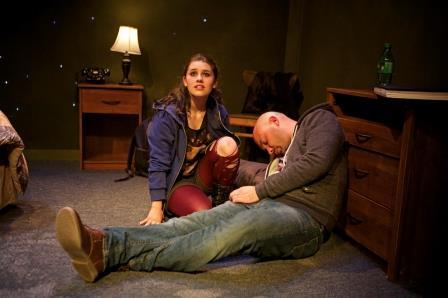 Amara (Gisela Feied) and Miqueo (Hugo E. Carbajal) in a
scene from Heart Shaped Nebula (Photo by: Pak Han)
The grieving Miqueo is en route to the desert town of Tonopah, Nevada (midway between Reno and Las Vegas) to witness a meteor shower and commemorate the loss of his fiancée, Dalila (Marilet Martinez), who had a fierce interest in science and astronomy. Unfortunately, when Dalila was injured in an automobile accident several years ago, she insisted that Miqueo stay by her to comfort her because of her fear of the darkness. She died because they waited too long to seek emergency care for her wounds.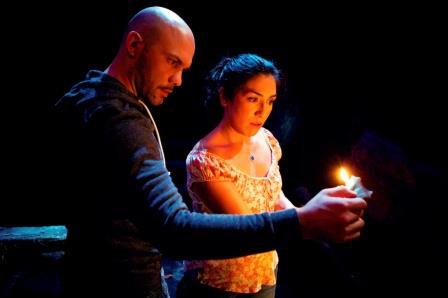 Miqueo (Hugo E. Carbajal) and Dalila (Marilet Martinez)
in a scene from Heart Shaped Nebula (Photo by: Pak Han)
As the poet/playwright explains:
"I'm an image-driven writer. That means I not only find inspiration in images, but that I am interested in using images to tell my stories. I put my love for astronomy and Greek mythology into the play. I put my nostalgia [read love] for my home state of Texas into the play. And I put personal, almost autobiographical, love into the play. I didn't 'decide' to write a play about astrophysics. It was almost as if the play made the decision. And more than once it's felt like the stars were aligning for this play in a mysterious and wonderful way. Heart Shaped Nebula is a very personal play for me. I think most playwrights write themselves into plays -- sometimes in small ways and sometimes in big ways. This play -- it's my insides."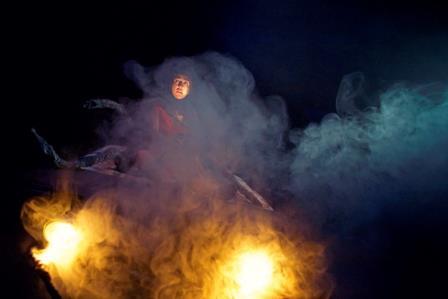 Dalila (Marilet Martinez) appears in a flashback reenacting a fatal
automobile accident in Heart Shaped Nebula (Photo by: Pak Han)
In Orta's play, instead of a truly obnoxious teenager, Amara turns out to be a guardian angel who has arrived to help Miqueo (after she accidentally shoots him in a struggle for his gun) reunite with Dalila in the afterlife. Although Orta's play aspires to be regarded as a "modern myth," it struck me as a fairly cheesy soap opera which would probably fare better as a made-for-television movie.
Despite the inventiveness of Maya Linke's set design, Micah Stieglitz's projections, and Stephanie Buchner's lighting, at the performance I attended, much of Orta's writing was undermined by some pretty mediocre acting. Here's the trailer:
To read more of George Heymont go to My Cultural Landscape