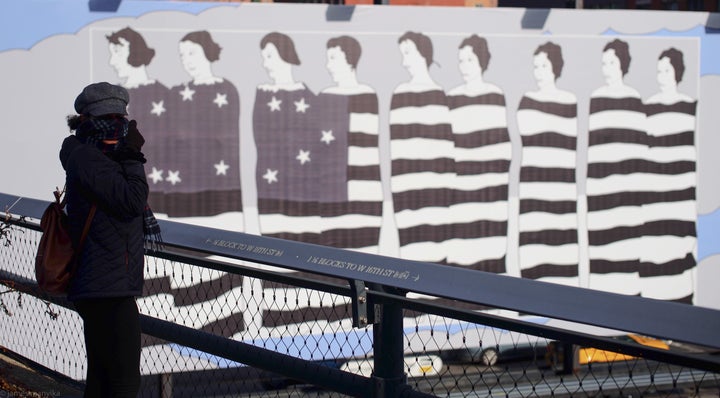 On America's election day, I flew out of San Francisco to London. The last time I'd flown was on the eve of Brexit, and as with that flight, many passengers were nervously checking mobile devices before takeoff. We were informed that the pilot had decided not to announce election results for fear of a possible mid-flight eruption, but for those who cared to check, there would be intermittent Internet access. One passenger took this as his cue to preemptively declare a winner. And as if further proof were needed of his Trump allegiance, he proceeded to make crude passes at the flight attendant. Hours later, when the man let out a celebratory yelp and pumped the air with his fists, we all knew who had won.
"You're in my country now," a British woman snapped at him as we landed.
"I don't give a fuck!" he laughed. "I can do what I want."
"When you're a star, they let you do it." I recalled Donald Trump's lines from the infamous "Access Hollywood" tape.
As we disembarked, I scrolled through text messages from friends expressing shock, disbelief and two pleas – one, that I never fly on an election day again, the second, '"May God have mercy on us."
I'd been worried for months that the American election would go the way it did, and had written about it, drawing on the Nigerian expression, "shine your eyes" in the hope that we might all see more clearly the inequalities, and ever-growing disconnect between established parties and the electorate. Having grown up in Nigeria and Kenya, I'd witnessed how quickly democracies can unravel. I'd seen the appeal of a "big man" promising to make a country great, and I'd seen how these men stay in power by muzzling the press, intimidating the opposition and rigging elections (with or without foreign aid). But the fact that I'd foreseen America's election result didn't reduce my shock upon hearing it.
Having arrived in London, I lamented the election results with friends, all the while aware, as with Brexit, that we were busy lamenting in gentrified parts of London. The fact that most of us could jet from one city to another immediately marked us as different to many who feel left behind by globalization and their governments. I would later meet two men, both part-time Uber drivers struggling to make ends meet, who believed in Trump's self-proclaimed business smarts and expected him to rule America well. But their admiration for Trump was not without reservation. All of these things - Brexit and Trump – said one who was Nigerian, are the shakings of the end times. They are the fulfillments of the Book of Revelation. "May God have mercy on us," I muttered as he handed me a pamphlet from his organization, Israel United in Christ Inc., headquartered in New York.
I had come to London, en route to Abeokuta, Nigeria to attend the AKE Arts and Book Festival where authors and attendees continued to speculate about the reason for Trump's win. Some of us took part in school visits and when the headmistress of the school that I visited heard that I lived in America she shook her head in sympathy. "We'll pray for you," she said, which sounded like something Americans used to say about the rest of the world. Brexit and Trump's win had not only ushered in political reversals but these results were reversing the way the rest of the world viewed Britain and America with people in so-called "third world countries" pitying them. Nigeria had its own political and economic problems, yet Nigerians were offering those of us living in America a place to stay if need be.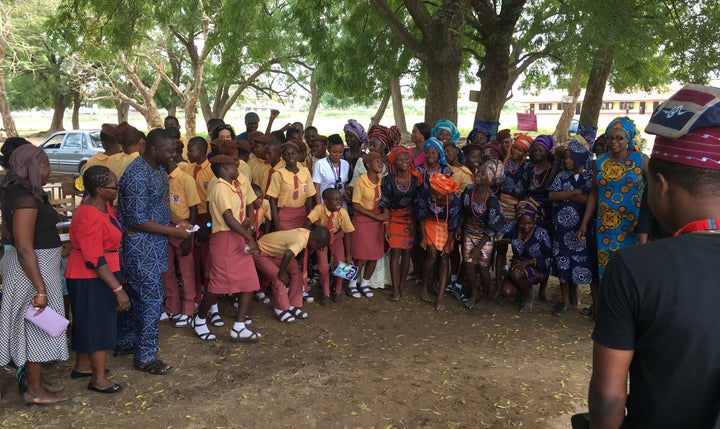 By the end of November my despair at the prospect of a Trump Presidency had deepened; despair at his twittering and flittering away of what remained of the world's precarious peace, and despair that for all his talk of making America great, social and economic divides would only deepen. Thanksgiving was spent with an accountant friend, recently transferred from Harare, Zimbabwe to St. Louis, Missouri. "From the movies you picture an America where everyone has it easy," she said, "and then you get to the place and you see that so many people seem to be struggling." There was no denying that America had failed many of its citizens and that out of desperation people look for saviors. In America these "saviors" had emerged as Bernie or Trump, with parallels in other parts of the world – if not politicians, then charismatic religious leaders. I sat next to one such leader when flying out of Lagos. I watched as grown men prostrated before him, their hands clasping his shiny red shoes, calling him "daddy." One such admirer informed me that I was blessed "beyond measure" to be sitting next to this "apostle," known for his miracles and prophesies.
And then, in the midst of my despair, I too was drawn to a savior figure. At the beginning of December, I met Pope Francis. I had accompanied my husband to a meeting of business leaders in Rome, and it was in this context that we were granted an audience with the Pope. I listened to the Pope's words, to the way he was holding the CEO's accountable, and felt relieved.
"What is required now is not a new social compact in the abstract," the Pope began, "but concrete ideas and decisive action which will benefit all people and will begin to respond to the pressing issues of our day. [. . .] Involve in your efforts those whom you seek to help; give them voice, listen to their stories, learn from their experiences and understand their needs. See in them a brother and a sister, a son and a daughter, a mother and a father. Amid the challenges of our day, see the human face of those you earnestly seek to help."
The Pope's humility and his emphasis on human dignity touched me, and yet as I dwelt on his words it struck me that what I heard might be similar to what others heard in the lines of Trump's victory speech: "Every single American will have the opportunity to realize his or her fullest potential. The forgotten men and women of our country will be forgotten no longer."
As humans, we need hope. We also need leaders. In Pope Francis I saw a man whose life reflects the ideals he espouses and whose integrity and humility are befitting of a leader. I returned to America with a little less despair and a flicker of hope knowing there were some world leaders who walked their talk and whose message is not driven by political expediency or a hunger for power. My flight back coincided with another election, but this time when I landed, Austria's far right Presidential candidate had lost.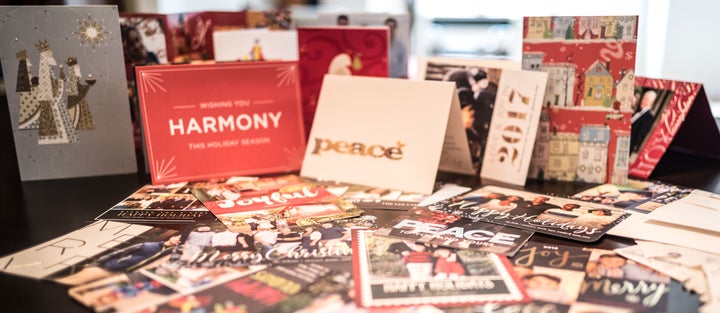 First image: John Wesley's Nine Female Inmates of the Cincinnati Workhouse
Second image: School visit during AKE Arts and Book Festival