McLean Hospital Guest Blogger, John B.
Growing up as a kid outside of Chicago, I had a sadness that I didn't notice in other kids. I was easily frustrated and socially awkward.
As a high school student, I got good grades, but I could feel depression surrounding me, suffocating me. I didn't want to let people down by asking for help, so I turned elsewhere.
I was 14 when I started drinking. Alcohol lured me in. When I was drunk, the sadness was gone.
Alcohol use was common among my family and friends, and nobody thought much of my drinking, but it became unmanageable. When I turned 25, I realized the late parties and all-day hangovers needed to stop, even as those close to me insisted I didn't have a problem.
I had to convince people that something was wrong. It seemed nobody wanted me to quit. I even had a woman come up to me at a party and pour a drink in my mouth.
A few years later, my primary care doctor suggested I see a psychiatrist, who prescribed me my first antidepressant medication. Although my struggles with alcohol continued, within just a few months the medication started to work.
One morning I woke up and realized my life was completely different. I could experience hope and see solutions to problems. It was not all gloom and doom.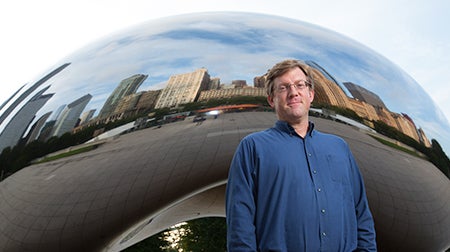 Despite my progress, I endured a failed marriage and multiple attempts at sobriety before Alcoholics Anonymous would help free me of my addiction. I have not had a drink in two years.
I enjoy being a father of two and a best friend to my terrier-spaniel mix, Abbie. In a plan to impart my life lesson to high school students, I'm working with local schools so that young people know it's okay to seek help.
Don't wait until you're 40 years old to get your life in order. You might have this feeling you are letting people down or not living up to their expectations.
John is a 42-year-old software engineer from Illinois. To read more about Deconstructing Stigma and to meet more people like him, visit DeconstructingStigma.org.
This post was published on the now-closed HuffPost Contributor platform. Contributors control their own work and posted freely to our site. If you need to flag this entry as abusive,
send us an email
.