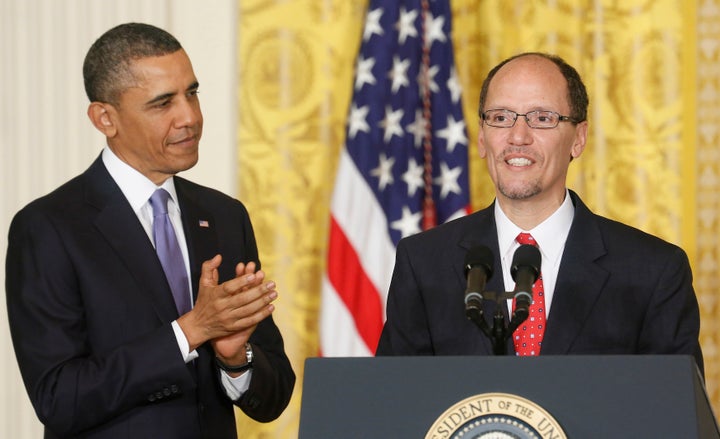 Tom Perez has strong support from my union and a number of others in his run to become the next Chair of the Democratic National Committee, because we believe that in the last election, the Democratic Party, the traditional party of labor and people who work for a living, lost many of those workers who for decades had served as the Party's core of support.
The result was a historic shift in the way those former core Democrats voted – and a significant number of members of our unions were part of that major shift.
To truly change that, we believe the Democrats need a new leader.  One who is committed to broadening the Party's base once again, using a strong economic message that is truly inclusive of everyone, so it can get back to a winning coalition that put its arms around all workers.
Successfully turning around and running a massive organization like the DNC doesn't just require the passion and commitment that all of the candidates in the race for DNC have. It requires the kind of experience that Tom Perez has from his time running the Department of Labor, where he made good jobs for everyone relevant again.
Tom's leadership of that massive bureaucracy brought it to the forefront of the administration's agenda – something our unions had been pushing to make happen for years, but Tom got it done.
Tom was the strong, progressive voice in the administration resulting in an expanded overtime rule and supporting the Fight for 15 minimum wage effort.
He was there for union members when he worked tirelessly to find a resolution to the West Coast Ports contract impasse and when he weighed heavily into the negotiations and helped resolve the Verizon strike.
Tom successfully fought to raise the minimum wage and extend overtime protections for home health care workers, impacting 2 million care-givers. 
 Tom expanded apprenticeships, creating more than 125,000 since 2014, to help workers get the skills they need to succeed and earn higher wages ― and these examples of how he has fought for us, our members and workers across the country could go on and on.
He's the son of immigrants. His record on advocacy for civil and human rights is second to none. He's been one of the strongest progressive voices for workers from the time he was elected to the Montgomery County Council through to his tenure as U.S. Secretary of Labor.
That's why the IAFF supports Tom Perez.  We believe he is the person who has the experience and total commitment to all workers, in all regions and states across the country to bring back those who left the party or didn't vote in this past election, giving the Democrats a winning coalition that will benefit all workers once again.
We hope you will join us in our support for Tom as the next Chair of the DNC.