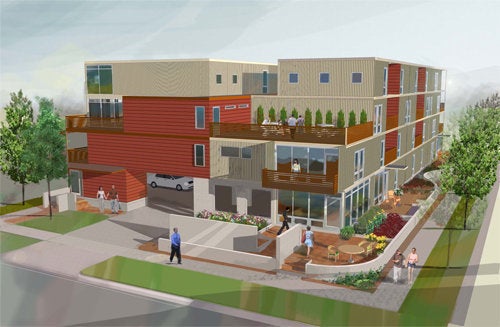 A local firm is proving Detroit development can get way wackier than Dan Gilbert's garish interior design scheme at the the Chase Tower. Three Squared will build a 20-unit, 26,000 square feet condo development constructed of shipping containers at Rosa Parks Boulevard and Warren Avenue.
Designed by local architect Steven Flum, the project has been in development for several years but was halted after the 2008 crash. Now, Three Squared plans to begin construction on a three-story model unit on Michigan Avenue by the end of the year to pre-sell condos, with the development itself slated to be built in spring 2013. According to the Detroit Free Press, the development will cost $3.4 million, and Multihousingnews.com notes they received a $603,000 tax credit.
But that doesn't mean everyone could get used to living in a glorified box, and there are other downsides to the construction material. What do you think -- would you live in a shipping container condo? Let us know in the poll, and take a look at another example of shipping container architecture at a French hotel.
PHOTO GALLERY
Quirky Suites at Deule Insolite
BEFORE YOU GO