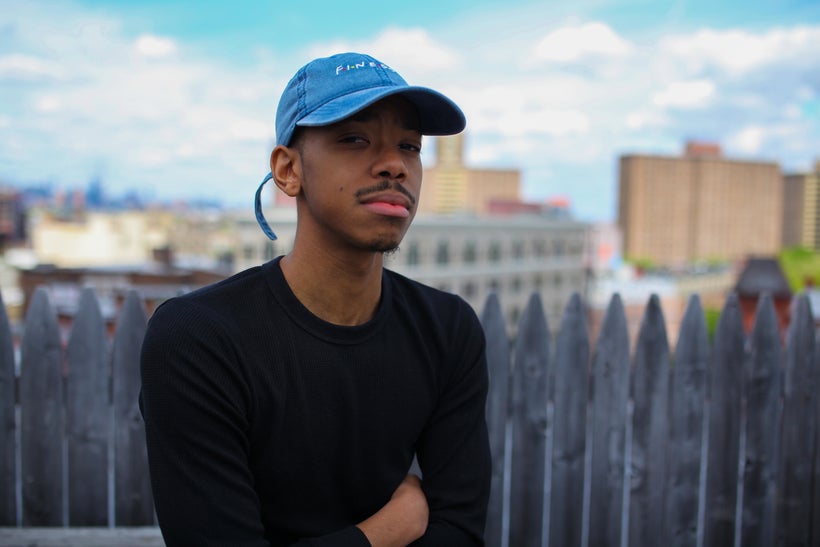 Devon T. Smith is a writer, director, and producer with a mission to inspire the world through various forms of art. His vision is one that centers around the prospect of reshaping the way we value creativity in this country. After graduating from the University of North Carolina at Greensboro, Devon found himself at a crossroads like many new graduates do.
"I realized I was in control of my life, and at that point I wanted to do something creative. I was just like any other kid with a sketchbook full of designs that never saw the light of day. I had ideas that didn't seem realistic, because I didn't know being a creative professional was even a possibility."
His first shot at building a career rooted in his own original ideas was when he started a blog that grew into an online magazine called Infinite Minds. The content was all about creatives who were pushing ideas forward in front of and behind the camera.
"I built a staff of writers from LA to London, and we would interview people who were able to identify their passion as creatives, and successfully build a life around their work."
Through doing feature stories on creatives locally, nationally, and internationally Devon began to understand that there were people all around the world who were just like him.
"I realized that there was such a thing as creative culture, a group of people who shared the same sentiments as me. We all just wanted to get our ideas out in an unconventional way. The one common denominator I found was that at least in the US, most of us came from public schools that didn't necessarily train us to think introspectively. Career development was based on traditional careers, and creative pursuits were looked at as lofty and unrealistic. On top of that, our parents didn't really understand how to help us cultivate our natural skills and interests. The advice was the same across the board. Go to college, get a good job, buy a house, and that's it."
In North Carolina especially, Devon felt stifled. There was no creative industry that really spoke to his interests, or the interests of his colleagues across fashion, music, events, and the like. They all had great ideas, but no firm understanding of where to get the resources necessary for getting ideas off the ground.
"We all had so many goals but we had no clue where to get funding, or other necessary resources to create at the highest levels. That information didn't seem to be shared outside of the network of people who had access to it."
That's when Devon decided to take action into his own hands. For a year he filmed a documentary profiling various creatives throughout the state to paint a picture of North Carolina's creative culture, while addressing topics on a larger scale. What is a creative? Does society and our educational system stifle creativity? What's it like to build a career and find success as a creative in an area that lacks industry?
"Most creatives deal with a similar circumstance across the United States. If you don't live near New York, Los Angeles, Atlanta, Miami, or even Chicago then you don't have access to go intern at a Vice, BET, or CNN. You can't just grab experiences at fashion week, or walk into record labels with your music. There are no places to do galleries, performances, and things like that where you can get noticed by someone who can really help take you to the next level. Most of us aren't exposed to these types of opportunities. So how do we build business and platforms for ourselves until we can branch out?"
After completing the film, Devon's goal was to debut it in a museum. He believed that art displaying an unheard perspective of North Carolina's creative climate deserved to be showcased at the highest level. In his opinion, he would break a glass ceiling of sorts. After an additional year of denials and lack of response from multiple institutions, his perseverance paid off in a partnership with the North Carolina Museum of History to debut the documentary. In collaboration with colleague David Butler, the two executed a screening event that included panel discussions where the state's successful creative professionals and entrepreneurs shared insight on how to build business and maintain it. Artists were given the opportunity to display their work in the museum's gallery, and representatives from state resources like the NC Arts Council hosted informational tables. The evening ended with a special keynote from Karmaloop founder, Greg Selkoe.
"When I started CreativeNC, it was tough. I lost my job. I had to move out of my apartment and throw everything in the dumpster. I travelled to New York to find work while I was shooting the documentary and took the bus back and forth to North Carolina."
Devon's work extends his mission beyond the creative scene of North Carolina. He currently works as a producer at REVOLT TV where he develops content for social media, web, and television. His most recent work explores the cultural impact of photographer Cam Kirk and the acknowledgement of black women. He plans to build CreativeNC into a yearly event to continue bridging the gap between creatives and business in North Carolina. He also plans to tour with the film, introducing the concept at the high school level where students need to be made aware of the possibilities of building on their passion, creative or not.
This post was published on the now-closed HuffPost Contributor platform. Contributors control their own work and posted freely to our site. If you need to flag this entry as abusive,
send us an email
.