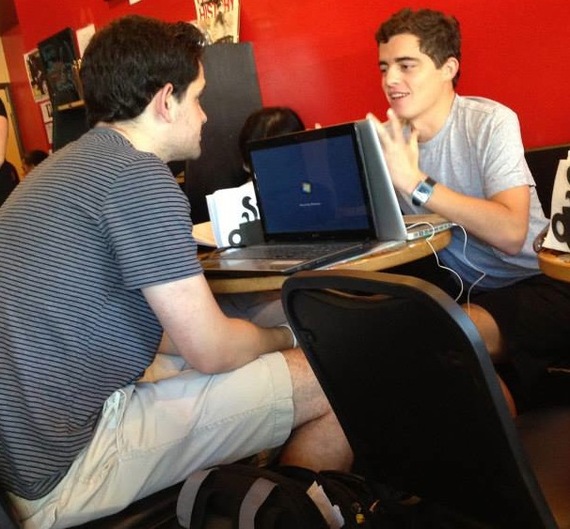 One of GlobalMindED's core beliefs is that the effective use of technology in and out of the classroom has the best potential to deepen learning from kindergarten through college--and thereby increase access, equity and opportunity for students of all backgrounds. The conference is also a "big tent" for entrepreneurs to share their innovations with the educators who will implement and utilize new education technologies, and to share their stories with first-generation students who may well follow in their footsteps. Justin Chando is one of the young entrepreneurs who will serve as a panelist at this year's conference.
When Justin was in college, he was introduced to one of the most widely-used learning platforms in the country to receive and submit assignments. It was not awesome.
"Nobody was using this platform. Nobody! And I know my school was paying thousands and thousands of dollars for this tool that did nothing to engage the students using it," he recalls.
The learning platform in question did very little to connect classmates or share resources. Discussion threads were empty. For most classes, using the system was a formality, if it was used at all. These programs were expensive. And worse, they were hard to use. Teachers practically needed degrees in web design to put together engaging courses.
After doing a little research, Justin found that the market lacked a student-centered platform that was both powerful and easy to use. That's when, rather than grudgingly accepting the status quo, he gathered a group of equally-frustrated friends and got to work.
"The idea was to create the learning app I always wanted as a student--one that put the student experience first," says Justin. The team worked from the library basement and dorm rooms, and eventually they engineered a solution from scratch. Emphasizing class collaboration and student organization ensured that the system would be "ridiculously intuitive."
Just one year later--following a huge redesign, investor calls, several all-nighters, and a hearty dose of web design--Chalkup was launched.
"It was far from easy, but I can't imagine doing it any other way," Justin recalls. "Halfway through the initial process I didn't feel like we were getting it right, so we overhauled the entire design. But I'm so glad we did. Chalkup is a million times better because of that."
And it seems that creating a platform from the student perspective was a winning choice. Chalkup consistently ranks well among the students who use it. "We must remember that students are the most important part of the puzzle," Justin maintains. "They'll use an LMS more than anyone else. It should be an engaging, collaborative experience."
Today, thousands of schools across 100 countries use Chalkup, which provides students with exactly what Justin wanted: a way to keep the conversation going after class is dismissed. It's inviting. It's engaging. And it's something else: free for teachers and students to use.
As the platform developed, so did one big idea: designing for digital equity. "Cost shouldn't be a barrier to using a great learning tool. And technology shouldn't be so cumbersome that only a few teachers at a school can really master it," he argues. Chalkup believes a key part of fighting the digital divide is to produce full-featured, freemium tools that are mobile-friendly and take little training.
"When you make something that is easy to use, any teacher can create an engaging course. That's what I love," Justin says. "I hate it when platforms require educators to go through a whole bunch of training to get started. You see a huge disparity classroom to classroom in how engaging an online course looks. Every teacher should have a chance to make something awesome. Students benefit. Schools benefit. We all benefit when that happens."
Chalkup continues to prioritize ease-of-use as the platform evolves. And Justin is happy to know that students are having a much more rewarding technology experience than he did. The company continues to include the student perspective in Chalkup's evolution via feedback from several key Chalkup-using schools, as well as a squad of student engineers who joined the team for an engineering internship this January.
As for any advice to frustrated students or future entrepreneurs? Justin has one thing to say: "You don't like the way something works? Change it. You'll be delightfully surprised by what you can do."

Meet Justin and other leading innovators--including social impact entrepreneurs partnering with Camelback Ventures--at the GlobalMindED Conference, June 9-10 in Denver.