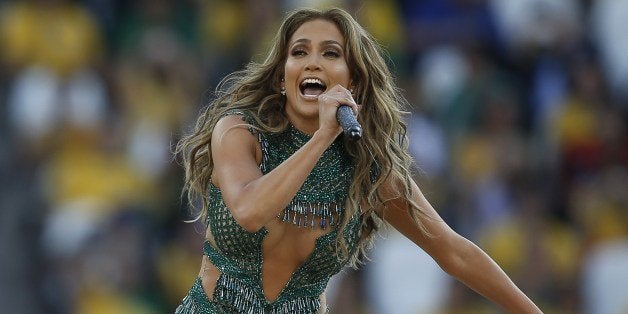 In just a few short weeks, the rebuke "Don't be a diva!" has taken on new meaning. While we champion the increased presence of women on television, album sales for the ladies who define pop music are suffering.
The fact that Carey and Lopez -- who, in their mid-40s, are seeing a more than 50-percent decline from their previous albums -- can't hit the once-reliable 100,000 marker in first-week sales says something not only about the decaying interest in full-length records, but also about the dwindling stamina of established female singers. Now don't misunderstand: There are plenty of women making wonderful music and seizing the zeitgeist in big ways. In general, the conversation about the music industry's strain has little, if anything, to do with gender. In 2013, Lorde's debut album ended its inaugural week with 129,000 copies sold, while Miley Cyrus' "Bangerz" moved 270,000. In 2012, Adele's "21" spent 10 consecutive weeks at No. 1, Taylor Swift's "Red" premiered to a whopping 1.21 million, and Rihanna's "Unapologetic" held its own with 253,000 sold. None of those numbers are worth scoffing at, in part because we can't pretend it's still 2000, when an album debuting to seven-digit figures wasn't almost unimaginable. But for two of the biggest female singers to find career lows within the same few weeks at least calls into question the resilience of the so-called traditional diva, she of the grand, once-indomitable force in pop music.
Funeral dirges for album sales have been played ad nauseam for the better part of a decade, but if there's one group that seems to have endured the hardest hit it's the divas. In considering sales figures that correspond to the past 10 years of releases from Lopez, Carey, Britney Spears, Madonna, Janet Jackson, Christina Aguilera, Katy Perry, Lady Gaga and Beyonce, each singer -- except Perry -- has suffered something of a dip from one album to the next. Only three of them -- Madonna, Beyonce and Perry -- can claim recent albums ("MDNA," "Beyoncé," and "Prism," respectively) as their highest-selling of the past decade. A couple of caveats, though: "MDNA" arrived on the heels of Madonna's record-breaking Super Bowl performance, and "Beyoncé" was extra buzzy because it was a surprise. Only Perry has seen a veritable increase in sales, but even her highest charter (2013's "Prism") couldn't hit the 300,000 stamp.
Even if fading record sales are the norm, other genres have at least surpassed expectations, no matter how mediocre those expectations were. Justin Timberlake, Eminem, Drake, Coldplay, Luke Bryan, Jay Z, Arcade Fire and John Mayer all outsold many of the aforementioned divas with their recent releases.
"The Elusive Chanteuse" is by far a career low for Carey. Not since her 1990 debut has one of her albums failed to eclipse 100,000 copies during its first week. Lopez's descent has been much more gradual, as she hasn't managed 100,000 in initial sales since 2005's "Rebirth" anyway. But for "A.K.A." to sell 30,000 copies is a new nadir for all of these women. That means Carey's and Lopez's seats at the "American Idol" judges' table did nothing to bolster mass appeal and their well-publicized personal lives didn't translate to acclaim for their music.
We're mourning the divas' decline. Thankfully no one outside of the industry is so fixated on Billboard results in 2014 that either of their overall careers will suffer in excess, but we'd hate to think that the day of the diva -- having been so dependable throughout the '90s and early 2000s -- may be inching toward death. If anything, we should at least bemoan the fact that the "Frozen" soundtrack was selling six-figure tallies months after it was released, yet fans who raced to buy Carey's and Lopez's albums 10 or 15 years ago are now thrusting a cold, hard "no, thanks" their way.
Albums mentioned in above graphic:
Janet Jackson: "Damita Jo" (2004), "20 Y.O." (2006), "Discipline" (2008)
Jennifer Lopez: "Rebirth" (2005), "Brave" (2007), "Love?" (2011), "A.K.A." (2014)
Mariah Carey: "The Emancipation of Mimi" (2005), "E=MC2" (2008), "Memoirs of an Imperfect Angel" (2009), "Me. I Am Mariah... The Elusive Chanteuse" (2014)
Madonna: "Confessions on a Dance Floor" (2005), "Hard Candy" (2008), "MDNA" (2012)
Christina Aguilera: "Back to Basics" (2006), "Bionic" (2010), "Lotus" (2012)
Beyonce: "B'Day" (2006), "I Am... Sasha Fierce" (2008), "4" (2011), "Beyoncé" (2013)
Britney Spears: "Blackout" (2007), "Circus" (2008), "Femme Fetale" (2011), "Britney Jean" (2013)
Katy Perry: "One of the Boys" (2008), "Teenage Dream" (2010), "Prism" (2013)
Lady Gaga: "The Fame" (2008), "Born This Way" (2011), "Artpop" (2013)
BEFORE YOU GO
PHOTO GALLERY
Diva Collaborations