In the noisy din surrounding us, National Parks offer the best opportunities to detach, relax and reflect. So it is wonderful that April 16-24 is National Parks Week when the National Park Service seduces us to visit our national treasures by offering "fee free" admission and special events.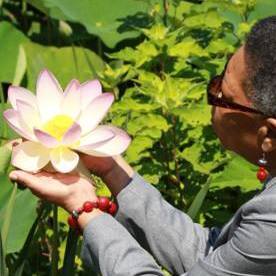 A brief getaway to commune with a bloom at Kenilworth Park and Aquatic Gardens in Washington, DC when the giant lotus are in bloom can reset your outlook on life.
I daresay hardly anyone who's visited a national park would balk at admission, as the $25 fee for entrance for an entire carload to the Grand Canyon National Park for example, compares very favorably with entrance to a theme park. The majority of park units don't even have entrance fees at any time of year.
The glorious natural, cultural and historic legacy in the National Park System are known as America's "Crown Jewels." Unlike Britain's Crown Jewels, for example, that are locked up in the Tower of London, our "Crown Jewels" are living, breathing testimony to the power of life and the evolution of creation.
This Friday, for example, Earth Day, I am in high anticipation of visiting Everglades National Park where Secretary of the Department of Interior Sally Jewell will break ground on a new Tamiami Trail project to restore America's Everglades. Just driving into that park calms my nerves and must lower my blood pressure several points.
So I am overjoyed today to report that the Congressional leadership team of Rep. Raul Grijalva and Rep. Alcee Hastings consider the imbalance in who uses the park so important that they have coalesced 34 of their colleagues to ask Park Service Director Jon Jarvis to explain how he is providing information and an invitation to those Americans who are unaware of the national parks, and those who feel they may not be welcome. It's breaking news in this Centennial Year of the National Park Service, as only a robust constituency of supporters from across the spectrum can help secure our treasures into their next 100 years. We are eager to help the Director and his team move forward with an effective program that will accomplish that goal.
Please join the effort and share the letter with your representatives so that they can sign on as well. It's urgent that Americans make it clear we value our public lands before they are taken away from us, as some members of Congress seem intent on doing.