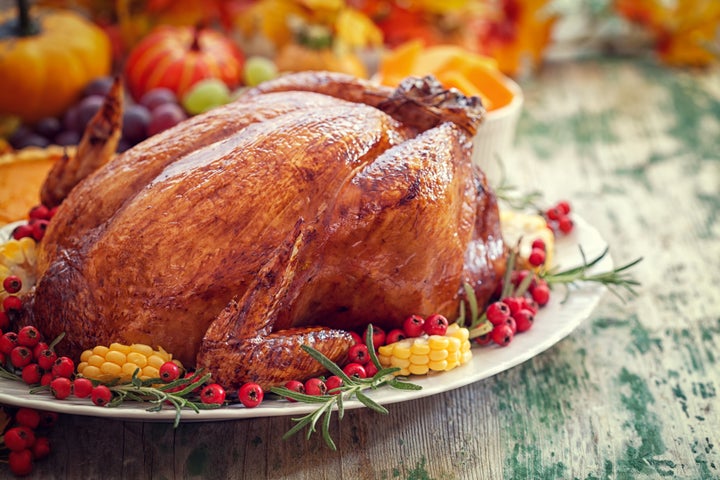 This Thanksgiving, there's one tool you need to keep out of the kitchen in order to cook the perfect turkey. Ironically, it's the pop-up turkey timer. 
A pop-up turkey timer ― the kind that comes pre-inserted in your store-bought bird ― is probably one of the most unreliable kitchen gadgets of all time. By the time the timer does actually pop, your turkey will be overcooked and as dry as sawdust. 
That's because commercial turkey buttons are set to pop at 180 to 185 degrees Fahrenheit, even though you should actually remove the turkey from the oven when it reaches 160 degrees F (then you temperature will continue rising as it rests on the counter, to the FDA-recommended 165 degrees Fahrenheit). If you use a pop-up timer, you end up drastically overcooking your turkey.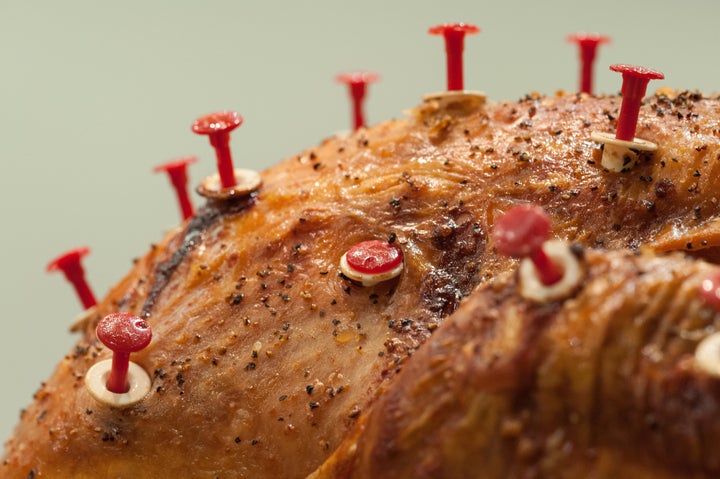 Food industry professionals don't like pop-up timers. 
If you need any more proof that pop-up timers are bad, just know that Butterball turkey doesn't use them, Consumer Reports doesn't recommend them and food writers despise them.
"If I had my way, the world would be rid of it," J. Kenji López-Alt, James Beard-nominated columnist and chief culinary consultant of Serious Eats, said of pop-up timers in an interview with The Washington Post in 2015. 
Here's how turkey timers actually work. 
Inside a standard pop-up turkey timer, there's a red plastic indicator stick that sits in a plastic casing. The stick has a spring wrapped around it. The soft metal in the tip warms as the turkey roasts and eventually melts at around 180 degrees F. Then the red stick is released from the metal and the spring makes it pop up.
There are only two pop-up timers that we'd recommend. 
If you must use a turkey timer, there are two pop-up versions that actually work: the Kikkerland turkey timer and a Norpro reusable pop up turkey poultry timer. The reason these pop-up timers are better is because they're set to pop between 160 and 165 degrees F. The result? A turkey that's actually edible! Purchase Kikkerland's on Amazon for $14.95 or Norpro's on Bed Bath and Beyond for $12.99.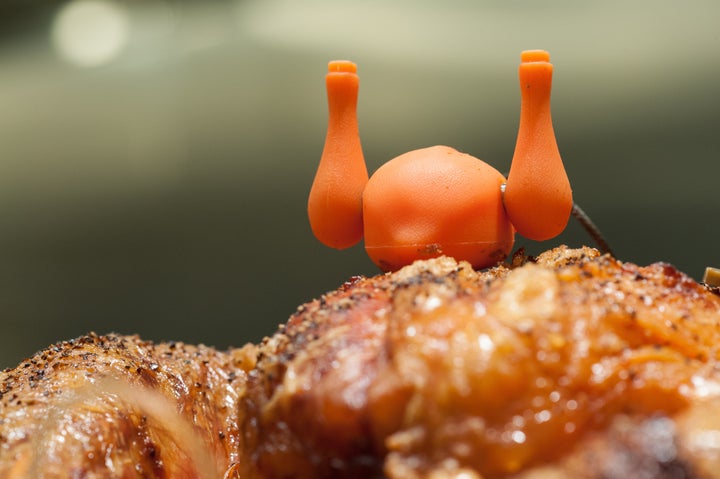 But the best way to take the temperature of a turkey is with a digital instant-read thermometer. 
It's not that hard to jab a turkey with a thermometer and see if it's done or not. Simply insert a digital instant-read thermometer into the space between the thigh and the breast to get an accurate reading. We also recommend probe-style digital thermometers, which can be inserted into your bird with a wire leading out of the oven door to a digital display that monitors the temperature. (And if you buy a turkey that already has a pop-up timer inserted, either ignore it or pull it out, if you can do so without mangling the bird.)
BEFORE YOU GO