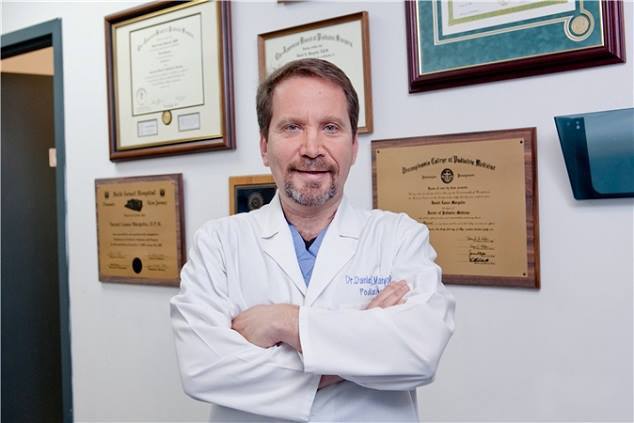 Why are we less healthy today? According to a 2015 Gallup poll, 53 percent of Americans work out at least a half an hour a day, which is the highest it's ever been. The fitness industry is a leading industry amounting to $81.2 billion annually. Almost 45 percent of Americans claim they have gone organic, with that number as high as 53 percent in ages 18-29.
Although Americans are trying very hard to be better and more healthy versions of themselves, why is our health worsening and healthcare costs skyrocketing? There has to be some sort of greater answer to this question. Modern medicine has eradicated diseases like tuberculosis and polio, but even with better cures, other disease states are becoming more prevalent.
In his 29-year career as a practicing podiatrist, Dr. Daniel Margolin has noticed a particularly disturbing trend in these three specific disease states:
Cancer: Although the number of cancer deaths have decreased, the number of reported cases is on the rise. Based on the current trend, the CDC estimates that new cases seen in 2010 will rise by 24 percent by 2020. At that rate, it raises an alarming question of just what is happening that so many new cases are occurring.
Obesity: A CDC study conducted in 2012 found that nearly one-third of children under age 19 are obese. The same CDC study found that almost 38 percent of all adults are now obese. What is causing Americans to gain weight at such an alarming rate?
Diabetes: As a podiatrist, Dr. Margolin deals with many diabetics, as it causes circulatory problems requiring feet to be checked at regular intervals. With the rise in obesity, it's no shock that diabetes is also on an alarming rise. NBC News reported that in 2014, nearly 29 million adults were found to have diabetes, a drastic rise from 26 million in 2010. In addition, nearly 86 million, about one-third of all adults, are found to be prediabetic, with sugar levels high enough to lead to diabetes. In 2013, diabetes claimed nearly 71,000 lives due to related complications.
"We can detachedly look at these statistics and say 'well that is just the way it is', or we can recognize the hundreds of thousands of lives that are being affected, roll up our sleeves and try to figure out what the hell is going on," Dr. Dan Margolin commented.
Dr. Margolin has been stunned by these findings, which has sent him on his own personal quest of self-education to find the answers of just what is really happening to America's health. He has been looking for a way to bring others on his journey to help them find their way to better health. From this quest, came his much anticipated podcast "Take Back Your Health Now!" in December 2016. In which he will interview various doctors, researchers, nutritionists and professional athletes, in an effort to find health's true "Holy Grail."
"As a physician I feel an obligation to my patients, to help make sense of that which seems nonsensical. To find answers to that which I have had no answers for," said Dr. Dan Margolin.
Americans are trying to be healthier versions of themselves, but if they do not have all the knowledge on what leads to a healthier life, then they are potentially another statistic. With greater knowledge comes greater control, and that is how America can begin to take back its health today.
This post was published on the now-closed HuffPost Contributor platform. Contributors control their own work and posted freely to our site. If you need to flag this entry as abusive,
send us an email
.